Frameworks & templating PHP
Simple Cloud API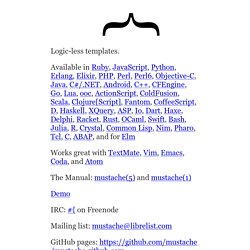 Logic-less templates. Available in Ruby, JavaScript, Python, Erlang, PHP, Perl, Objective-C, Java, .NET, Android, C++, Go, Lua, ooc, ActionScript, ColdFusion, Scala, Clojure, Fantom, CoffeeScript, D, and for node.js. Works great with TextMate, Vim, Emacs, and Coda. The Manual: mustache(5) and mustache(1)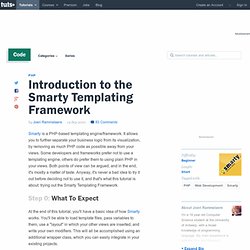 Smarty is a PHP-based templating engine/framework. It allows you to further separate your business logic from its visualization, by removing as much PHP code as possible away from your views. Some developers and frameworks prefer not to use a templating engine, others do prefer them to using plain PHP in your views. Both points of view can be argued, and in the end, it's mostly a matter of taste.
Introduction to the Smarty Templating Framework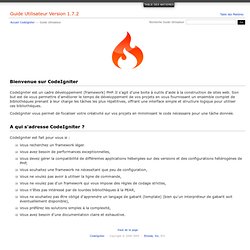 Codeigniter France | Site de la communauté Francophone du meilleur framework PHP ! | Codeigniter France
Bienvenue sur CodeIgniter CodeIgniter est un cadre développement (framework) PHP. Il s'agit d'une boite à outils d'aide à la construction de sites web.
Batteries Included The things you need are built-in. Translations, database access, caching, validation, authentication, and much more are all built into one of the original PHP MVC frameworks. Clean MVC Conventions