Design pattern library
CSS3 Patterns Gallery. Browser support The patterns themselves should work on Firefox 3.6+, Chrome, Safari 5.1, Opera 11.10+ and IE10+.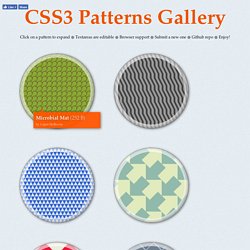 However, implementation limitations might cause some of them to not be displayed correctly even on those browsers (for example at the time of writing, Gecko is quite buggy with radial gradients). Also, this gallery won't work in Firefox 3.6 and IE10, even though they support gradients, due to a JavaScript limitation. Subtle Patterns | Free textures for your next web project. Recent. Guide to Website Navigation Design Patterns. In web design, there are certain common design patterns that are used for interaction.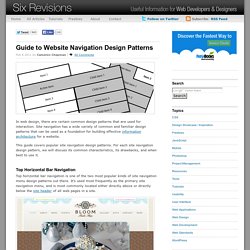 Site navigation has a wide variety of common and familiar design patterns that can be used as a foundation for building effective information architecture for a website. This guide covers popular site navigation design patterns. For each site navigation design pattern, we will discuss its common characteristics, its drawbacks, and when best to use it. Index - 4ourth Mobile Design Pattern Library. Designing Mobile Interfaces: Patterns for Interaction Design is a comprehensive reference for mobile design patterns.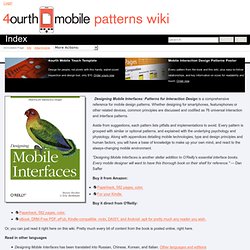 Whether designing for smartphones, featurephones or other related devices, common principles are discussed and codified as 76 universal interaction and interface patterns. Aside from suggestions, each pattern lists pitfalls and implementations to avoid. Every pattern is grouped with similar or optional patterns, and explained with the underlying psychology and physiology. Responsive Web Design Patterns | This Is Responsive. Responsive Patterns A collection of patterns and modules for responsive designs.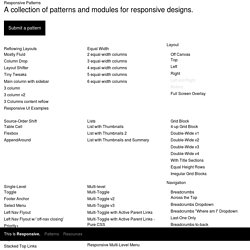 Submit a pattern Layout Reflowing Layouts Equal Width. Open - A Free Front-End Resource. Patternry | User Interface Design Patterns for Ideas and Inspiration. UI-Patterns.com. Elements of Design: A Web Design Showcase. Pattern Tap : Organized Web Design Collection of User Interfaces for Inspiration and Ideas. The CSS Gallery Alternative. Design Pattern Library. View the most recent patterns added to the library.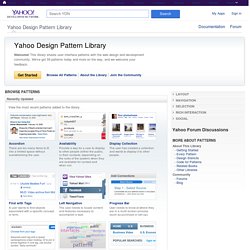 Accordion There are too many items to fit into a limited space without overwhelming the user. Availability Provide a way for a user to display to other people (either the public, or their contacts, depending on the rules of the system) when they are available for contact and when not. Patterns in Interaction Design. Collection: Search Patterns. User Interface Design Pattern Library. It is important to note that the patterns are offered as proposed sets of design guidelines.
They are NOT the only solutions, strict recipes etched in stone, or a substitute for sound human-centered design practices. In our view, it is essential to select and apply the patterns critically and thoughtfully based on an understanding of the users - their level of knowledge, their discovery scenarios and goals, and their modes of information discovery.
---