Lightroom 4 Beta
Review: Lightroom 4 Beta Offers Subtle, but Worthwhile Improvements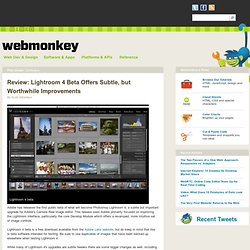 Adobe has released the first public beta of what will become Photoshop Lightroom 4, a subtle but important upgrade for Adobe's Camera Raw image editor.
Recorded Webinar: What's New in the Lightroom 4 Beta
Adobe have just announced the release of Adobe Lightroom 4.0 Public Beta! Here's the official announcement: http://blogs.adobe.com/lightroomjournal/ And the download link, of course! http://labs.adobe.com/technologies/lightroom4/ And finally the forums: Official Adobe Beta Forum and Lightroom Forums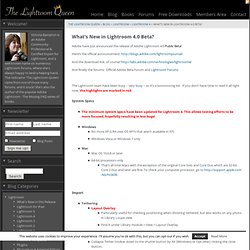 What's New in Lightroom 4.0 Beta? | The Lightroom Queen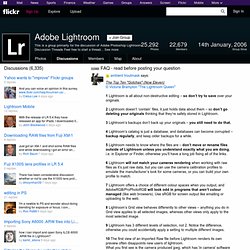 ambient troutmask says:
Discussing FAQ - read before posting your question in Adobe Lightroom
Lightroom 4 Beta Tutorials
Release Notes Lightroom 4 beta now available « Lightroom Journal
The Lightroom team is proud to introduce the fourth major version of the product designed for and by photographers. It was 6 years ago today when we introduced the very first public beta of Lightroom at MacWorld on January 9, 2006.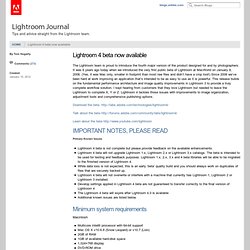 Lightroom 4 video - creative looks for video and colorizing