Lightroom 4 Beta
Review: Lightroom 4 Beta Offers Subtle, but Worthwhile Improvements. Adobe has released the first public beta of what will become Photoshop Lightroom 4, a subtle but important upgrade for Adobe's Camera Raw image editor.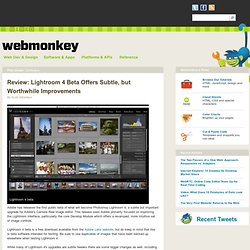 This release sees Adobe primarily focused on improving the Lightroom interface, particularly the core Develop Module which offers a revamped, more intuitive set of image controls. Lightroom 4 beta is a free download available from the Adobe Labs website, but do keep in mind that this is beta software intended for testing.
Be sure to use duplicates of images that have been backed up elsewhere when testing Lightroom 4. Recorded Webinar: What's New in the Lightroom 4 Beta. What's New in Lightroom 4.0 Beta? Adobe have just announced the release of Adobe Lightroom 4.0 Public Beta!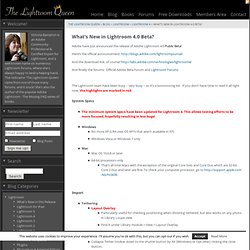 Here's the official announcement: And the download link, of course! And finally the forums: Official Adobe Beta Forum and Lightroom Forums. Discussing FAQ - read before posting your question in Adobe Lightroom. Ambient troutmask says: Sharpening This is © Godfrey DiGiorgi and is posted here because it is the best explanation of Lightroom and sharpening I have come acrossSharpening (one of the biggest misnomers in digital image processing, IMO) should be looked upon as having three separate components, or phases, or contexts.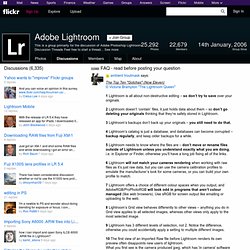 Release Notes Lightroom 4 beta now available « Lightroom Journal. The Lightroom team is proud to introduce the fourth major version of the product designed for and by photographers.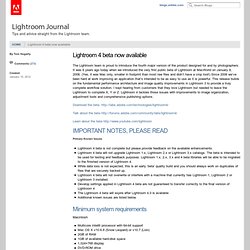 It was 6 years ago today when we introduced the very first public beta of Lightroom at MacWorld on January 9, 2006. (Yes, it was Mac only, smaller in footprint than most raw files and didn't have a crop tool!) Since 2006 we've been hard at work improving an application that's intended to be as easy to use as it is powerful. This release builds on the fundamental performance architecture and image quality improvements in Lightroom 3 to provide a truly complete workflow solution. I kept hearing from customers that they love Lightroom but needed to leave the Lightroom to complete X, Y or Z. Download Photoshop Lightroom 4 | photo management software beta. Lightroom 4 video - creative looks for video and colorizing.
---