Lightroom 4 Beta Tutorials
Lightroom 4 Soft Proof Indepth
http://digitaldog.net/files/LR4_softproof.mov
Photoshop Lightroom 4 videos at PhotoshopCAFE. Lightroom 4 learning site.
Upgrading your Catalog to Lightroom 4! Lightroom 4 beta – Image Processing The way images are processed has changed in Lightroom 4 beta. Join Colin Smith as he explains what has changed and addresses the new way of adjusting your images using PV2012. Lightroom 4 beta – The Map Module and GPS Geotag your photographs and tie them to a location on an interactive map. Colin Smith shows you how to get around the world and take your photos with you. The map module in Lightroom 4 beta is nothing short of fun!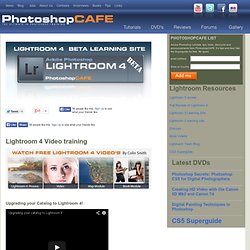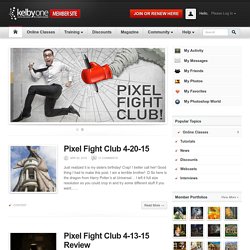 Image of the week: 4-18-14 Well it was a quick turnaround this week due to Photoshop World, but there were some really lovely images that made it into folks portfolios this week, and yes I do realize that I am a little portrait heavy today, but these are the ones that grabbed my eye. Also in the spirit of pushing… Read More → Photoshop Challenge: 4-14-14
Lightroom 4 video - creative looks for video and colorizing
Using The Lightroom 4 Beta Basic Panel Controls to Produce Great Results
Laura Shoe: Using the Lightroom 4 Beta Basics Panel
UPDATE: While this was written during the Lightroom 4 beta release, these instructions and video are completely applicable to the official Lightroom 4 release and Lightroom 5! The Basics panel in the Develop module of the Lightroom 4 Beta may not be the sexiest feature, but the improvements are quite powerful, and the new controls are one of the few new features that you will use many times every day. Working successfully with them requires that you change how you work with the sliders. The keys to successful work are to (1) understand that Exposure is now midtone brightness rather than the white point, and (2) that the sliders are designed to be worked from top to bottom.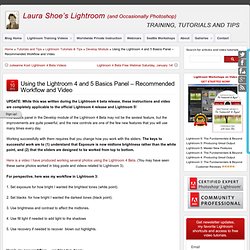 Lynda.com | Photoshop Lightroom 4 Beta Preview
The Lightroom 4 beta was released just over a week ago. Are you getting used to the changes? The new Develop controls undoubtedly take a little getting used to, particularly if you've used ACR or Lightroom for some years.
Getting used to the PV2012 Develop Sliders? | The Lightroom Queen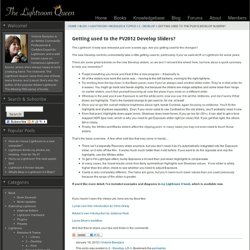 Lightroom 4 Beta: Maps
TV | What's New in Lightroom 4 Beta
On January 10th Adobe released a beta version of it's newest version of Lightroom to the public. The new version is version 4 and it's available for both the Macintosh and Windows. It's important to note that this is a BETA which means that it's not a final shipping product. It also means that the catalogs that you create might not be available for you to use once the final shipping version is release. Adobe has NOT released a shipping date for the final version of Lightroom 4. The beta, should you decide to download and use was designed for you to test and experiment with some of the new features found in this beta release.
Digital Ohotography connection: Lightroom 4 Beta Tutorials