Adobe Lightroom
Optimize performance | Lightroom. To view/add comments, you must enable JavaScript in your browser.
There are three primary ways to affect performance in Lightroom: For best results, take a holistic approach. Read all of the suggestions here. 10 Tips to Improve the Speed and Performance of Lightroom – Lightroom Performance Guide Part I tutorial. The working files for this Lightroom video tutorial on how to Improve Lightroom Performance can be found just above the video.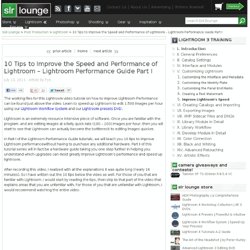 Learn to speed up Lightroom to edit 1,500 images per hour using our Lightroom Workflow System and our Lightroom presets DVD . Lightroom is an extremely resource intensive piece of software. Will an SSD Improve Adobe Lightroom Performance? | Computer Darkroom. (Originally published 3 April 2011, updated 23 March 2012) It seems like never a week goes by without me receiving a query as to whether a Solid State Drive (SSD) will improve Lightroom's overall performance.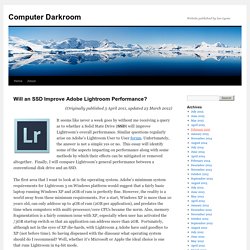 Similar questions regularly arise on Adobe's Lightroom User to User forum. Unfortunately, the answer is not a simple yes or no. Standards: XMP | Photometadata.org. The Extensible Metadata Platform or XMP is a specific type of extensible markup language used to store metadata in digital photos.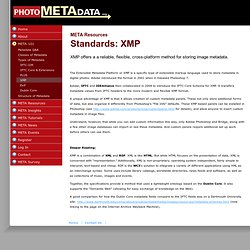 Adobe introduced the format in 2001 when it released Photoshop 7. Adobe, IPTC and IDEAlliance then collaborated in 2004 to introduce the IPTC Core Schema for XMP. It transfers metadata values from IPTC headers to the more modern and flexible XMP format. A unique advantage of XMP is that it allows creation of custom metadata panels.
Print and Onscreen – Color Spaces and ICC Profiles – Part 1 of 2 | X-Equals - image, workflow, technology, business. In this special 2 Part series, I am going to delve deeper into the realm of Color Management.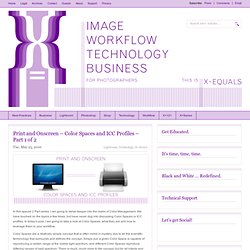 We have touched on the topics a few times, but have never dug into discussing Color Spaces or ICC profiles. In today's post, I am going to take a look at Color Spaces, what they are and how to leverage them in your workflow. Color Spaces are a relatively simple concept that is often mired in mystery due to all the scientific terminology that surrounds and defines the concept. Simply put, a given Color Space is capable of reproducing a certain range of the visible light spectrum, and different Color Spaces reproduce differing ranges of said spectrum.
Lightroom FAQs
Lightroom Blogs. Lightroom Forums. Free Online Keywording Tool, IPTC editor, suggestions for photo tags. Welcome to Yuri Arcurs' free keywording tool for editing the IPTC data of your stock images.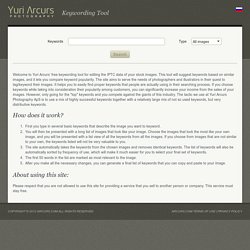 This tool will suggest keywords based on similar images, and it lets you compare keyword popularity. The site aims to serve the needs of photographers and illustrators in their quest to tag/keyword their images. It helps you to easily find proper keywords that people are actually using in their searching process. If you choose keywords while taking into consideration their popularity among customers, you can significantly increase your income from the sales of your images. However, only going for the "top" keywords and you compete against the giants of this industry.
Lightroom News
Adobe Lightroom. Lightroom Tutorials.
---