STUMBLEUPON
Our Exquisite Corpse | SLAMXHYPE
There is always something simply beautiful about traditional works. The sense of history and craftsmanship behind some of the most beautiful artifacts outshine even the most brilliant of contemporary works. Such is the case with the Our Exquisite Corpse Huichol beaded skulls currently presented by LN-CC .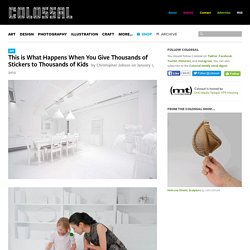 This December, in a surprisingly simple yet ridiculously amazing installation for the Queensland Gallery of Modern Ar, artist Yayoi Kusama constructed a large domestic environment, painting every wall, chair, table, piano, and household decoration a brilliant white, effectively serving as a giant white canvas. Over the course of two weeks, the museum's smallest visitors were given thousands upon thousands of colored dot stickers and were invited to collaborate in the transformation of the space, turning the house into a vibrantly mottled explosion of color. How great is this? Given the opportunity my son could probably cover the entire piano alone in about fifteen minutes. The installation, entitled The Obliteration Room, is part of Kusama's Look Now, See Forever exhibition that runs through March 12.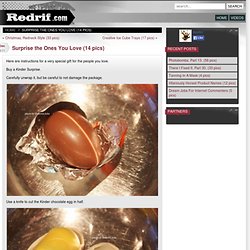 Dec 24/11 Surprise the Ones You Love (14 pics) Here are instructions for a very special gift for the people you love. Buy a Kinder Surprise. Carefully unwrap it, but be careful to not damage the package. Use a knife to cut the Kinder chocolate egg in half.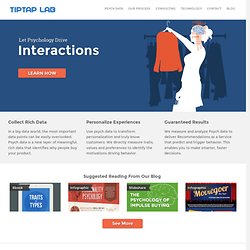 Collect Rich Data In a big data world, the most important data points can be easily overlooked. Psych data is a new layer of meaningful, rich data that identifies why people buy your product. Personalize Experiences