Programming
Mobile Computing with iPhone and Android. The dates for each paper presentation are listed below.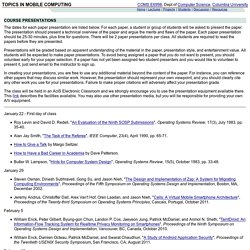 For each paper, a student or group of students will be asked to present the paper. The presentation should present a technical overview of the paper and argue the merits and flaws of the paper. Each paper presentation should be 25-30 minutes, plus time for questions. There will be 2 paper presentations per class. All students are required to read the papers before they are presented. HowStuffWorks &The Basics of C Programming&. The previous discussion becomes a little clearer if you understand how memory addresses work in a computer's hardware.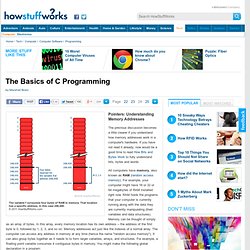 If you have not read it already, now would be a good time to read How Bits and Bytes Work to fully understand bits, bytes and words. All computers have memory, also known as RAM (random access memory). Computer Science I: Programming Methodology | Stanford Video Course. Since 2008, Academic Earth has worked diligently to compile an ever-growing collection of online college courses, made available free of charge, from some of the most respected universities.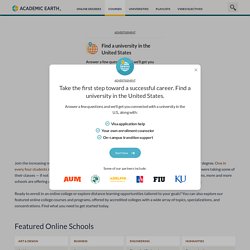 We proudly build on the precedent set forth by MIT OpenCourseware, believing that everyone deserves access to a world-class education. To facilitate this goal, we have curated links to over 750 online courses and 8,500 individual online lectures, giving students of all ages unparalleled access to college courses they may otherwise never experience. Whether supplementing existing coursework, or learning for the sake of learning, anyone with an internet connection has the freedom to learn at their own pace from world-renowned experts, without the burden of rising tuition costs.
To access this collection of free online college courses, simply select your area of interest from the menu below. Free downloadable Computers Video Lecture courses. 19 Tips Every Windows 7 User Needs to Know. Your OS drives your whole PC experience, so it's your job as an enthusiast to keep it in a high state of tune Twist cap carefully.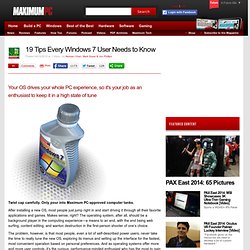 Only pour into Maximum PC-approved computer tanks. After installing a new OS, most people just jump right in and start driving it through all their favorite applications and games. Makes sense, right? The operating system, after all, should be a background player in the computing experience—a means to an end, with the end being web surfing, content editing, and wanton destruction in the first-person shooter of one's choice.
WebPagetest. How C Programming Works& Let's say that you would like to allocate a certain amount of memory during the execution of your application.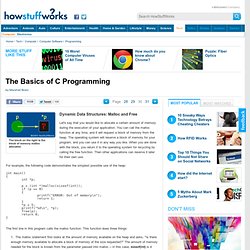 You can call the malloc function at any time, and it will request a block of memory from the heap. The operating system will reserve a block of memory for your program, and you can use it in any way you like. When you are done with the block, you return it to the operating system for recycling by calling the free function. Then other applications can reserve it later for their own use. For example, the following code demonstrates the simplest possible use of the heap: Free Java Tutorials &Guide | Java programming source code. Top 10 C Language resources that will turn you into a better programmer. Custom Search People consider computer programming a little tiresome but some find it more enjoyable.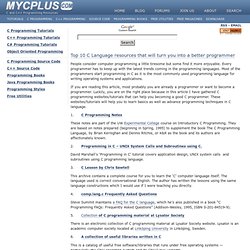 Every programmer has to keep up with the latest trends coming in the programming languages. Code Like a Pythonista: Idiomatic Python. In this interactive tutorial, we'll cover many essential Python idioms and techniques in depth, adding immediately useful tools to your belt.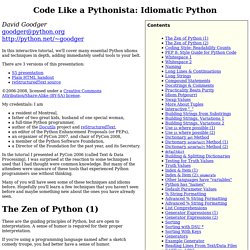 There are 3 versions of this presentation: ©2006-2008, licensed under a Creative Commons Attribution/Share-Alike (BY-SA) license. My credentials: I am. Things Every Computer Geek Should Know. « Arrow Webzine. The term 'geek', once used to label a circus freak, has morphed in meaning over the years.
What was once an unusual profession transferred into a word indicating social awkwardness. As time has gone on, the word has yet again morphed to indicate a new type of individual: someone who is obsessive over one (or more) particular subjects, whether it be science, photography, electronics, computers, media, or any other field. - StumbleUpon. The 32 Totally Essential (and Free) Apps for Every New PC. You have to admit, Windows is a pretty barebones operating system, feature-wise.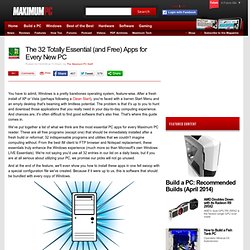 After a fresh install of XP or Vista (perhaps following a Clean Start), you're faced with a barren Start Menu and an empty desktop that's beaming with limitless potential. The problem is that it's up to you to hunt and download those applications that you really need in your day-to-day computing experience. And chances are, it's often difficult to find good software that's also free. That's where this guide comes in. What Is...every file format in the world - A through E.
---