Economie
Les plus fidèles du blog savent l'intérêt que je porte à l'oeuvre de Noam Chomsky, en particulier sur le domaine de la "fabrication de l'opinion publique" par les médias. Je reprends donc sur ce thème ce billet du blog www.noam-chomsky.fr, qui servira en fait d'introduction au billet suivant, qui permettra de passer de la théorie à la pratique. ENTRAIDE : j'aurais besoin de l'aide d'un pro du maquettage pour mettre un document Word joliment en forme pour faire un beau PDF… Et aussi de faire une traduction d'un article anglais très vite. Merci de me contacter.
Le Blog d'Olivier Berruyer sur les crises actuelles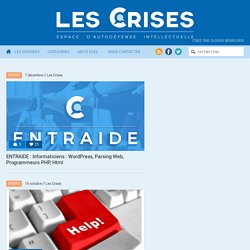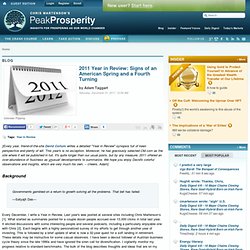 [Every year, friend-of-the-site David Collum writes a detailed "Year in Review" synopsis full of keen perspective and plenty of wit. This year's is no exception. Moreover, he has graciously selected CM.com as the site where it will be published in full. It's quite longer than our usual posts, but by any measure, 2011 offered an over-abundance of 'business as unusual' developments to summarize. We hope you enjoy David's colorful observations and insights, which are very much his own. -- cheers, Adam] Background
2011 Year in Review: Signs of an American Spring and a Fourth Turning
Marshall Auerback
Noahpinion
Like pretty much everyone else, I love Ta-Nehisi Coates, but in recent years his writing has taken a turn for the pessimistic. During a recent argument with Jonathan Chait, he wrote: Obama-era progressives view white supremacy as something awful that happened in the past whose historical vestiges still afflict black people today. They believe we need policies--though not race-specific policies--which address the affliction.
You can keep reading Jim`s market updates and financial commentary on the new website: Rogers on The Markets (click on the link or on the image below to access the new website) Jim Rogers is a legendary investor that co-founded the Quantum Fund and retired at age thirty-seven. He is the author of several books and also a financial commentator worldwide. Visit the new website Rogers On The Markets for exclusive content.
Jim Rogers Blog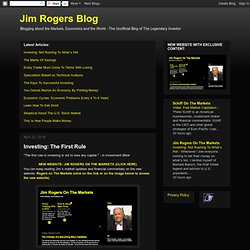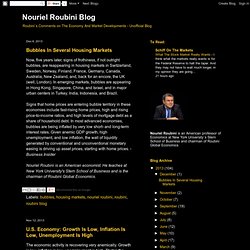 Nouriel Roubini Blog
Now, five years later, signs of frothiness, if not outright bubbles, are reappearing in housing markets in Switzerland, Sweden, Norway, Finland, France, Germany, Canada, Australia, New Zealand, and, back for an encore, the UK (well, London). In emerging markets, bubbles are appearing in Hong Kong, Singapore, China, and Israel, and in major urban centers in Turkey, India, Indonesia, and Brazil. Signs that home prices are entering bubble territory in these economies include fast-rising home prices, high and rising price-to-income ratios, and high levels of mortgage debt as a share of household debt. In most advanced economies, bubbles are being inflated by very low short- and long-term interest rates. Given anemic GDP growth, high unemployment, and low inflation, the wall of liquidity generated by conventional and unconventional monetary easing is driving up asset prices, starting with home prices. - Business Insider
Peter Schiff Blog
"When you throw in weakening stock prices, a weakness in the real estate market, the Fed is going to be forced to admit that the recovery that they're hoping to achieve is still eluding us. They're going to say that we need more stimulus. Of course, that's the last thing we need." - in Money News Peter Schiff`s comments on the economy, stock markets, politics and gold.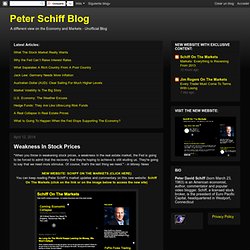 Ludwig von Mises Institute
Interest-Rates / Global Debt CrisisOct 01, 2010 - 03:46 AM GMT By: Seth_Barani Debt creates problems. It is seldom known to solve problems, especially in the long run.
World Sovereign Debt Map