Economie
Le Blog d'Olivier Berruyer sur les crises actuelles. 2011 Year in Review: Signs of an American Spring and a Fourth Turning. [Every year, friend-of-the-site David Collum writes a detailed "Year in Review" synopsis full of keen perspective and plenty of wit.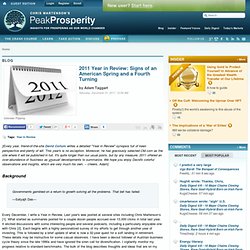 This year's is no exception. Moreover, he has graciously selected CM.com as the site where it will be published in full. It's quite longer than our usual posts, but by any measure, 2011 offered an over-abundance of 'business as unusual' developments to summarize. We hope you enjoy David's colorful observations and insights, which are very much his own. -- cheers, Adam] Background. Marshall Auerback. Noahpinion. Jim Rogers Blog. Nouriel Roubini Blog. Peter Schiff Blog. Ludwig von Mises Institute. World Sovereign Debt Map. Interest-Rates / Global Debt CrisisOct 01, 2010 - 03:46 AM GMT By: Seth_Barani Debt creates problems.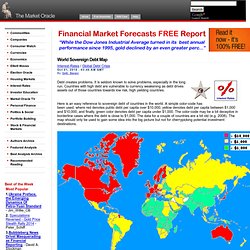 It is seldom known to solve problems, especially in the long run.
---