DSLR / Réal
Tools for Filmmakers and Photographers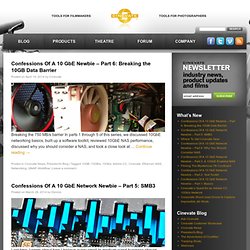 Commercial Shoot With Canon EOS 1D C Whether you're certain that 4k video is the next essential format, or that it's a technology that's pre-maturely ahead of the supporting output devices, there are filmmakers and photographers that are embracing it. The Canon EOS 1D C is a … Continue reading Duzi Slider Reviewed in -45 Degrees Our local filmmaking friend Matt Popowich, of Westfort Films, recently had the opportunity to take the Duzi Camera Slider with him on a shoot up north to Fort Severn.
Panier S'enregistrer International Retouche d'images & Photographie 146 formations, 811 heures Business 123 formations, 481 heures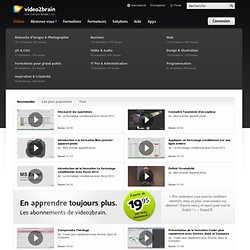 Camera tutorials and workshops by DSLR Tips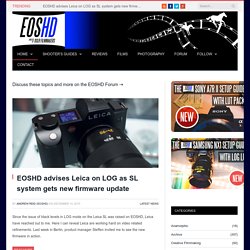 Tuesday, 26 November, 2013 10:49Written by Andrew Reid Super 8 and Super 16 movie cameras took a free-roaming Henri-Cartier Bresson style to documentary filmmaking and "run & gun" for the first time (as early as the 1960′s). Cadid footage of JFK on the election trail. French New Wave cinema in the 80′s.
EOSHD
Seb Farges on Vimeo
Arty, films documentaries and music videos director sebfarges@me.com THANK YOU FOR THE 7.116.184 VISITORS, 831.581 PLAYS, 6221 LIKES AND 3581 COMMENTS ON MY WORK WITH THE GH1, GH2, GH3 AND NOW WITH THE OM-D and the Sony A7 ! :) PRESS AND WEB RELEASE (Sonyalpharumors.com, january 4th/2014)sonyalpharumors.com/sony-tidbits-great-rx1-for-fashion-article/#comments (43rumors.com, september 24th/2013)43rumors.com/a-little-bit-of-everything-250/ (43rumors.com, september 2nd/2013)43rumors.com/first-slr-magic-17mm-t1-6-cine-lens-test-available-in-spring-2014-for-499/ (Thinkingdance.net, july 16th/2013)thinkingdance.net/articles/2013/07/16/3/Viewing-Made-to-Order/ (43rumors.com, july 13th/2013)43rumors.com/a-little-bit-of-everything-252/ (hybridcams.fr, june 24th/2013)hybridcams.fr/womanhatthan/ (Dance Made Order, june 2013)dancesmadetoorder.com/blog/2013/06/sebastien-farges-one-of-our-edition-25-artists/ (Métamorphose - Expérience N° 2, june 2013)eloisevene.com/experiences/?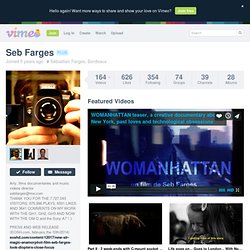 Learning DSLR Video
Philip Bloom's blog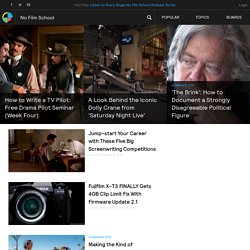 It has been a big week for independent films — especially for independent, crowdfunded films. Not only is 10% of this year's Sundance slate made up of Kickstarter-funded films, but Vimeo made an announcement at the festival yesterday that they're launching a program specifically for films that have raised funds through crowdfunding platforms, offering $500K in support for marketing. Continue on for more info. More » Premiere Pro Tutorial: Taking Creative Control of Your Black & White
Canal Ti Zef, la video independante à Brest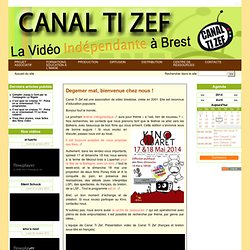 BZH / Fr Demat deoc'h-holl, Ar plijadur en deus Canal Ti Zef d'ho pediñ da emvod-meur ordinal ar gevredigezh, d'ar meurzh 11 a viz c'hwevrer, da 6e30 noz, e ti Canal Ti Zef, 6 straed Pen ar creac'h e Brest. Dre ar munud, evit kregiñ, digor-kalon o tizoloeiñ an danevell vuhezel. Da c'houde e vo eus un dra dous gant ar bilañs arc'hant hag evit echuiñ e vo gwelet piv en deus c'hoant da vezañ merour(ez) hor c'hevredigezh. E-pad an nozvezh e vo eskemmoù ivez tro-dro buhez ar gevredigezh hag erfin, e echuo an abadenn tro-dro ur banne.