FFT
what
romanticnyc
Four Seasons Hotel George V Paris, Paris, France - TripKick.com
Accueil - Biobble, biographie et site personnel, votre histoire pour toujours
Login - eliTweet
Your Friend In Venice » Top Ten Travel Tips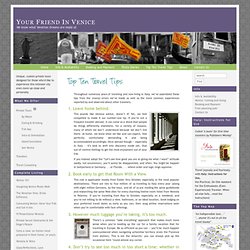 Throughout numerous years of traveling and now living in Italy, we've assembled these tips from the (many) errors we've made as well as the more common experiences reported by and observed about other travelers. 1. Leave home behind. This sounds like obvious advice, doesn't it? Yet, we feel compelled to make it our number-one tip. If you're not a frequent traveler abroad, it can come as a shock that people do things differently elsewhere, for a variety of reasons, many of which we don't understand because we don't live there.
During your walking tour of Istanbul you will visit Beyazid Square, the Covered Bazaar, Sultanahmed Mosque (Blue Mosque), Hagia Sophia, Eminonu, Galata Bridge on Golden Horn and the Old Funicular System "Tunel" (built in 1874). Your photography tour ends with a 360 degree view of Istanbul from the top of Galata Tower. Witness the diverse multicultural history and a city coming into the modern age through the lens of your camera.
Istanbul Photography Walking Tour, Istanbul Cultural Tours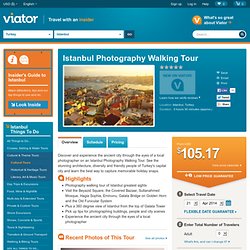 A la Carte Maps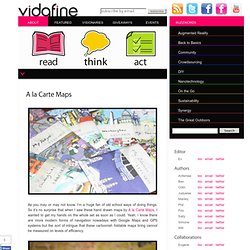 A la Carte Maps | Vidafine
As you may or may not know, I'm a huge fan of old school ways of doing things. So it's no surprise that when I saw these hand drawn maps by A la Carte Maps, I wanted to get my hands on the whole set as soon as I could. Yeah, I know there are more modern forms of navigation nowadays with Google Maps and GPS systems but the sort of intrigue that these cartoonish foldable maps bring cannot be measured on levels of efficiency. A la Carte Maps was born from two Swiss entrepreneurs' vision of "revolutionizing" the traditional way of traveling. The result? A love child stemming from the elements of a map, guidebook and a fun piece of collectable art.
Louer un ami ? C'est possible avec le site Rent a Local Friend ! | Web Tourisme - Blog eTourisme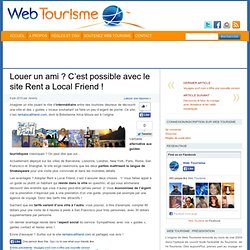 Imaginer un site jouant le rôle d'intermédiaire entre des touristes désireux de découvrir une ville et des « guides » locaux souhaitant se faire un peu d'argent de poche. Ce site, c'est rentalocalfriend.com, dont la Brésilienne Alice Moura est à l'origine. Véritable alternative aux guides touristiques classiques ? On peut dire que oui… Actuellement déployé sur les villes de Barcelone, Lisbonne, Londres, New York, Paris, Rome, San Francisco et Shanghai, le site exige néanmoins que les deux parties maîtrisent la langue de Shakespeare pour une visite plus conviviale et dans les moindres détails.
Contacter l'équipe CGV-expert
Hotels - Country Inns & Suites | Hotel Reservations, Hotel Deals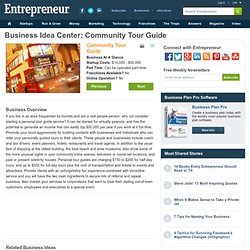 Business Ideas - Community Tour Guide
Business Overview If you live in an area frequented by tourists and are a real people-person, why not consider starting a personal tour guide service? It can be started for virtually peanuts, and has the potential to generate an income that can easily top $50,000 per year if you work at it full-time.
Business Ideas - Adventure Travel Agent
Business Overview How about ice-climbing in Finland, deep-sea fishing off Australia, base-jumping in Africa, or a Mayan ruins tour in a hot-air balloon? Have fun and earn incredible profits arranging the adventure of a lifetime for clients by starting a specialty adventure travel agency. Forget about run-of-the-mill tours of Paris and those mundane amenity-packed hotels in the Caribbean, and concentrate instead on your client's need for adventure by offering the most unique vacation adventures available. To get started, market the adventure vacation packages in company newsletters and online chat rooms, advertise in specialty sports and recreation publications, exhibit at sports and recreation shows, and use e-mail broadcasting.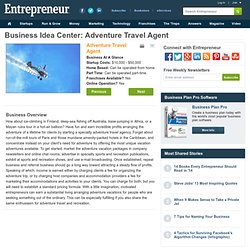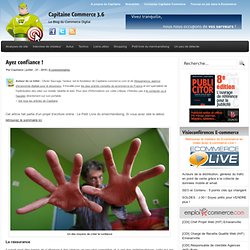 Cet article fait partie d'un projet d'écriture online : Le Petit Livre du emerchandising. Si vous avez raté le début, retrouvez le sommaire ici. Un des moyens de créer la confiance La rassurance Il serait peut-être temps de s'attaquer à des choses un peu plus concrètes et à une des problématiques, celle qui me semble être une des plus importantes du ecommerce, je veux parler, bien sûr, de la rassurance (et non pas réassurance).
Ayez confiance !
You are coming to Paris and want to live an unusual and exciting experience outside of touristic spots. Meet then with a volunteer for a walk with family, alone or with friends. Your parisian host will be happy to warmly welcome you, to speak your language depending on avaibilities, to stroll with a maximum of 6 people , to walk 2 to 3 hours with you and your party, in a specific neighborhood he/she knows and loves and to answer your questions on french parisians daily life. We take care of disable people . Tell us, dedicated and trained volunteers will be happy to welcome you. Our walks are free of charges , but your donation will help us to continue our services.
Les Greeters made in Pas de Calais
Unique Paris, My Guide in Paris
Almost everything tastes good in a zesty Moroccan tomato sauce, and fava beans prepared this way are an ideal dish to present while fresh fava beans are in season. Although normally served as a side, you may be tempted to double the Fava Beans in Tomato Sauce Recipe and make it a vegetarian entree. You'll need lots of fresh, ripe tomatoes if doubling the recipe, but there's no need to go to the trouble of peeling the fava beans.
Moroccan Food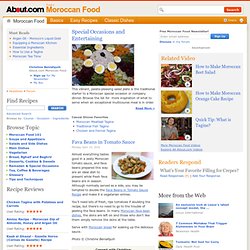 Morocco: Menus & Recipes from Africa
Menu Morocco The cuisine of Morocco is rated among the best in the world, and rightly so. There are few places where food is more carefully and artistically prepared, more delightfully served, and more enjoyed than in this country.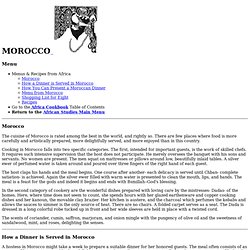 Meeting the French : chambres d'hôtes, visites guidées et gastro
L'association Taddart
Vivre avec le pays, c'est... Vivre avec l'habitant, Vivre ses traditions Le Tourisme Participatif Le tourisme participatif est une des alternatives au tourisme de masse. Il existe des initiatives de tourisme participatif dans tous les milieux (urbain, rural, littoral) et de tous types (balades, visites, culture éthique, hébergements, repas...) en France comme à l'étranger.
Chambres à Part (voir le Blog) est l'un des 3 projets portés par la société Autrement (voir le Blog). Une société un peu différente, comme son nom l'indique. Pas seulement parce que nous souhaitons vous proposer une nouvelle façon de voyager, en choisissant des adresses qui sortent des sentiers battus, mais aussi parce que nous avons souhaité donner du Sens à cette aventure. C'est parti pour les présentations : Michel Athénour Ancien DG et co-fondateur de Cityvox, il cache parfois qu'il a été un jour consultant, avant qu'il ne décide de mettre les mains dans le cambouis.
Chambres à part, Hôtels et Chambres d'hôtes pour voyager Autreme
Voyage, Logement et Tourisme Ethique et Solidaire chez l'habitan
Loger chez l'habitant Nous vous proposons des voyages à la carte chez l'habitant ou en riad, en ville et/ou à la campagne, en toutes saisons partout au Maroc, pour faire de vos vacances un moment unique privilégiant les émotions au confort, les rencontres au « tout prévu », à ce qui n'existe pas encore et sera à inventer. Lire la suite
Ateliers Artisanat Marrakech
Nous concevons les ateliers comme de véritables immersions au coeur de l'artisanat marocain.D'une durée de 2 heures ou 4 heures selon vos envies, nos ateliers vous donnent d'abord du temps : pour goûter l'ambiance spécifique de chaque lieu, pour connaître un savoir-faire à travers les gestes et les matières utilisées, pour pratiquer également les différentes techniques et réaliser votre propre objet. Le temps laisse également le champs libre à la rencontre : le temps de l'écoute, le temps de la pratique, le temps d'une pause, et le lien se crée. Vous vivez alors le Maroc dans ce qu'il a de plus authentique.Nos ateliers vous offrent également l'intimité : organisés sous la forme de très petits groupes, ils n'impactent pas le rythme habituel de l'atelier et en garantissent l'authenticité.
Riad Rabat Maroc - Dar Mayssane - Chambres d'hotes Rabat - Table
Tourisme responsable, équitable et durable au Maroc - Office Nat
Maroc - Fes - Photos du Maghreb
BetnBoost
Africa Talking::Home