Créa
Ideas for Startups. October 2005 (This essay is derived from a talk at the 2005 Startup School.)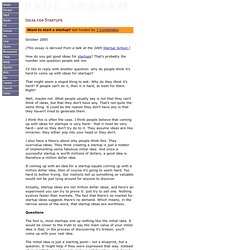 How do you get good ideas for startups? That's probably the number one question people ask me. Organic Startup Ideas. April 2010 The best way to come up with startup ideas is to ask yourself the question: what do you wish someone would make for you?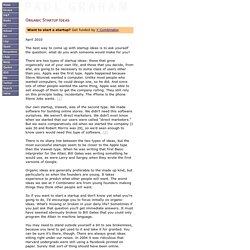 There are two types of startup ideas: those that grow organically out of your own life, and those that you decide, from afar, are going to be necessary to some class of users other than you. Startup Ideas We'd Like to Fund. Startup Ideas We'd Like to Fund Paul Graham July 2008 When we read Y Combinator applications there are always ideas we're hoping to see.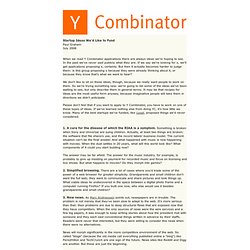 In the past we've never said publicly what they are. If we say we're looking for x, we'll get applications proposing x, certainly. But then it actually becomes harder to judge them: is this group proposing x because they were already thinking about it, or because they know that's what we want to hear? Toy Traveling - Home. Tato doména je parkována u hostingových služeb gigaserver.cz.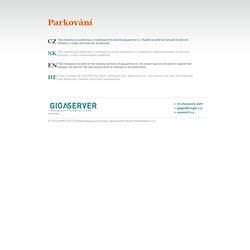 Majitel se ještě nerozhodl využít své domény a zatím zde není nic k nalezení. Táto doména je parkovaná u hostingovej služby gigaserver.cz. TEDDY-TOUR-BERLIN: Start.
---