tax
Get flash to fully experience Pearltrees
Stefan de Vries/Flickr* Rarely have developing countries been more vocal and united on a question of international taxation. The vexed question of the status of the arcane-sounding "Committee of Experts on International Cooperation in Tax Matters" is hotting up, after rich and poor countries clashed at a United Nations meeting last month.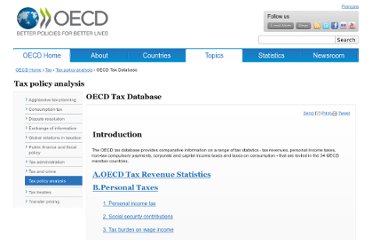 The OECD tax database provides comparative information on a range of tax statistics - tax revenues, personal income taxes, non-tax compulsory payments, corporate and capital income taxes and taxes on consumption - that are levied in the 34 OECD member countries. 1. Personal income tax 2. Social security contributions 3.
We might not like the idea of paying taxes, but without it, democracies will struggle to function, and will be unable to provide public services. This affects both rich and poor nations, alike. Individuals and companies all have to pay taxes. But some of the world's wealthiest individuals and multinational companies, able to afford ingenious lawyers and accountants, have figured out ways to avoid paying enormous amounts of taxes.
OECD Home › Centre for Tax Policy and Administration › Tax policy analysis Focus New data show that tax revenues in relation to GDP in most OECD countries are continuing to rise gradually from the 2008 - 2009 declines seen at the beginning of the crisis, according to OECD's annual Revenue Statistics. Read more How do taxes affect the level of employment? What reforms can reduce unemployment and increase labour force participation?