Identity
IdentityMeme.org. Identity thieves likely to be first-timers, strangers. An analysis of identity-theft cases closed by the U.S.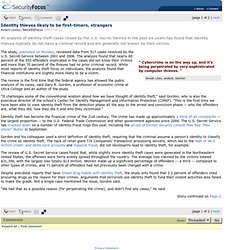 Secret Service in the past six years has found that identity thieves typically do not have a criminal record and are generally not known by their victims. The study, published on Monday, reviewed data from 517 cases resolved by the U.S. Secret Service between 2001 and 2006. The analysis found that nearly 60 percent of the 933 offenders implicated in the cases did not know their victims and more than 70 percent of the thieves had no prior criminal record. Chronicles of Extreme Future Part 3: The ID Card. Cross-posted from the blog of new fiction-focused startup fictionthis.com.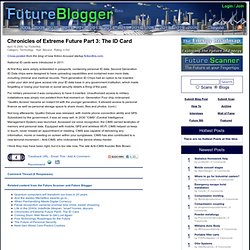 National ID cards were introduced in 2011. At first they were simply embedded in passports, containing personal ID data. The Identity Corner » User-centric identity: boon or worst nightmare to privacy?
---