Identity
IdentityMeme.org
Primary among RL "Bob" Morgan's (aka "RLBob") many contributions during his time at Stanford Networking Systems, was being a key visionary and instigator behind the Stanford University SUNet ID project, as well as the underlying Registry and Directory Infrastructure. The main use cases RLBob latched onto in the early 1990s were having a centralized institution-wide authentication infrastructure, and a "flat" email address namespace. Both use cases drive requirements for having a centrally-maintained yet delegated-management notions of person naming. At that time, all email addresses at Stanford were relative to some particular system or host. So, you had to remember whether some Stanford correspondent's email address was @forsythe.stanford.edu, or @leland.stanford.edu, or @networking.stanford.edu, or @whatever.stanford.edu.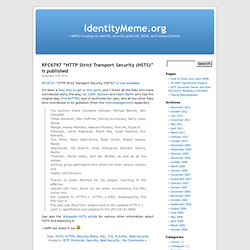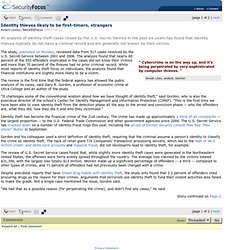 Identity thieves likely to be first-timers, strangers
An analysis of identity-theft cases closed by the U.S. Secret Service in the past six years has found that identity thieves typically do not have a criminal record and are generally not known by their victims. The study, published on Monday, reviewed data from 517 cases resolved by the U.S. Secret Service between 2001 and 2006. The analysis found that nearly 60 percent of the 933 offenders implicated in the cases did not know their victims and more than 70 percent of the thieves had no prior criminal record.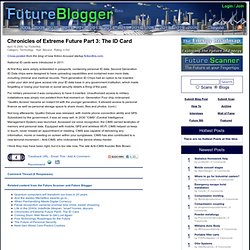 Chronicles of Extreme Future Part 3: The ID Card
Cross-posted from the blog of new fiction-focused startup fictionthis.com. National ID cards were introduced in 2011. At first they were simply embedded in passports, containing personal ID data.
The Identity Corner » User-centric identity: boon or worst nightmare to privacy?
What are the Implications of Competition Law Competition law is an area of law that deals with market competition, through the regulation of anti-competitive behaviour and conduct. In the United States, competition law ( Anwalt Wettbewerbsrecht ) is known as antitrust law, although in most other parts of the world it is known as competition law.