Economics
In a 2008 paper on neuroeconomics, Carnegie Mellon University economist George Loewenstein said: "Whereas psychologists tend to view humans as fallible and sometime even self-destructive, economists tend to view people as efficient maximisers of self-interest who make mistakes only when imperfectly informed about the consequences of their actions." This view of humans as completely rational - and the market as eminently efficient - is relatively recent. In 1922, in the Journal of Political Economy, Rexford G. Tugwell, said (to paraphrase) that a mind evolved to function best in "the exhilarations and the fatigues of the hunt, the primitive warfare and in the precarious life of nomadism", had been strangely and quickly transported into a different milieu, without much time to modify the equipment of the old life.
Economics and the brain: how people really make decisions in turbulent times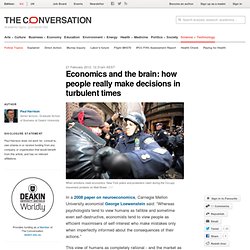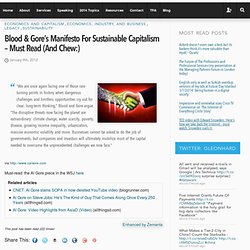 Blood & Gore's Manifesto For Sustainable Capitalism - must read (and chew:)
"We are once again facing one of those rare turning points in history when dangerous challenges and limitless opportunities cry out for clear, long-term thinking," Blood and Gore argue."The disruptive threats now facing the planet are extraordinary: climate change, water scarcity, poverty, disease, growing income inequality, urbanization, massive economic volatility and more. Businesses cannot be asked to do the job of governments, but companies and investors will ultimately mobilize most of the capital needed to overcome the unprecedented challenges we now face." via http://www.csrwire.com Must-read: the Al Gore piece in the WSJ here This post has been read 222 times!
Where Are My Taxes?
05/12/2011 - The gap between rich and poor in OECD countries has reached its highest level for over over 30 years, and governments must act quickly to tackle inequality, according to a new OECD report. "Divided We Stand: Why Inequality Keeps Rising" finds that the average income of the richest 10% is now about nine times that of the poorest 10 % across the OECD. The income gap has risen even in traditionally egalitarian countries, such as Germany, Denmark and Sweden, from 5 to 1 in the 1980s to 6 to 1 today. The gap is 10 to 1 in Italy, Japan, Korea and the United Kingdom, and higher still, at 14 to 1 in Israel, Turkey and the United States. In Chile and Mexico, the incomes of the richest are still more than 25 times those of the poorest, the highest in the OECD, but have finally started dropping. Income inequality is much higher in some major emerging economies outside the OECD area.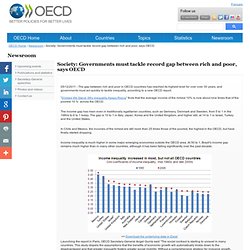 Society: Governments must tackle record gap between rich and poor, says OECD
Worldmapper is a collection of world maps, where territories are re-sized on each map according to the subject of interest. There are now nearly 700 maps. Maps 1-366 are also available as PDF posters. Use the menu above to find a map of interest.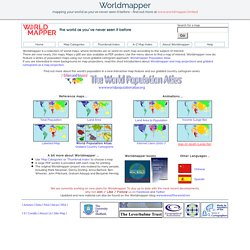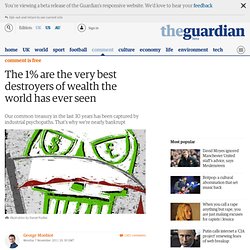 Illustration by Daniel Pudles If wealth was the inevitable result of hard work and enterprise, every woman in Africa would be a millionaire. The claims that the ultra-rich 1% make for themselves – that they are possessed of unique intelligence or creativity or drive – are examples of the self-attribution fallacy. This means crediting yourself with outcomes for which you weren't responsible.
Galbraith: why economists won't discuss fraud
A startling quote from James K. Galbraith: "you cannot get – not at a meeting sponsored by the International Monetary Fund, not from the participants at the Institute for New Economic Thinking – is any serious discussion of contract law and fraud.