PINEVIEW
The PR Pro's Guide to Twitter. The Social PR Guide Series is supported by Mynewsdesk.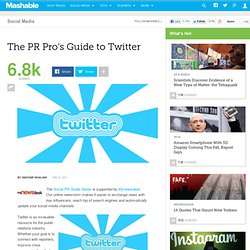 Our online newsroom makes it easier to exchange news with key influencers, reach top of search engines and automatically update your social media channels. Twitter is an invaluable resource for the public relations industry. Whether your goal is to connect with reporters, improve crisis communication, find your next job, bolster professional development or offer a glimpse of a company's inner workings -– 140 characters can go a long way. The Impact of the Social Web on Media Agencies. Facebook was born in 2004 as a simple directory of profile pages for Ivy League students.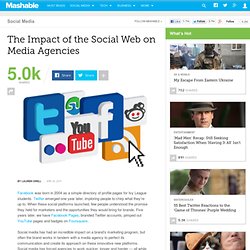 Twitter emerged one year later, imploring people to chirp what they're up to. When these social platforms launched, few people understood the promise they held for marketers and the opportunities they would bring for brands. Five years later, we have Facebook Pages, branded Twitter accounts, pimped out YouTube pages and badges on Foursquare. Social media has had an incredible impact on a brand's marketing program, but often the brand works in tandem with a media agency to perfect its communication and create its approach on these innovative new platforms.
Social media has forced agencies to work quicker, longer and harder — all while keeping up with the newest Facebook features and location-based app. Poptent Media. Interview with Poptent's super-salesman, "Bisbinetts" | Video Contest News. Posted by Dan L. on March 30th, 2011 Joe AKA Bisbinetts and the star of his Bounty submission Poptent has really kicked it into overdrive in the last few months.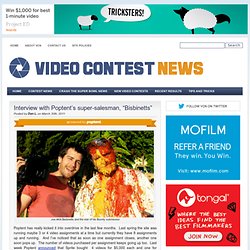 Last spring the site was running maybe 3 or 4 video assignments at a time but currently they have 8 assignments up and running. The new place to buy, sell and view rich media and online video. Bootstrapping a Startup. The Bloomberg Juggernaut   While many news organizations are struggling and retreating, Bloomberg News keeps adding talented journalists, expanding its empire and elevating its ambitions.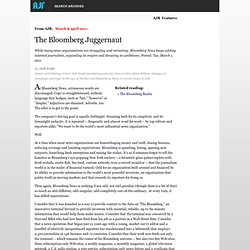 Posted: Tue, March 1, 2011 By Jodi Enda Senior contributing writer Jodi Enda (jaenda@gmail.com) has written about Politico, changes in campaign coverage in the age of Twitter and Bloomberg News in recent issues of AJR. At Bloomberg News, extraneous words are discouraged. Copy is straightforward, without language that hedges, such as "but," "however" or "despite. " 5 Fresh Digital Media Trends to Watch. Digital media, as many a Mashable reader is aware, is evolving at a rapid pace.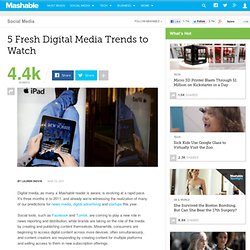 It's three months in to 2011, and already we're witnessing the realization of many of our predictions for news media, digital advertising and startups this year. Social tools, such as Facebook and Tumblr, are coming to play a new role in news reporting and distribution, while brands are taking on the role of the media by creating and publishing content themselves. Meanwhile, consumers are beginning to access digital content across more devices, often simultaneously, and content creators are responding by creating content for multiple platforms and selling access to them in new subscription offerings. Those are just a few of the trends we're observing across digital media, which we explore in greater depth below. Starting a Business: Top 7 Reasons Why Small Businesses Fail. According to statistics published by the Small Business Administration (SBA), seven out of ten new employer establishments survive at least two years and 51 percent survive at least five years.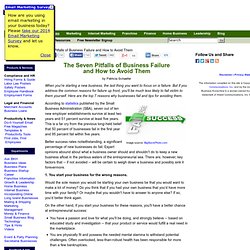 This is a far cry from the previous long-held belief that 50 percent of businesses fail in the first year and 95 percent fail within five years. Better success rates notwithstanding, a significant percentage of new businesses do fail. Expert opinions abound about what a business owner should and shouldn't do to keep a new business afloat in the perilous waters of the entrepreneurial sea. There are, however, key factors that -- if not avoided -- will be certain to weigh down a business and possibly sink it forevermore. 1.
Typography - 20 Free High Quality Script Fonts. Hello all!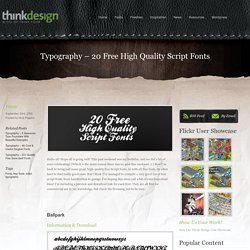 Hope all is going well. This past weekend was my birthday, and we did a bit of over-celebrating! Welcome to Film Underground. Government 2.0: How Social Media Could Transform Gov PR. It's easy to see governments as nameless, faceless monoliths, something impersonal or, even worse, untrustworthy.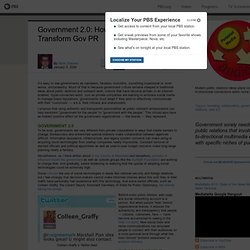 Much of that is because government culture remains steeped in traditional ideas about public relations and outreach work, notions that have become archaic in an Internet-enabled, hyper-connected world. Just as private companies are learning to embrace social media to manage brand reputations, governments must adapt if they wish to effectively communicate with their "customers" — a.k.a. their citizens and stakeholders.
Journalisted.com. Talent Zoo - Advertising Jobs | Marketing Jobs | Media Jobs | PR Jobs | Design Jobs. 6 Smart and Effective Email Marketing Tactics. The Digital Marketing Series is supported by HubSpot , which offers inbound marketing software that helps small and medium sized businesses get found on the Internet by the right prospects and converts more of them into leads and customers.
Learn more . Although consumers' communication habits have evolved with the rising popularity of social media and smartphones, brands are still turning to their dependable friend — email — to attract and retain customers and boost their bottom lines. There's no denying that email is showing signs of decline — the number of visitors to web-based email sites fell 6% in 2010 compared to the previous year, and email engagement declined at an even greater rate, according to a report from digital analysis company comScore . In response to these changes, brands are quickly adapting by combining email, social media and even mobile marketing tactics. Start Your Own Business: 50 Things You'll Need to Do - Free Legal Information. Social Media for Small Businesses: 6 Effective Strategies.
Nellie Akalp is CEO of CorpNet.com, her second incorporation filing service based on her strong passion to assist small business owners and entrepreneurs in starting and protecting their business.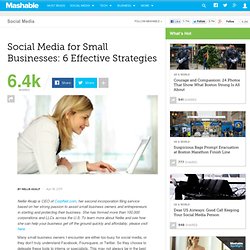 She has formed more than 100,000 corporations and LLCs across the U.S. To learn more about Nellie and see how she can help your business get off the ground quickly and affordably, please visit here. Many small business owners I encounter are either too busy for social media, or they don't truly understand Facebook, Foursquare, or Twitter. So they choose to delegate these tools to interns or specialists. This may not always be in the best interest of the company. Logo_4_pinetree-500x167. Knowlera Media | MonkeySee. SEO Strategies For Small Businesses – Go Local & Get Social – Milestone Interviews SEOmoz and Blitz Local. 10 Small Business Social Media Marketing Tips.
Ross Kimbarovsky is the co-founder of crowdSPRING, a community of 43,000+ graphic designers that helps small businesses from around the world with graphic design needs. You can follow Ross on Twitter @rosskimbarovsky and @crowdSPRING. Capacity - especially to plan and execute effective marketing strategies - is a big challenge for every small business. In this post, I'll offer 10 suggestions for how small businesses can supercharge their marketing efforts by leveraging social media. For each suggestion, I will discuss a basic strategy - for those who simply want to get their toes wet, as well as an advanced strategy - for those who want to spend a bit more time and go a bit deeper in their social media marketing efforts. These tips are based on my experience leveraging social media marketing for my company, crowdSPRING. Social Media Marketing, Branded Content Experts and Consumer Engagement Agency. Social media is the most complicated channel for a brand to manage.
Marketers may have controlled a brand's digital presence in the past, but networking technology is passing more of that authority into the hands of consumers each day. Social media now drives every aspect of communications from marketing to branding, CRM, PR, customer service, analytics, crisis management and much more. Social media requires a new breed of agency to help brands navigate and manage their message across an entire enterprise. Big Fuel is 100% social media-dedicated with the talent, capability and experience to deliver results from the chaos. We are social media architects with the right blueprint for success. 3 Facebook Commerce Success Stories. To be honest, there aren't a whole lot of Facebook commerce success stories — at least not yet. Facebook storefronts are still relatively new, and most people don't view the social network as a transaction platform, especially since most third-party Facebook storefront software doesn't actually allow transactions within Facebook.
But there are still good reasons to set up shop on your Facebook Page. Doing so can allow Facebook fans to browse your products before they've navigated to your website, help fans spread the word about specific products and direct traffic from Facebook to product pages on your website. It's easy to get started with applications like Storefront Social or Payvment , and there's a chance that your existing e-commerce software offers a Facebook storefront at no extra charge. Social Media Management Firm Vitrue Secures $17 Million in Funding. Social media management company Vitrue announced Thursday that it has closed a $17 million Series C funding round.
Scale Venture Partners and Advent Venture Partners led the round, which included participation from existing investors like General Catalyst Partners, Comcast Interactive and Dance Ventures. Vitrue's Social Publisher platform powers more than 2,500 different Facebook and Twitter accounts, including companies like Ford, Intel, McDonald's, MTV and Best Buy.Vitrue will be using the latest round of financing to expand its operations domestically and abroad.
The company, which is based in Atlanta, hopes to have 20 offices by the end of the year in locations like New York, San Francisco, Dallas, Chicago, London, Toronto and Singapore. Numbered: The Week's Must-See Tech Stats. Marketing Tips. 5 Advanced Social Media Marketing Strategies for Small Businesses. Syncapse - Your Social Media Management & Technology Partner. How to Maximize Your Chances for a Small Business Loan : Money. Teaching Your Business to Market Itself. Professional Video Producer: How To Start a Successful Home-Based Business Producing Corporate Videos « Video University. National TV Spots - Costs of Advertising on Television - TV Commercial Prices.
HOW TO: Turn Your Facebook Profile Photo Into a Video. How to start a one-man-video production house. How to Take an Indie Film to Market with Social Media. 180 Degree Rule Explained! on Vimeo Video School. Vegas Product Family Overview. We're THE Vacation Rental & Hotel Internet Marketing Experts. Introduction to audio with DSLRs. Kellen dengler director / cinematographer / editor nyc.
---