Progressives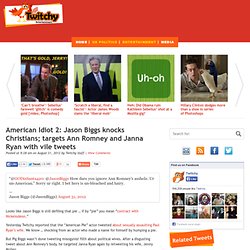 "@GODisSanta420: @JasonBiggs How dare you ignore Ann Romney's asshole. Ur un-American." Sorry ur right. I bet hers is un-bleached and hairy.— Jason Biggs (@JasonBiggs) August 31, 2012
American Idiot 2: Jason Biggs knocks Christians; targets Ann Romney and Janna Ryan with vile tweets
Did Obama Just Throw The Entire Election Away
Ann Romney fires back at Bill Clinton on auto bailouts - The Hill's Video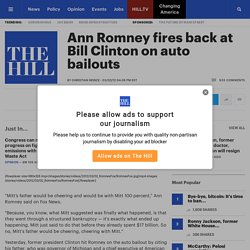 "Mitt's father would be cheering and would be with Mitt 100 percent," Ann Romney said on Fox News.
Democrats Reinstate Jerusalem and God Language into DNC Platform Despite Booing
Democrats Remove 'God' From 2012 Party Platform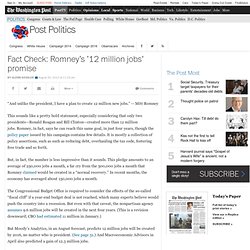 "And unlike the president, I have a plan to create 12 million new jobs." -- Mitt Romney This sounds like a pretty bold statement, especially considering that only two presidents—Ronald Reagan and Bill Clinton—created more than 12 million jobs. Romney, in fact, says he can reach this same goal, in just four years, though the policy paper issued by his campaign contains few details.
Factchecker: Romney's '12 million jobs' promise
Code Pink Tries to Disrupt Mitt Romney Convention Speech
Obama Lies While Accusing the Romney Campaign of Lying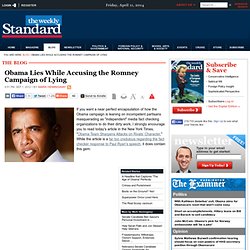 If you want a near perfect encapsulation of how the Obama campaign is leaning on incompetent partisans masquerading as "independent" media fact checking organizations to do their dirty work, I strongly encourage you to read today's article in the New York Times, "Obama Team Sharpens Attacks on Rivals' Character." While the article is a far too credulous regarding the fact checker response to Paul Ryan's speech, it does contain this gem: Mr. Obama this week, for the first time, entered the fray.
'Sand Obama' Sand Sculpture in Charlotte
Posted by William A. Jacobson Thursday, July 19, 2012 at 1:52pm Obama has stepped in it big time, and we have Elizabeth Warren to thank. Obama gave voice to his political creed in the form of parroting Warren's famous rant about factory owners: Here's Obama's rendition (and a Romney response):
» Thank you Elizabeth Warren (for possibly costing Obama the election)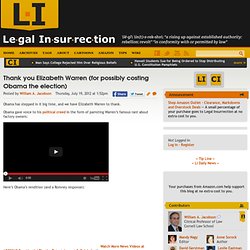 The Obama propaganda team has stooped to a new level … and that's saying something. The issue is over Obama's comments about building a business. You've heard me railing for the entire week now about his comments last Friday in Roanoke, "If you've got a business -- you didn't build that. Somebody else made that happen." That's not my paraphrasing, those words are straight from the SCOAMF's mouth. So in a speech following Obummer's asinine comment, Mitt Romney gets up to the podium, quotes Obama directly, and then begins his own retort (which was not nearly as brilliant as mine, by the way).
Latest Propaganda from Team Obama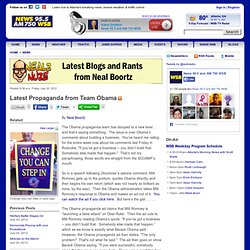 Democratic National Convention Bans Children from Convention Floor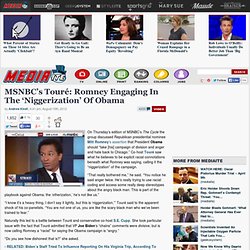 On Thursday's edition of MSNBC's The Cycle the group discussed Republican presidential nominee Mitt Romney's assertion that President Obama should "take [his] campaign of division and anger and hate back to Chicago." Co-host Touré saw what he believes to be explicit racial connotations beneath what Romney was saying, calling it the "niggerization" of the campaign. "That really bothered me," he said. "You notice he said anger twice. He's really trying to use racial coding and access some really deep stereotypes about the angry black man.
MSNBC's Touré: Romney Engaging In The 'Niggerization' Of Obama
Ayn Rand Wouldn't Approve of Paul Ryan
MSNBC Contributor Jonathan Alter Says Mitt Romney Repeal of Obamacare Equals Death
Elizabeth Warren on Debt Crisis, Fair Taxation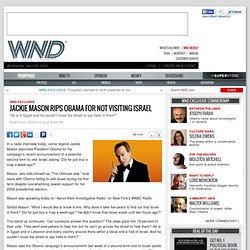 Text smaller Text bigger In a radio interview today, comic legend Jackie Mason slammed President Obama for his campaign's recent announcement of a potential second term to visit Israel, asking "Did he just buy a map a week ago?" Mason, who bills himself as "The Ultimate Jew," took issue with Obama failing to visit Israel during his first term despite overwhelming Jewish support for his 2008 presidential election. Mason was speaking today on "Aaron Klein Investigative Radio" on New York's WABC Radio. Stated Mason: "What I would like to know is this: Why does it take five years to find out that Israel is there?
Jackie Mason rips Obama for not visiting Israel
Obama for America Ad Slams Mitt Romney for Vowing to Cut Taxpayer Funding for Planned Parenthood: 'Not the 1950's'
(Photo: YouTube)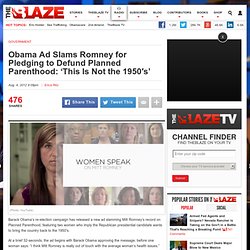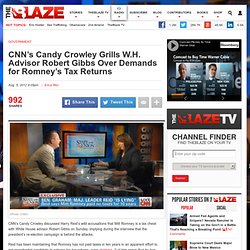 (Photo: CNN)
CNN's Candy Crowley Interviews White House Advisor Robert Gibbs' Over Harry Reid's Assertion Mitt Romney Hasn't Paid Taxes in Ten Years
DCCC apologizes to Adelson for 'Chinese prostitution' comments - The Hill's Blog Briefing Room
The Democratic Congressional Campaign Committee issued an apology to casino mogul and prominent Republican donor Sheldon Adelson on Thursday, after the billionaire threatened to sue the organization over comments insinuating he profited from prostitution at his Chinese resorts. "In press statements issued on June 29 and July 2, 2012, the DCCC made unsubstantiated allegations that attacked Sheldon Adelson, a supporter of the opposing party," the DCCC said in an e-mail released Thursday.
Romney: Harry Reid needs to 'put up or shut up' on charges about taxes - The Hill's Ballot Box
Mitt Romney on Thursday said Senate Majority Leader Harry Reid (D-Nev.) needs to "put up or shut up" when it comes to charges the presumptive GOP nominee did not pay his taxes. Romney also accused the White House of being behind the allegation.
On June 29 and July 2, 2012, the Democratic Congressional Campaign Committee issued statements suggesting that billionaire casino magnate Sheldon Adelson donated to Republican causes using money earned from involvement in a Chinese prostitution ring. A lawyer acting on Adelson's behalf wrote to the DCCC press secretary on July 17, threatening a lawsuit if the DCCC did not issue a retraction. You can read the letter in its entirety here. Today, the DCCC officially retracted its earlier statements:
DCCC retracts libelous statements about Republican donor Sheldon Adelson
Dead Heat in Vote Preferences Presages an Epic Battle Ahead
Jul 10, 2012 12:01am Spencer Platt/Getty Images; SAUL LOEB/AFP/GettyImages Economic discontent and substantial dissatisfaction with Barack Obama's performance in office are keeping Mitt Romney competitive in the presidential race – but not by enough of a margin to overcome Obama's stronger personal profile. The result: A dead heat in voter preferences at the midsummer stage, with the prospect of an epic battle ahead. While most Americans continue to disapprove of Obama's handling of the economy, that's not his only problem. More than half fault him on health care and immigration as well.
4 Pinocchios for Obama's newest anti-Romney ad
"Running for governor, Mitt Romney campaigned as a job creator. But as a corporate raider, he shipped jobs to China and Mexico. As governor, he did the same thing: Outsourcing state jobs to India." — Voiceover of new Barack Obama campaign ad
Obama advisor continues to spread Romney lies in front of impotent media