Progressives
American Idiot 2: Jason Biggs knocks Christians; targets Ann Romney and Janna Ryan with vile tweets. "@GODisSanta420: @JasonBiggs How dare you ignore Ann Romney's asshole.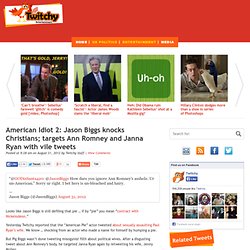 Ur un-American." Sorry ur right. I bet hers is un-bleached and hairy.— Jason Biggs (@JasonBiggs) August 31, 2012. Ann Romney fires back at Bill Clinton on auto bailouts - The Hill's Video. "Mitt's father would be cheering and would be with Mitt 100 percent," Ann Romney said on Fox News.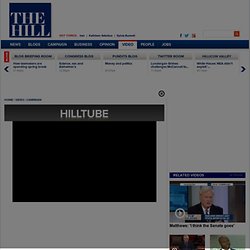 "Because, you know, what Mitt suggested was finally what happened, is that they went through a structured bankruptcy — it's exactly what ended up happening. Mitt just said to do that before they already spent $17 billion. So no, Mitt's father would be cheering, cheering with Mitt. " Democrats Reinstate Jerusalem and God Language into DNC Platform Despite Booing. Attendees voice their opposition to Democratic Party platform changes reinserting language supporting Jerusalem as the capital of Israel and a reference to God.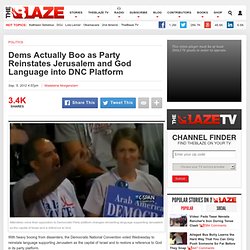 With heavy booing from dissenters, the Democratic National Convention voted Wednesday to reinstate language supporting Jerusalem as the capital of Israel and to restore a reference to God in its party platform. DNC Chairman and Los Angeles Mayor Antonio Villaraigosa conducted a voice vote of the delegates on the proposed platform changes, asking for yeses and nos three times because of how similar the responses sounded.
A two-thirds vote was required to adopt the change. Democrats Remove 'God' From 2012 Party Platform. Photo Credit: FILE The Democratic Party may be getting a fair amount of attention this week — and not only because the political movement is hosting its national convention in Charlotte, North Carolina.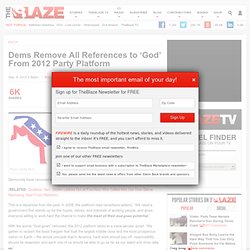 Another point of focus has already been the contents — or the lack thereof — present in the 2012 Democratic Party Platform. Earlier today, we told you that the document fails to mention Jerusalem as the capital of Israel, a proclamation that was previously touted by the party. And now, in an even more shocking revelation, CBN News is reporting that the Democrats have removed mentions of "God" from the document as well. (RELATED: 'Godless': Sen. Factchecker: Romney's '12 million jobs' promise. "And unlike the president, I have a plan to create 12 million new jobs." -- Mitt Romney This sounds like a pretty bold statement, especially considering that only two presidents—Ronald Reagan and Bill Clinton—created more than 12 million jobs.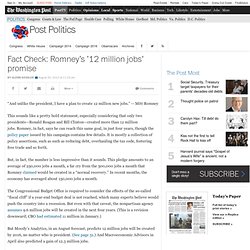 Romney, in fact, says he can reach this same goal, in just four years, though the policy paper issued by his campaign contains few details. Code Pink Tries to Disrupt Mitt Romney Convention Speech. Code Pink protesters attempted to disrupt Mitt Romney's presidential nominatin acceptance speech at the Republian National Convention Thursday night.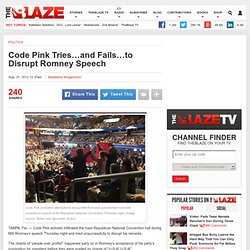 (Image source: Twitter user @scarlett_0hara) TAMPA, Fla. — Code Pink activists infiltrated the main Republican National Convention hall during Mitt Romney's speech Thursday night and tried unsuccessfully to disrupt his remarks. The chants of "people over profits!" Happened early on in Romney's acceptance of his party's nomination for president before they were quelled by chants of "U-S-A! U-S-A!" Obama Lies While Accusing the Romney Campaign of Lying. If you want a near perfect encapsulation of how the Obama campaign is leaning on incompetent partisans masquerading as "independent" media fact checking organizations to do their dirty work, I strongly encourage you to read today's article in the New York Times, "Obama Team Sharpens Attacks on Rivals' Character.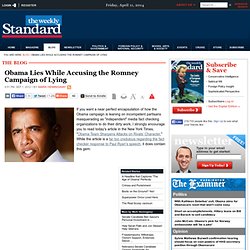 " While the article is a far too credulous regarding the fact checker response to Paul Ryan's speech, it does contain this gem: Mr. Obama this week, for the first time, entered the fray. 'Sand Obama' Sand Sculpture in Charlotte. In this photograph, onlookers check out a 15.5 ton sand sculpture of President Barack Obama created by VisitMyrtleBeach.com Saturday, Sept. 1, 2012 in Charlotte, N.C. ahead of the Democratic National Convention.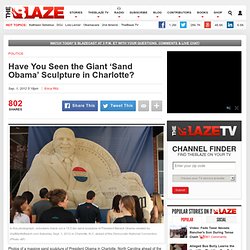 (Photo: AP) Photos of a massive sand sculpture of President Obama in Charlotte, North Carolina ahead of the Democrat National Convention are circulating throughout the Internet, prompting a number of "shovel-ready" jokes from Republicans. According to an excerpt from the AP, the Mount Rushmore-like sculpture was created by VisitMyrtleBeach.com Saturday, Sept. 1, and took five artists three days to complete.
» Thank you Elizabeth Warren (for possibly costing Obama the election) Posted by William A.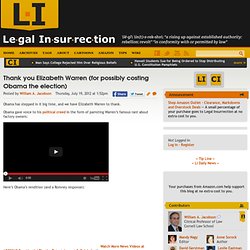 Jacobson Thursday, July 19, 2012 at 1:52pm Obama has stepped in it big time, and we have Elizabeth Warren to thank. Obama gave voice to his political creed in the form of parroting Warren's famous rant about factory owners: Here's Obama's rendition (and a Romney response): Latest Propaganda from Team Obama. The Obama propaganda team has stooped to a new level … and that's saying something.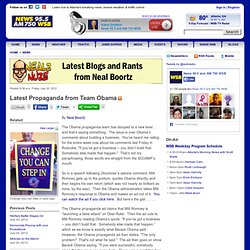 The issue is over Obama's comments about building a business. You've heard me railing for the entire week now about his comments last Friday in Roanoke, "If you've got a business -- you didn't build that. Somebody else made that happen. " That's not my paraphrasing, those words are straight from the SCOAMF's mouth. So in a speech following Obummer's asinine comment, Mitt Romney gets up to the podium, quotes Obama directly, and then begins his own retort (which was not nearly as brilliant as mine, by the way).
Democratic National Convention Bans Children from Convention Floor. It's a recurring gag that Presidents have to do a lot of kissing babies. If so, President Obama must be really sick of that particular ritual. Why? Because the Democratic National Convention has just banned children from the convention floor — including breastfeeding babies — unless those children have convention credentials. MSNBC's Touré: Romney Engaging In The 'Niggerization' Of Obama. On Thursday's edition of MSNBC's The Cycle the group discussed Republican presidential nominee Mitt Romney's assertion that President Obama should "take [his] campaign of division and anger and hate back to Chicago."
Co-host Touré saw what he believes to be explicit racial connotations beneath what Romney was saying, calling it the "niggerization" of the campaign. "That really bothered me," he said. "You notice he said anger twice. He's really trying to use racial coding and access some really deep stereotypes about the angry black man. Ayn Rand Wouldn't Approve of Paul Ryan. EARLY in his Congressional career, Paul D. Ryan, the Wisconsin representative and presumptive Republican vice-presidential nominee, would give out copies of Ayn Rand's book "Atlas Shrugged" as Christmas presents.
He described the novelist of heroic capitalism as "the reason I got into public service." But what would Rand think of Mr. Ryan? White House says Obama will stick with Biden as running mate - The Hill - covering Congress, Politics, Political Campaigns and Capitol Hill | TheHill.com. President Obama has no intention of getting rid of Vice President Biden as his running mate, the White House said Thursday. Republicans are being "ridiculous" and are trying to "distract attention" with their focus on Vice President Biden and his controversial comments earlier this week, White House press secretary Jay Carney said.
"They know that what they're saying about this is ridiculous," Carney said at a briefing with reporters, adding that it's an "obvious" attempt to take attention away from policy issues. MSNBC Contributor Jonathan Alter Says Mitt Romney Repeal of Obamacare Equals Death. Following the lead of the controversial SuperPAC ad that essentially accused Republican presidential candidate Mitt Romney of playing a role in a women's death from cancer, Bloomberg View columnist Jonathan Alter appeared on MSNBC's "The Ed Show" on Thursday night and warned that the consequences of a Romney presidency are "death." "Remember, the House of Representatives has repealed Obamacare 31 times.
If Mitt Romney is elected president, they will repeal it and he will sign that repeal on the first day of his presidency, in the first week of his presidency, as he has pledged," Alter said. Elizabeth Warren on Debt Crisis, Fair Taxation. Jackie Mason rips Obama for not visiting Israel. Obama for America Ad Slams Mitt Romney for Vowing to Cut Taxpayer Funding for Planned Parenthood: 'Not the 1950's' CNN's Candy Crowley Interviews White House Advisor Robert Gibbs' Over Harry Reid's Assertion Mitt Romney Hasn't Paid Taxes in Ten Years. DCCC apologizes to Adelson for 'Chinese prostitution' comments.
Romney: Harry Reid needs to 'put up or shut up' on charges about taxes - The Hill's Ballot Box. DCCC retracts libelous statements about Republican donor Sheldon Adelson. Dead Heat in Vote Preferences Presages an Epic Battle Ahead. 4 Pinocchios for Obama's newest anti-Romney ad. Obama advisor continues to spread Romney lies in front of impotent media.
---