Google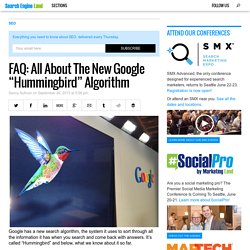 Google has a new search algorithm, the system it uses to sort through all the information it has when you search and come back with answers. It's called "Hummingbird" and below, what we know about it so far. What's a "search algorithm?"
Google's stand against Chinese censorship and surveillance – triggered by suspicions that China had been trying to hack activists' ­accounts – will be rightly lauded by defenders of human rights. But when it comes to upholding Google's vow not to "do evil" by its ­users, China is by no means the company's only headache. Before those of us in western democracies get too high on our horses about Google and China, we should remember that the Chinese are not the only ones putting pressure on Google in ways that are arguably harmful to freedom of expression, even when intentions are honorable. A growing number of governments – many democratically elected – share an attitude that internet companies should be expected to act as "net nannies" for their citizens. In the past several years, internet censorship has spread rapidly throughout a range of political systems.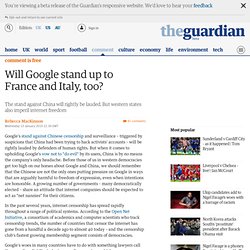 Will Google stand up to France and Italy, too? | Rebecca MacKinn
Le Monde.fr | • Mis à jour le | Par Damien Leloup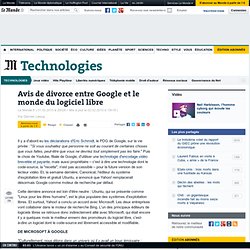 Avis de divorce entre Google et le monde du logiciel libre - LeM
Le Sénat étudie l'idée d'une taxe "Google" sur la pub
Google Buzz, le cauchemar de la vie privée | slate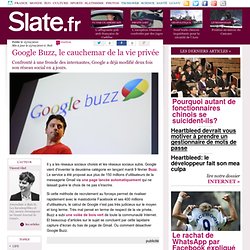 Il y a les réseaux sociaux choisis et les réseaux sociaux subis. Google vient d'inventer la deuxième catégorie en lançant mardi 9 février Buzz.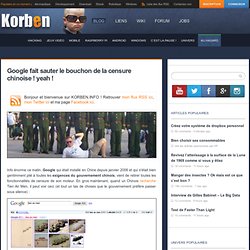 Info énorme ce matin. Google qui était installé en Chine depuis janvier 2006 et qui s'était bien gentimment plié à toutes les exigences du gouvernement chinois, vient de retirer toutes les fonctionnalités de censure de son moteur. En gros maintenant, quand un Chinois recherche Tien An Men, il peut voir ceci (et tout un tas de choses que le gouvernement préfère passer sous silence) :
Google fait sauter le bouchon de la censure chinoise ! yeah !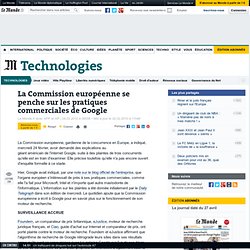 Le Monde.fr avec AFP et AP | • Mis à jour le La Commission européenne, gardienne de la concurrence en Europe, a indiqué, mercredi 24 février, avoir demandé des explications augéant américain de l'internet Google, suite à des plaintes de trois concurrents qu'elle est en train d'examiner. Elle précise toutefois qu'elle n'a pas encore ouvert d'enquête formelle à ce stade.
La Commission européenne se penche sur les pratiques commerciale
Google supprime le mot "arnaque" de ses suggestions
Google fait discrètement le ménage dans ses suggestions automatiques : taper le nom d'une entreprise ne fait plus apparaître le mot « arnaque ».