Prises à trier
Guide d'utilisation GWBBCode - Guild Wars. Vous pouvez désormais afficher les compétences et les builds de Guild Wars directement dans vos messages sur les forums JeuxOnLine !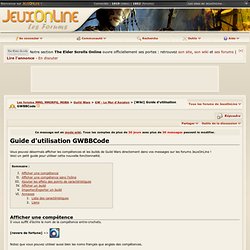 Voici un petit guide pour utiliser cette nouvelle fonctionnalité. Afficher une compétence Il vous suffit d'écrire le nom de la compétence entre-crochets. [revers de fortune] => Guild Wars Shop : Ventes et achats d'objets pour Guild Wars. Guild Wars | Luna Atra. Guild Wars : Tournoi des Chasseurs : liste des récompenses ! Et voilà, les récompenses sont dévoilées !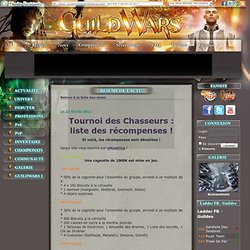 Venez vite vous inscrire sur eMoaKina ! Récompenses Une cagnotte de 1000K est mise en jeu. Guild Wars - Mondes Persistants. Guild Wars Elite Skills Listing with Maps. Now with Factions and Nightfall skills. Alliance sd - guilde : hart, lcn - guild wars - Accueil. PvXwiki@wikia, a Guild Wars wiki for character builds. GuildWars Wikia, a Guild Wars wiki - an unofficial guide to Guild Wars Prophecies, Factions, Nightfall, and Eye of the North. Elites ReservoirGroup Localisations Skills Elites GuildWars Prophecie Factions Nightfall. Guildwars Arnapou. Guild Wars - Univers Virtuels.
Guild Wars Wiki. Welcome at Scorpio Adena. Choupheim. Prendre des cours... A trier. Astuces. Couture et brico.
---