Pinterest/ e-Commerce
Four Essential Tips For Growing Your Business With Pinterest. 1) Organize your pins onto boards that have catchy titles.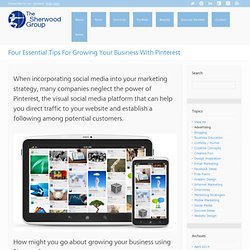 Let's say your product is high-quality evening wear. You could have one Pinterest board devoted to images of the ball gowns you sell, another for cocktail dresses, and another for tuxedos (whatever broad or narrow categories you choose), making it easier for interested browsers to find what they're looking for. But instead of simply labeling a board as 'tuxedos,' think more along the lines of 'trendy tuxedos' or 'flirty red dresses' to get more people to investigate. 2) Attract the notice of the movers and shakers in your area. On Pinterest, you'll find users who are deeply interested in your general area of business, whether it's clothes, architecture, gourmet desserts, book publishing, or health products. Third-Party Tools to Maximize Pinterest Marketing. Pinterest recently unveiled its own web analytics tool, but there are several third-party options available for analytics as well as scheduling, maximizing pins and more.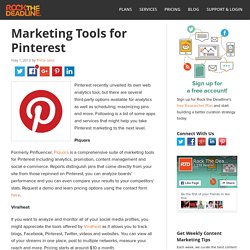 Following is a list of some apps and services that might help you take Pinterest marketing to the next level. Piquora Formerly Pinfluencer, Piquora is a comprehensive suite of marketing tools for Pinterest including analytics, promotion, content management and social e-commerce. Reports distinguish pins that come directly from your site from those repinned on Pinterest, you can analyze boards' performance and you can even compare your results to your competitors' stats. How to Add Pinterest to Your Facebook Page – 3 Easy Steps | Socially Rewired. Are you looking to build a strong Pinterest following?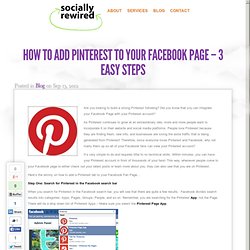 Did you know that you can integrate your Facebook Page with your Pinterest account? As Pinterest continues to grow at an extraordinary rate, more and more people want to incorporate it on their website and social media platforms. People love Pinterest because they are finding fresh, new info, and businesses are loving the extra traffic that is being generated from Pinterest! Use Pinterest to promote your retail eCommerce business. The most challenging job of a retailer is to find & retain new customers every time.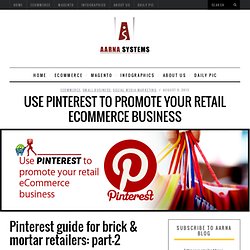 Product promotion and marketing plays an important role to reach to your target audience. Apart from using social media channels like facebook, twitter and many more, retailers are following new online marketing channel named Pinterest. 25 percent of Pinterest traffic is from retailers. Pinterest can be used more effectively for promoting of your store products, comparing to other social media channels. Retailers can use pinterest to share their product images, videos and personalized business information.
Rich Pins. When pinners find something they love on Pinterest, they often want to act on it.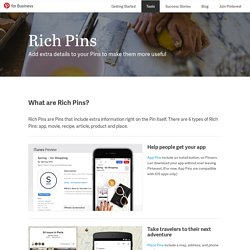 Maybe they want to buy the couch, rent the movie or bake the cookies they see. That's why we're making pins better by including automatically updated details like prices, availability, movie reviews and ingredients. To get started, you'll need to prep your website with meta tags, test out your rich pins and apply to get them on Pinterest. What Rich Pins Mean for Your Brand. What rich pins mean for your brand This week, Pinterest announced the rollout of two new features: rich pins and the 'Pin It' button for mobile applications such as Etsy, The North Face, Modcloth, Jetsetter and several others that have already integrated the button.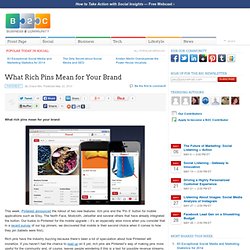 Our kudos to Pinterest for the mobile upgrade – it's an especially wise move when you consider that in a recent survey of our top pinners, we discovered that mobile is their second choice when it comes to how they pin (tablets were first). Rich Pins a Marketing Strategy. Do you use Pinterest as part of your business marketing strategy?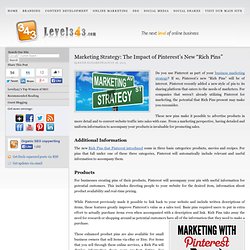 If so, Pinterest's new "Rich Pins" will be of interest. Pinterest recently added a new style of pin to its sharing platform that caters to the needs of marketers. How to Use Pinterest Rich Pins: What Marketers Need to Know. Do you use Pinterest for your business?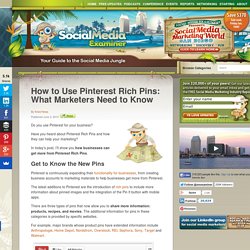 Have you heard about Pinterest Rich Pins and how they can help your marketing? In today's post, I'll show you how businesses can get more from Pinterest Rich Pins. Get to Know the New Pins Pinterest is continuously expanding their functionality for businesses, from creating business accounts to marketing materials to help businesses get more from Pinterest. The latest additions to Pinterest are the introduction of rich pins to include more information about pinned images and the integration of the Pin It button with mobile apps.
How to Use Pinterest to Promote Your Products. Is your business on Pinterest?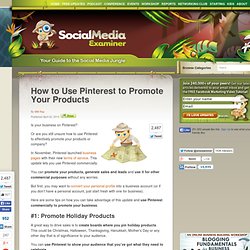 Or are you still unsure how to use Pinterest to effectively promote your products or company? In November, Pinterest launched business pages with their new terms of service. Pinterest Board Tips for Businesses. Learning to use Pinterest is pretty simple.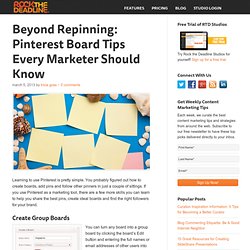 You probably figured out how to create boards, add pins and follow other pinners in just a couple of sittings. If you use Pinterest as a marketing tool, there are a few more skills you can learn to help you share the best pins, create ideal boards and find the right followers for your brand. Create Group Boards You can turn any board into a group board by clicking the board's Edit button and entering the full names or email addresses of other users into the Who Can Pin? 62 Ways to Promote Yourself on Pinterest. Are you using Pinterest to promote yourself or your business? Pinterest's new look along with the new tools gives marketers and businesses another reason to continue using the wonderful social network. The ability to use images along with the high levels of virality, gives businesses the opportunity to create countless ways to promote themselves – so here are 62 ways to promote yourself on Pinterest – make use of all of them and use them as inspiration to create new ones…
Pinterest for Business Exposure. Diggdigg Social media influencer, Kim Garst, gave a fabulous training for our Social Buzz U chock full of Pinterest tips for business. Here are some of the highlights she shared: What is Pinterest? Pinterest is a social network that allows you to organize and share almost anything you find on the web. 20 Ways to Get More Pinterest Followers Part 1 - Infographic | Would you like more Pinterest followers? More Pinterest followers will lead to more pins, repins, likes and comments. This can help engage your audience better and drive more traffic to your website. You will find 20 useful tips which will help you gain more Pinterest followers in this two part infographic series. Users looking for followers who will repin their pins on Pinterest as well as those those who will pin and repin images from their websites and blogs to help drive traffic will find this infographic helpful.
6 Pinterest Analytics Tools to Supercharge Your Influence. As we transition into autumn, it seems everything about Pinterest is changing — well, the content, that is. A month ago, we were repinning photos of popsicles and beach blankets. Now, we're cozying up to apple cider and snuggly scarves. Pinterest Business Blog.
---