Web Design UK
Featured Simple use of Event Delegation Posted on 14th June 2011 — Event delegation may be some techie term that you'd rather shy away from, but if you've not already used it, this example will show you a simple but powerful use of event delegation.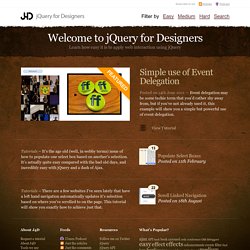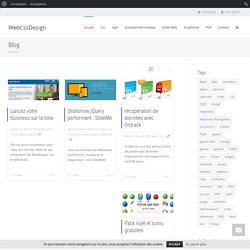 Slideshow jQuery performant : SlideMe 8 novembre 2013 Vous recherchez un slideshow performant, moderne et responsive : […] récupération de données avec Ontrack 16 avril 2013
HTML5 Introduction – What is HTML5 Capable of, Features, and Resources After analyzing our new focus here at 1WD, which basically is teaching new, young, designers about web design and helping them improve their skills and to start in the business, we realized that we really need to go as deep as possible into the basics. And while we covered many of these already, two basic things are still missing from the website, and these two are in-depth introductions and discussions about HTML5 and CSS.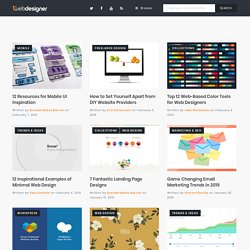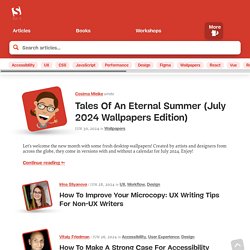 Interview With Khajag Apelian"Type Design Is Not Only About Drawing Letters" Having started his career studying under some of the best typographic minds in the world, Khajag Apelian not only is a talented type and graphic designer, unsurprisingly, but also counts Disney as a client, as well as a number of local and not-for-profit organizations throughout the Middle East. Even more impressive is Khajag's willingness to take on work that most people would find too challenging. Designing a quality typeface is a daunting task when it's only in the Latin alphabet. Khajag goes deeper still, having designed a Latin-Armenian dual-script typeface in four weights, named "Arek", as well as an Arabic adaptation of Typotheque's Fedra Display. Read more...
Stripes in CSS Stripes are pretty easy to do in CSS these days. CSS gradients via the background-image property really got our back. I thought I'd document some varitions in one easy to reference place.…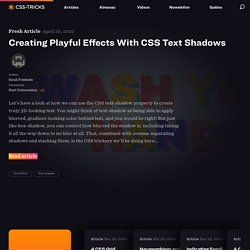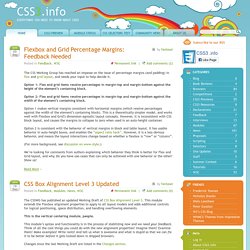 The CSS Working Group has published an updated Working Draft of CSS Grid Layout. This CSS module defines a two-dimensional grid-based layout system optimized for user interface design. This is publication is a major update: not only has the draft generally been reorganized and much of the prose rewritten to fill in missing details, avoid repetition, improve precision and terminology, and ensure alignment with Flexbox, but it's switched to a new positioning model. The old grid layout model uses properties to indicate the starting row/column and the item's span.
Line25 Sites of the Week is a weekly roundup of the most outstanding website designs that I stumble across during my every day browsing. In this week's collection, we have designs from BUNQ, Adaptive Path, Pace Law, unvael.fm and Highway One Roadtrip. Web design conferences are great places for you to learn new techniques from the experts and keep up to date with the latest advances of the industry. To capture the interest of their audience of designers you would expect these conferences to boast cutting edge website designs to present their lineup of speakers and share all the details of the event. Unfortunately many fail to meet these expectations, but there are a hand full of events that lead the way with beautiful websites.
Jason Holland, Creative director at Underwired asks, "What turns a great digital design student into someone I want to employ?" Author: Steve Jenkins 17th January 2014 A gold-medal standard site design provides the perfect warm up for the Winter Olympics 2014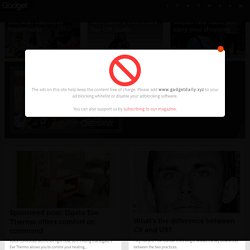 Get To Know The Advantage of Analytics for Ecommerce Once you have your online store up and running, the next step is to setup your analytics and track your progress. With analytics you can tell how your website is doing, whether or not your online marketing campaigns are driving traffic, and what keywords are attracting the most customers. Analytics for ecommerce are a little […] Affordable Solutions for Building a Better Mobile Website There is no getting around having a mobile website if you are a business and you want to succeed.
Web / graphic design tutorials, resource downloads, tips and links - Design Blurb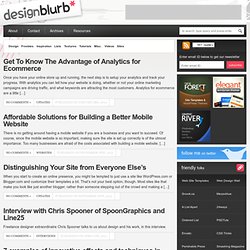 I have been using git for quite some time now and thought of sharing some advanced git commands that you may find useful whether you are working in a team environment or on your personal project. 1. Export changes done in last commit This command i have been using regularly for sending the changes done to another person for review/integration who is not on git.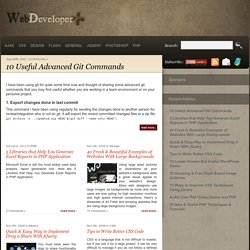 Web Developer Plus - Ultimate Web Development & Design Resource
Webitect
If you're launching a new site, product or service, then there's a huge benefit to building hype and buzz before you launch. It's something that Apple does extremely well, but you don't need to be a huge company to be able to pull it off. Building a prelaunch page – a simple page that describes your soon-to-be-launching product, along with an email signup form – is one of the techniques that Eric Ries famously proposes in The Lean Startup and it's a great way of building an email list of people who will be interested in your new product. All of this helps to give you a huge boost when you actually launch, as you get to email your prospective customers on the launch day itself, and in the run-up to launch day you can help to further build hype by keeping people who have signed up updated with news on how the development is going.
Icons are one of the main elements of any web design. You need an icon to make your user navigate your website, buy something, like something, share something and so forth. Creating icons for every single project may be a challenge, this is why is always good to see what you can find on the web to make your life easier. Read the rest of this entry » Tags: UI Filed under: Icons 0 Comments
12 Awesome CSS3 Features ThatYou Can Finally Start Using By Martin Angelov | CSS3 brought us some impressive features that revolutionized the way we build websites. Here are twelve of them that are finally supported in all browsers and can be used right now. Read more 20 Impressive Examples forLearning WebGL with Three.js