Web/Internet
Sorting through claims about the internet and revolutions, part 1. My last blog post argued that too many commentators on the recent events in Tunisia/Egypt/Yemen/etc. have become hamstrung by the "internet revolution" frame—advocates and opponents alike tend to orient their arguments with respect to it.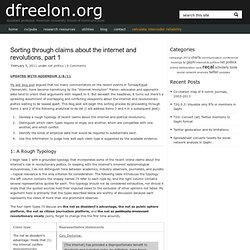 But beneath the headlines, it turns out there's a sprawling assortment of overlapping and conflicting viewpoints about the internet and revolutionary politics waiting to be teased apart. This blog post will begin this sorting process by proceeding through items 1 and 2 of the following analytical to-do list (I will address items 3 and 4 in a subsequent post): Develop a rough typology of recent claims about the internet and political revolutions.Distinguish which claim types require or imply one another, which are compatible with one another, and which conflict.Identify the kinds of empirical data that would be required to substantiate each.Use this information to judge how well each claim type is supported by the available evidence.
Last Available IPv4 Blocks Allocated. The Web Analyst's Code of Ethics - Web Analytics Association. The Digital Analytics Association exists to help organizations illuminate and overcome the challenges of data acquisition, exploration, deduction and application.
The DAA is a not-for-profit, volunteer-powered association, and strives to help individuals become more valuable through education, community, research and advocacy. The science of analysis using data to understand historical patterns with an eye to improving performance and predicting the future. The analysis of digital data refers to information collected in interactive channels (online, mobile, social, etc.). Charlie Beckett, POLIS Director » Blog Archive » Are We Ignoring the Dark Side of the Internet? Evgeny Morozov at LSE (Guest blog)
This report on a lecture at the LSE by Evgeny Morozov is by POLIS intern, Beth Lowell.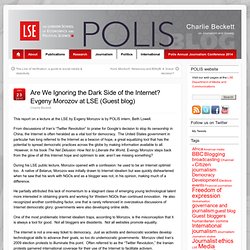 From discussions of Iran's "Twitter Revolution" to praise for Google's decision to stop its censorship in China, the Internet is often heralded as a vital tool for democracy. The United States government in particular has long referred to the Internet as a beacon of hope, a great equalizing tool that has the potential to spread democratic practices across the globe by making information available to all. However, in his book The Net Delusion: How Not to Liberate the World, Evengy Morozov steps back from the glow of all this Internet hope and optimism to ask: aren't we missing something? World IPv6 Day: firing up the engines on the new Internet protocol. Today, Google and major websites are joining the Internet Society to announceWorld IPv6 Day, a 24-hour test flight of the next generation Internet protocol on June 8, 2011.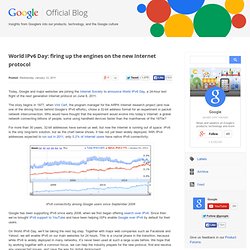 The story begins in 1977, when Vint Cerf, the program manager for the ARPA Internet research project (and now one of the driving forces behind Google's IPv6 efforts), chose a 32-bit address format for an experiment in packet network interconnection. Who would have thought that the experiment would evolve into today's Internet: a global network connecting billions of people, some using handheld devices faster than the mainframes of the 1970s? For more than 30 years, 32-bit addresses have served us well, but now the Internet is running out of space. IPv6 is the only long-term solution, but as the chart below shows, it has not yet been widely deployed. With IPv4 addresses expected to run out in 2011, only 0.2% of Internet users have native IPv6 connectivity: Top 5 trends for RFID technology in 2011 « rfid24-7.com. Cybersecurity. Congressional staff members spoke about the importance of cybersecurity and various pieces of related legislation being considered in committees.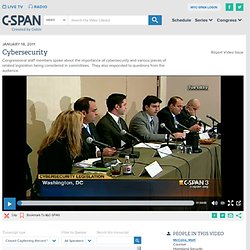 They also responded to questions from the audience. *The transcript for this program was compiled from uncorrected Closed Captioning. People in this video McCabe, MattCounselHomeland SecurityMilhorn, BrandonMinority Staff Director and Chief CounselHomeland Security and Government AffairsOlcott, JakeCounselCommerce, Science and TransportationRitchie, BrandenLegislative DirectorU.S. Network neutrality: A tangled web. Royal Pingdom » Internet 2010 in numbers. Posted in Tech blog on January 12th, 2011 by Pingdom What happened with the Internet in 2010?
How many websites were added? How many emails were sent? How many Internet users were there? Unhosted and Freenet Project - unhosted. Thanks for bringing this up!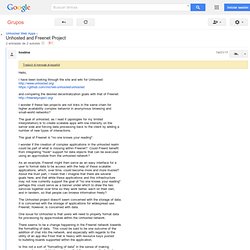 I'll reply separately on each list, then this thread, on the unhosted list can become 'what freenet can do for unhosted', and the other way around on the freenet one. A historical sequence of decisions that were made in unhosted: When I started thinking about unhosted, about 8 months ago, I first thought it should become a cross between a bittorrent client and a browser. later i though it should be a proxy server, running either as a gateway on the normal web, or a service on localhost, or a browser plugin. that way, people could use their existing browser. A new algorithm enables much faster dissemination of information to enable smart dust. Computer manufacturers are beginning to take seriously the decade-old idea of "smart dust" — networks of tiny wireless devices that permeate the environment, monitoring everything from the structural integrity of buildings and bridges to the activity of live volcanoes.
In order for such networks to make collective decisions, however — to, say, recognize that a volcano is getting restless — they need to integrate information gathered by hundreds or thousands of devices. Networks of cheap sensors scattered in punishing and protean environments are prone to "bottlenecks," regions of sparse connectivity that all transmitted data must pass through in order to reach the whole network.The algorithm is designed to work in so-called ad hoc networks, in which no one device acts as superintendent, overseeing the network as a whole. Darpa Wants a New Language to Explain Everything | Danger Room. Darpa has a well-earned rep for some of the most ambitious, over-the-top research programs of all time.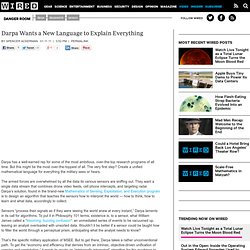 But this might be the most over-the-toppest of all. The very first step? Create a unified mathematical language for everything the military sees or hears. The armed forces are overwhelmed by all the data its various sensors are sniffing out. They want a single data stream that combines drone video feeds, cell phone intercepts, and targeting radar. The Next Net. The moment the "net neutrality" debate began was the moment the net neutrality debate was lost.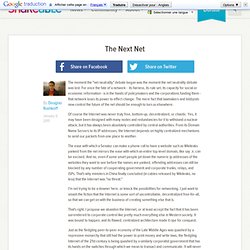 For once the fate of a network - its fairness, its rule set, its capacity for social or economic reformation - is in the hands of policymakers and the corporations funding them - that network loses its power to effect change. The mere fact that lawmakers and lobbyists now control the future of the net should be enough to turn us elsewhere. Freedom from web 2.0's monopoly platforms. This website describes a technology, unhosted web apps, which we find so important that some of us quit our day jobs and other spend their evenings and weekends to work for the higher goal of free technology, not just as a job that pays the bill. Why do we work for free? Why are unhosted web apps so important? Why care so much? On 9 September 2010, Kenny Bentley and Michiel de Jong decided to take a few months off their day jobs in order to develop a proof-of-concept for a web architecture in which servers are nothing more than interchangeable commodity infrastructure.
Later that year they published a proof-of-concept that involved end-to-end encryption and cross-origin resource sharing. Exclusive: Internet was never free or open and never will be, media studies prof. says | Raw Story. By Nathan DiebenowSunday, December 12, 2010 10:33 EDT Author: If Americans want a truly free network, 'we've got to build it from scratch' Secrets outlet WikiLeaks' continuing struggle to remain online in the face of corporate and government censorship is a striking example of something few truly realize: that the Internet is not and never has been democratically controlled, a media studies professor commented to Raw Story. The FCC and Neutrality in Perspective. The FCC is not saving the Internet nor regulating it.
It's just trying to limit the harm that comes from the assumption that we must rely on service providers to change bits. As I wrote in we need to move beyond the false dichotomy between "saving" and "regulating". As the noise settles down a tad it is useful to reflect on the limits of the FCC's role in neutrality. At best the policy will limit harm but it will also limit how much generative good there can be by continuing to confuse the Internet with the transport we currently use.
WATI-WeAreTheNet. Mobile Carriers Dream of Charging per Page | Epicenter  Just a week before the FCC holds a vote on whether to apply fairness rules to some of the nation's internet service providers, two companies that sell their services to the country's largest cellular companies showed off a different vision of the future: one where you'll have to pay extra to watch YouTube or use Facebook.
The companies, Allot Communications and Openet — suppliers to large wireless companies including AT&T and Verizon — showed off a new product in a web seminar Tuesday, which included a PowerPoint presentation (1.5-MB .pdf) that was sent to Wired by a trusted source. The idea? U.N. Delegates Debate Control Of Internet. Among the little-noticed debates at the United Nations this week was one that focuses on a potentially explosive issue: the future of the Internet. On one side are those countries favoring more governmental controls. On the other are the advocates of Internet freedom. O'Brien: WikiLeaks cyberbattles signal rise of new powers. Constructive Direct Action Against Censorship.
Amazon's WikiLeaks Response Threatens Cloud Computing - Tech Europe. Intellectual Property Watch » Blog Archive » Calls At UN For An International Body To Prevent Internet Control. Web sémantique RDF Data & Metadata. LinkedData vs Ontology. Netneutrality. UpFRONT. Public Spaces, Private Infrastructure – Open Video Conference. Global Network Initiative. The 70 Online Databases that Define Our Planet. The 70 Online Databases that Define Our Planet.
:: The Future of the Internet — And How to Stop It. World Wide Web Consortium (W3C) Web science: an interdisciplinary approach to understanding the web | July 2008. Scientific American: Internet. Better Broadband: New Regulatory Rules Could Change the Way Americans Get Online.
Not Neutrality?: U.S. Weighs Options for Turbo-Boosting Nation's Broadband into the 21st Century. How to stay safe at a public Wi-Fi hotspot. Network neutrality. Linked Data - Design Issues. The mind-boggling world of IPv6, and why it matters to the future of the Internet. Some Internet-Use Tracking Firms to Reveal What They Know. Understanding the Internet's insecure routing infrastructure. Support WikiLeaks. Shunned Profiling Technology on the Verge of Comeback. Privacy and Security Fanatic: Google Super Spy Eye-in-the-Sky: Total Information Awareness | Network World. Cybersecurity bill gives DHS power to punish tech firms | Politics and Law. Open Knowledge Foundation Blog » Blog Archive » Milestone for Open Bibliographic Data: British Library Release 3 Million Records. Richard.cyganiak.de/2007/10/lod/imagemap.html. Empirical Cloud. ECPA reform: Why digital due process matters.
Internet Policymaking: New Guiding Principles. A Perfect Storm – Internet Freedom vs. Security. Amazon, WikiLeaks and the Need for an Open Cloud: Tech News « Choose the Best Search for Your Information Need.
---