Curation/collaboration
Curation tools. Curation. Curation. Pearlnet. Real-Time News Curation | Scoop.it. Part 1 of FIVE EASY PIECES: On Curation, Content as Experience and Federated Systems #ThinkState - goonth's posterous.
Intentional Collaboration: The Mechanics of Learning to Learn Together | TalentCulture. Originally posted by Chris Jones, a TalentCulture contributing writer.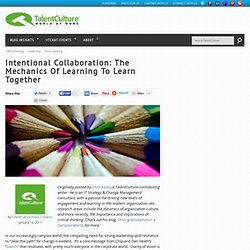 He is an IT Strategy & Change Management consultant, with a passion for driving new levels of engagement and learning in the modern organization. His research areas include the dynamics of organization culture, and more recently, the importance and implications of critical thinking. Check out his blog, Driving Innovation in a Complex World, for more. In our increasingly complex world, the compelling need for strong leadership and resilience to "clear the path" for change is evident.
The role of the Internet as a platform for collective action grows. A survey released this week by the Pew Research Center's Internet and Life Project shed light on the social side of the Internet.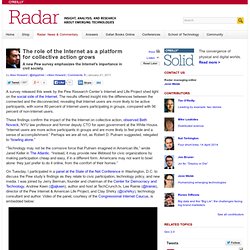 The results offered insight into the differences between the connected and the disconnected, revealing that Internet users are more likely to be active participants, with some 80 percent of Internet users participating in groups, compared with 56 percent of non-Internet users. These findings confirm the impact of the the Internet on collective action, observed Beth Noveck, NYU law professor and former deputy CTO for open government at the White House. The Age of Coworking: Collaborative Consumption for the Creative Community. Report Maria Popova Many coworking spaces are housed in meticulously designed lofts.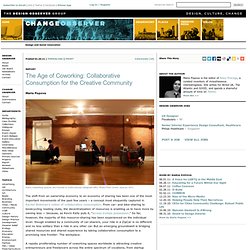 Photo from Green Spaces, NYC. The shift from an ownership economy to an economy of sharing has been one of the most important movements of the past few years – a concept most eloquently captured in Rachel Botsman's notion of collaborative consumption. Curation Articles.
---