Typographie
Rancho Deluxe OT | Single Font. This product supports the following languages: Common languages: Danish Dutch English Finnish French German Spanish Other languages: Afrikaans Albanian Arvanitika (Latin) Asturian Bats (Latin) Bislama Breton Catalan Chamorro Estonian.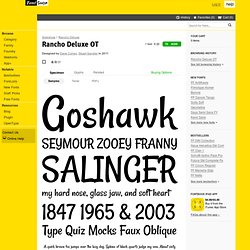 Gelato Script. Gelato Script is a smooth-flowing typeface with an air of familiarity.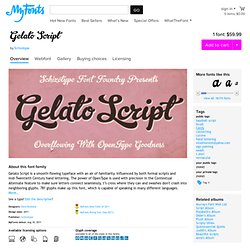 Influenced by both formal scripts and mid-Twentieth Century hand lettering. The power of OpenType is used with precision in the Contextual Alternate feature to make sure letters connect seamlessly, t's cross where they can and swashes don't crash into neighboring glyphs. 781 glyphs make up this font, which is capable of speaking in many different languages. More… ✐ Practice Foundry—Fabrica. Format: OTF Platform: MAC / PCLicensing Information Your download will begin shortly after new page is loaded, you can then click into our secured Paypal checkout if you want to Pay-What-You-Want or receive the font for free!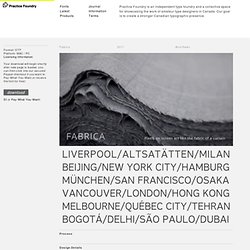 $0 or Pay-What-You-Want! Process. | Mark Boulton. Code Pro. Klim / Retail / Karbon Samples. Fetching fonts GROTESQUE MODE OF SURFACE ORNAMENT Densely Packed As in 16th Century Engravings SUCH ARTISTIC LICENSE AND IRRATIONALITY Light Scrolling Grotesques Could Be Ordered.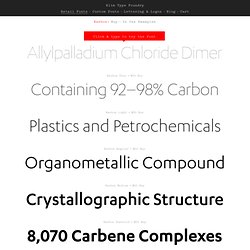 24 typographies qui passent en téléchargement gratuit ! :) Hello Ce matin, j'ai reçu un mail avec une sympathique nouvelle, le site internet Fontfont a mis 24 familles de typographies à la retraite et les propose donc en OpenType et gratuitement en téléchargement libre.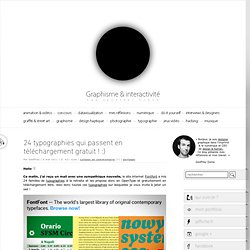 Voici donc toutes ces typographies sur lesquelles je vous invite à jeter un oeil ! Kulturista Light Italic. The Glif. The Glif is a tripod mount and stand for the iPhone 4.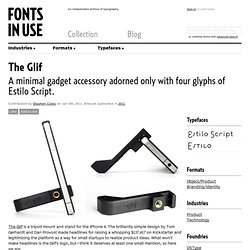 The brilliantly simple design by Tom Gerhardt and Dan Provost made headlines for raising a whopping $137,417 on Kickstarter and legitimizing the platform as a way for small startups to realize product ideas. What won't make headlines is the Glif's logo, but I think it deserves at least one small mention, so here we are. The Glif logo is Estilo Script with a modified 'l' and 'f' for better spacing. Online Font Converter. Téléchargez les typographies du Commodore, de l'Apple, de l'Atari 400, de Acorn BBC Micro, du Sinclair ZX Spectrum, du Commodore 64, de l'Amstrad CPC et MSX… :-) Téléchargez les typographies du Commodore, de l'Apple, de l'Atari 400, de Acorn BBC Micro, du Sinclair ZX Spectrum, du Commodore 64, de l'Amstrad CPC et MSX… :-) Bonjour à toutes et tous Ce matin on commence ce mercredi par un retour typographique dans les années 70-80 avec les polices bitmap qui ont marqué nos logiciels et nos interfaces de ces 30 dernières années.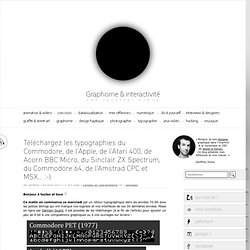 Extract font from pdf - Online Font Converter. Here on Online Font Converter we support the web developer that is making a hard work!
Developing for an older browser is a pain in the as! It takes longer time to adopte to every browser to make a website work in each one of them. Older one are not as good as a modern web browser. They are slower then other and they are definitely not safe against attacks! Braten. FontFonter.
Type Tips Archive. Try Thousands of Webfonts From FontShop For Free with WebFonter FontShop is constantly at the forefront of font technology, developing innovative tools to facilitate and enhance the work of (web) designers.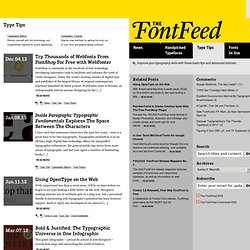 Today the world's leading retailer of digital type and publisher of the largest library of original contemporary typefaces launched its latest project. WebFonter aims to become an indispensable tool for anyone designing for the [...] Read more Using OpenType on the Web. Type Tips—short, quick tips on all things web typography from Harry Roberts of CSS Wizardry. Typographica. Type Reviews, Books, Commentary. Delikat font family. Delikat is a graceful, finely crafted, slinky, slightly retro, somewhat quirky script font.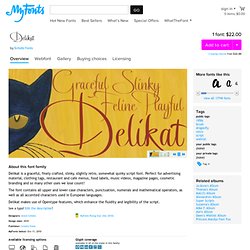 Perfect for advertising material, clothing tags, restaurant and cafe menus, food labels, music videos, magazine pages, cosmetic branding and so many other uses we lose count! The font contains all upper and lower case characters, punctuation, numerals and mathematical operators, as well as all accented characters used in European languages. Delikat makes use of Opentype features, which enhance the fluidity and legibility of the script. Kondolar. Rooney font family. Rooney is a serif typeface with a warm and friendly feel. Rounded serifs and terminals create a strong impression in large headlines, while running text becomes soft and sympathetic when set in small sizes. Rooney includes six weights from Light to Black and Italics. More… Ellen Lupton: Thinking w/Type.
Fonts | Free Fonts, Buy Fonts, Windows Fonts. The Big Book of Font Combinations. What is this book not? It is not intended as a showcase of typography. It is a tool. A workbook. Typetester – Compare fonts for the screen. Fonts | Free Fonts, Buy Fonts, Windows Fonts.
Thinking with Type | Home. A List Apart: Topics: Design: Typography. Rod Graves – Design & Photography. Five simple steps to better typography. Information Architects. Typographic Collaboration. Learn: Anatomy of a Typeface.
---