Iphone website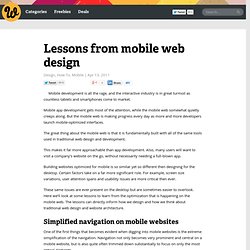 Mobile development is all the rage, and the interactive industry is in great turmoil as countless tablets and smartphones come to market. Mobile app development gets most of the attention, while the mobile web somewhat quietly creeps along. But the mobile web is making progress every day as more and more developers launch mobile-optimized interfaces. The great thing about the mobile web is that it is fundamentally built with all of the same tools used in traditional web design and development. This makes it far more approachable than app development. Also, many users will want to visit a company's website on the go, without necessarily needing a full-blown app.
Lessons from mobile web design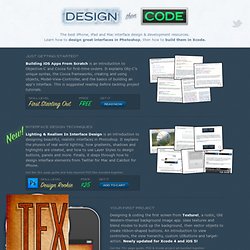 Just Getting Started? Building iOS Apps From Scratch is an introduction to Objective-C and Cocoa for first-time coders. It explains Obj-C's unique syntax, the Cocoa frameworks, creating and using objects, Model-View-Controller, and the basics of building an app's interface.
Design Then Code ~ iPhone & iPad Interface Design Tutorials
LiveView is a specialized remote screen viewing application intended as a tool to help designers create graphics for mobile applications, it has also proven to be useful for creating quick and dirty simulations, demos, and experience prototypes. For visual designers — Develop pixel–perfect graphics for the iPhone and iPad quickly and easily with a live view of your canvas/artboard while you work. LiveView is compatible with both standard and Retina displays.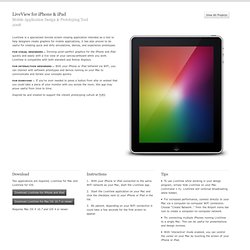 Nicholas Zambetti – LiveView for iPhone & iPad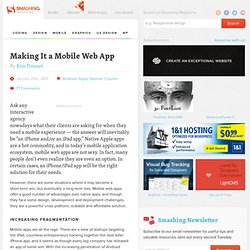 Advertisement Ask any interactive agency nowadays what their clients are asking for when they need a mobile experience — the answer will inevitably be "an iPhone and/or an iPad app." Native Apple apps are a hot commodity, and in today's mobile application ecosystem, mobile web apps are not sexy.
Hello blog (& blog readers). Sorry for my absence of late. I'm hoping to get back into the swing of things soon. Meanwhile, I'll be at UPA 2012 next week in Las Vegas.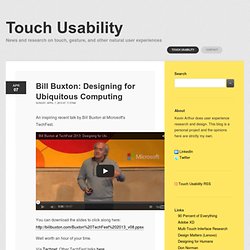 Touch Usability - Touch Usability
Building Campaign Monitor Part 3 - Design Process | Blog | Newcastle Web Design & Development | Newism