Icons
Glyphish – Great icons for great iPhone & iPad applications. Home | Iconsutra. Fonts: Poppi. PICAS Icons - Royalty-free vector icons, and symbols. SoftFacade — We create digital brands. Cocoia Blog. Artua - Icons, Interfaces and Logotypes. Iconwerk, custom icon design & pictogram design. ComicBunch Icon Creation. iConvert: Convert ico, icns, and png icons online for Windows, Mac OS X, and Linux. PNG « We Love Icons: Mac, Windows and Linux PNG icons of the finest quality! Fran Pérez. DryIcons.com - Free Icons and Vector Graphics.
The Making of GUI Design Icons Font. Icons are inseparable part of a GUI (graphical user interfaces) design.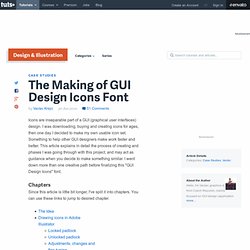 I was downloading, buying and creating icons for ages, then one day I decided to make my own usable icon set. Something to help other GUI designers make work faster and better. This article explains in detail the process of creating and phases I was going through with this project, and may act as guidance when you decide to make something similar. I went down more than one creative path before finalizing this "GUI Design Icons" font. Chapters. Iconwerk custom icon design + pictogram design. Home - Iconlicious. Home of Designer & Iconist Michael Flarup.
Here's a Safari icon set that explores new compass concepts for your favorite browser!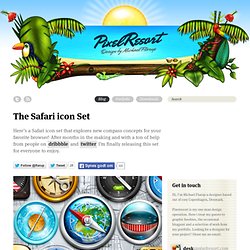 After months in the making and with a ton of help from people on dribbble and twitter I'm finally releasing this set for everyone to enjoy. Something that started out as a doodle on my iPad grew into a cascade of late nights studying compass concepts and exchanging ideas with designers and good-folk alike. Sometimes you just stumble upon a fun notion and you gotta run with it, in this case it was as simple as the idea of why the Safari icon always had to depict that one type of Compass. A few months later, and I'm finally wrapping up 10 fun new compass icons for you guys to put in your docks. 48px WIP by Milos Mirkovic. Upojenie PSD by *SoundForge on deviantART. The Best Icon Sets for Minimal Style Web Design. With so many free icon sets available now, sometimes it makes more sense to not spend countless hours designing and creating your own.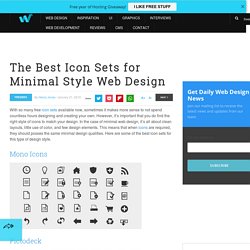 However, it's important that you do find the right style of icons to match your design. In the case of minimal web design, it's all about clean layouts, little use of color, and few design elements. Blog » Saving Icons for Snow Leopard. Obsessive designer?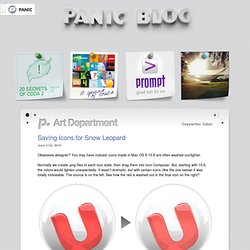 You may have noticed: icons made in Mac OS X 10.6 are often washed-out/lighter. Normally we create .png files of each icon state, then drag them into Icon Composer.
---