Icons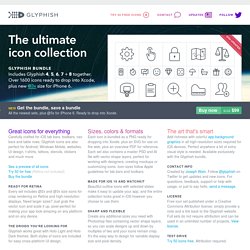 Glyphish Icons, Backgrounds & Artbits Created by Joseph Wain, 2010 — 2013 Web: http://www.glyphish.com Twitter: @glyphish or @jpwain Thanks for supporting Glyphish!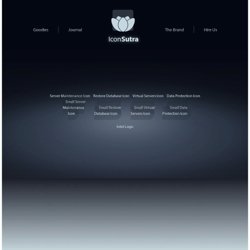 Home | Iconsutra
Photoshop, though not tailor-made for icon and interface designing, is one of the best software out there to design them. In this series of articles, lets see how we can make the most out of Photoshop for interface designing. This post is on the utilities that exist inside and out of Photoshop which could be made use to address some of the drawbacks, while designing with Photoshop. Let us start with some essential tools that can be lifesavers at times when designing in Photoshop.
Fonts: Poppi
PICAS Icons - Royalty-free vector icons, and symbols.
SoftFacade — We create digital brands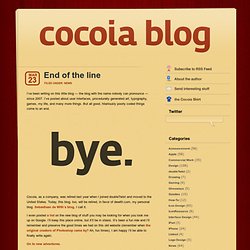 Cocoia Blog
I was sitting in an office as news started coming in yesterday that Steve Jobs had passed away. Shocked, I verified the news, paused speechless for a moment, shared it with my wife in astonishment, and worked on. I worked hard and finished designing a subset of an app that I would say is the best work I've done in my life. I haven't really been 'with Apple' for that long.
Artua - Icons, Interfaces and Logotypes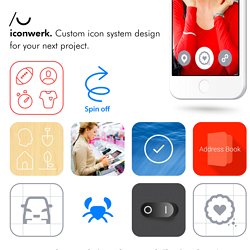 Welcome to iconwerk! Custom pictogram + icon design for your next project. Web, application and print. hallo@iconwerk.de The following companies work with iconwerk pictograms and icons:
ComicBunch Icon Creation
PNG « We Love Icons: Mac, Windows and Linux PNG icons of the finest quality!
Fran Pérez
The Making of GUI Design Icons Font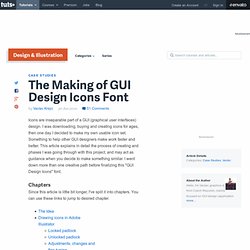 Icons are inseparable part of a GUI (graphical user interfaces) design. I was downloading, buying and creating icons for ages, then one day I decided to make my own usable icon set. Something to help other GUI designers make work faster and better. This article explains in detail the process of creating and phases I was going through with this project, and may act as guidance when you decide to make something similar. I went down more than one creative path before finalizing this "GUI Design Icons" font. Chapters
結婚が決まったときに忘れずに送りたい「婚約指輪」 エンゲージリングとも呼ばれるものですが、この指輪の特別なところは「婚約中のみ身に付けられる」というところです。 結婚という、人生の中でも一位二位を争うほどの大きなイベントを、さらに心に残る特別なものにしてくれる大切なアイテムでもあります。 婚約指輪は男性から女性に愛を誓いながら贈るもので女性のみが身に付けるイメージがありますが、 最近では二人で一緒に購入して身に付けたり、男性も婚約指輪を購入するケースもみられるそうです。 婚約指輪は元々、紀元前の古代ローマで生まれた習慣と言われています。
Home - Iconlicious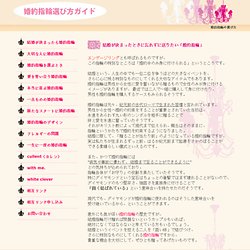 Home of Designer & Iconist Michael Flarup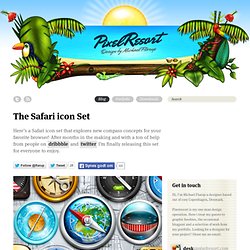 Here's a Safari icon set that explores new compass concepts for your favorite browser! After months in the making and with a ton of help from people on dribbble and twitter I'm finally releasing this set for everyone to enjoy. Something that started out as a doodle on my iPad grew into a cascade of late nights studying compass concepts and exchanging ideas with designers and good-folk alike. Sometimes you just stumble upon a fun notion and you gotta run with it, in this case it was as simple as the idea of why the Safari icon always had to depict that one type of Compass. A few months later, and I'm finally wrapping up 10 fun new compass icons for you guys to put in your docks.
48px WIP by Milos Mirkovic
Template for making your own Upojenie icons. I've opened a thread at MacThemes Forum, so you can submitt your icons over there. Feel free to make as many icons you want, but please, if you submit them to MTF, keep copy/paste icons to a minimum!! Looking forward to your submissions/results! Happy designing
Upojenie PSD by *SoundForge on deviantART
The Best Icon Sets for Minimal Style Web Design | Freebies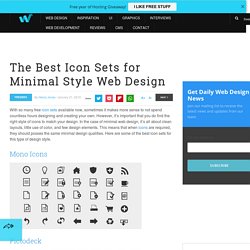 With so many free icon sets available now, sometimes it makes more sense to not spend countless hours designing and creating your own. However, it's important that you do find the right style of icons to match your design. In the case of minimal web design, it's all about clean layouts, little use of color, and few design elements.
Blog » Saving Icons for Snow Leopard
Obsessive designer? You may have noticed: icons made in Mac OS X 10.6 are often washed-out/lighter. Normally we create .png files of each icon state, then drag them into Icon Composer.