Good Designers
Ap-o.com / design & code. Services • Design Intellection. Interactive Experiments Focused on HTML5. Experiments This is my creative lab and interactive playground.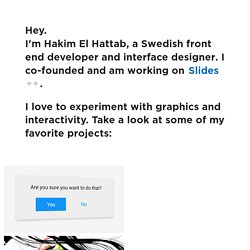 It's focused on the exploration of interaction, visual effects and technologies. Device Loop Animation View the device loop A device loop animation that I created for the new slid.es home page. Braten. HORT. Jordan Gray Creative. Monomalist. RVLVR. Tim Boelaars. Latest projects from our Portfolio | Inservio web solutions.
Tobias Bjerrome Ahlin. The Box - Episode 2: Shaun Inman. Home - Iconaholic. Freelance Website Designer, Logo Designer and Front-End Developer in St. Louis | Christopher Meeks. Frank Chimero. Shyama Golden. Mes compétences. Mes compétences dans le cadre de projet Internet recouvrent les domaines suivants : Conduite de projet Analyse des pré-requis et des contraintesFormalisation des objectifsRédaction des spécifications fonctionnelles ou de cahiers des chargesÉtude et rédaction des cas d'utilisationUtilisation de méthodologies de conception orientée utilisateurs.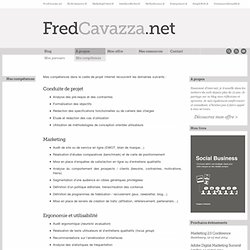 Mac Tyler. Work | Pat Dryburgh. Dan Cassaro - Design/Animation/Illustration.
Milos Milikic - Superstar Web and UI designer and WordPress developer. Hicksdesign: design for print and new-fangled media. Dmig 5. Dieses Mal möchten wir mit einer kleinen Frage beginnen: Wie sieht euer Arbeitsplatz gerade aus?
Da ihr aller Wahrscheinlichkeit nach aus dem Design-Bereich kommt, seht ihr wahlweise kreatives Chaos vor euch oder einen perfekt aufgeräumten Schreibtisch. Das ist zumindest der Eindruck, den wir gewonnen haben. Wir haben Designer gebeten uns Fotos ihres Arbeitsplatzes zu schicken, und zwar ohne diesen vorher aufzuräumen. Graphic Design Bureau. Tom Huveners - Designer & Thinker. Tom Huveners.
---