Examples - nice websites
Free HTML / CSS for type & palette proposals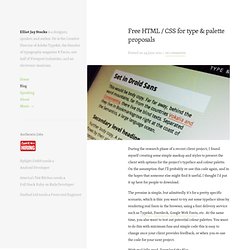 Posted on 24 June 2011 • 26 comments During the research phase of a recent client project, I found myself creating some simple markup and styles to present the client with options for the project's typeface and colour palette. On the assumption that I'll probably re-use this code again, and in the hopes that someone else might find it useful, I thought I'd put it up here for people to download. The premise is simple, but admittedly it's for a pretty specific scenario, which is this: you want to try out some typeface ideas by rendering real fonts in the browser, using a font delivery service such as Typekit, Fontdeck, Google Web Fonts, etc. At the same time, you also want to test out potential colour palettes.
Fantastical | Meet your new assistant.
Grid-Intensive Layouts in Web Design | The Blog of Janna Hagan - Web Designer & Developer
The Bygone Bureau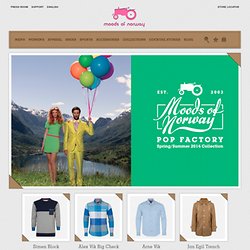 Moods of Norway - Happy clothes for happy people!
The Moods of Norway Autumn/Winter 2013 collection draws inspiration from the Fiddlers and Waltzers of the 1930`s. The collection is a tribute to life and the good times, representing the social mobility from the working class roughnecks to the middle class dandies. The social journey is reflected in the collection that unites the two classes´ dress codes, by combining worn looks, heavy fabrics and deep washes with quality fabrics and sophisticated vintage details sprinkled with patina of a lost epoch.