Examples - nice websites
Free HTML / CSS for type & palette proposals. Posted on 24 June 2011 • 26 comments During the research phase of a recent client project, I found myself creating some simple markup and styles to present the client with options for the project's typeface and colour palette.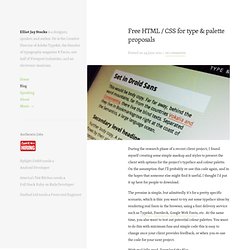 On the assumption that I'll probably re-use this code again, and in the hopes that someone else might find it useful, I thought I'd put it up here for people to download. The premise is simple, but admittedly it's for a pretty specific scenario, which is this: you want to try out some typeface ideas by rendering real fonts in the browser, using a font delivery service such as Typekit, Fontdeck, Google Web Fonts, etc. At the same time, you also want to test out potential colour palettes. Fantastical | Meet your new assistant.
Creating an event with Fantastical is quick, easy, and fun: Open Fantastical with a single click or keystroke Type in your event details and press return ...and you're back to what you were doing with a shiny new event in your calendar!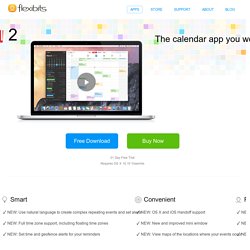 Fantastical's natural language engine is expressive and intelligent so you can write in your own style. Even better, Fantastical automatically recognizes the location of your event and can even invite people from Contacts (Mavericks and Mountain Lion) or Address Book (Lion and Snow Leopard) to your event. Grid-Intensive Layouts in Web Design | The Blog of Janna Hagan - Web Designer & Developer. The Bygone Bureau. CSS Gallery - Web design inspiration - CssDsgn. Moods of Norway - Happy clothes for happy people! The History In the creative cellars of the picturesque town of Stryn, Norway (population 6750), the two local designers Simen Staalnacke and Peder Børresen, after years of global travels, international studies and nights of sizzling cocktails, gave birth to a concept soon to be known, worn, and adored; the Moods of Norway.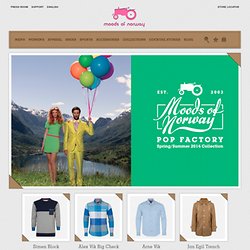 The duo met up with the third musketeer, Stefan Dahlkvist and drew their lines for the coming collections.
---