Examples - nice websites
Freelance Website Designer, Logo Designer and Front-End Developer in St. Louis | Christopher Meeks
Free HTML / CSS for type & palette proposals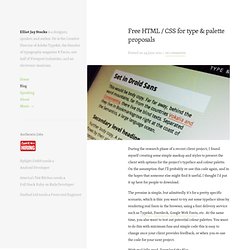 Posted on 24 June 2011 • 26 comments During the research phase of a recent client project, I found myself creating some simple markup and styles to present the client with options for the project's typeface and colour palette. On the assumption that I'll probably re-use this code again, and in the hopes that someone else might find it useful, I thought I'd put it up here for people to download. The premise is simple, but admittedly it's for a pretty specific scenario, which is this: you want to try out some typeface ideas by rendering real fonts in the browser, using a font delivery service such as Typekit , Fontdeck , Google Web Fonts , etc. At the same time, you also want to test out potential colour palettes.
Fantastical | Meet your new assistant.
Grid-Intensive Layouts in Web Design | The Blog of Janna Hagan - Web Designer & Developer
The Bygone Bureau
Moods of Norway - Happy clothes for happy people!

Thanks for visiting Nike. We are temporarily closed for scheduled maintenance, we'll be back soon so please try again later.