Python
How to: Use Python to Solve Optimization Problems via reddit.com
Python for Informatics: Exploring Information, an open textbook | Open.Michigan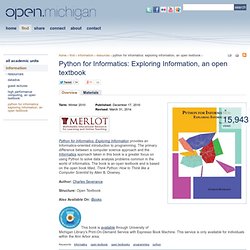 Charles is currently a Clinical Assistant Professor and teaches in the School of Information at the University of Michigan. Charles also works with the IMS Global Learning Consortium as the IMS Affiliate Coordinator. Previously he was the Executive Director of the Sakai Foundation and the Chief Architect of the Sakai Project.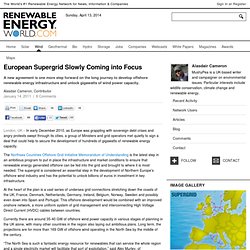 European Supergrid Slowly Coming into Focus
The Northsea Countries Offshore Grid Initiative Memorandum of Understanding is the latest step in an ambitious program to put in place the infrastructure and market conditions to ensure that renewable energy generated offshore can be fed into the grid and brought to where it is most needed.
All,
unnamed pearl
YQafj.png (773×938)
PyBrain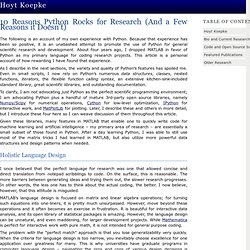 The following is an account of my own experience with Python. Because that experience has been so positive, it is an unabashed attempt to promote the use of Python for general scientific research and development. About four years ago, I dropped MATLAB in favor of Python as my primary language for coding research projects.
10 Reasons Python Rocks for Research — Hoyt Koepke
Home · All Classes · Main Classes · Grouped Classes · Modules · Functions [Next: Getting Started with Qt Designer ] Qt Designer Manual
3: Qt Designer Manual
1. An Introduction to Distutils — Python v2.7 documentation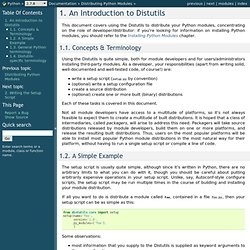 This document covers using the Distutils to distribute your Python modules, concentrating on the role of developer/distributor: if you're looking for information on installing Python modules, you should refer to the Installing Python Modules chapter.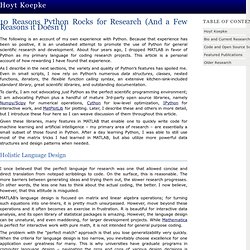 10 Reasons Python Rocks for Research — Hoyt Koepke
The following is an account of my own experience with Python.
from python import podcast
PySnippet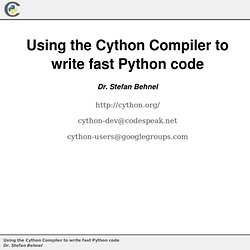 Passionate Python developer since 2002 after Basic, Logo, Pascal, Prolog, Scheme, Java, C, ...
Using the Cython Compiler to write fast Python code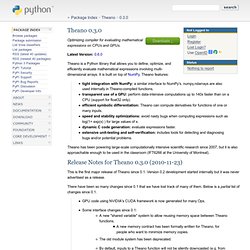 Package Index : Theano 0.3.0
Optimizing compiler for evaluating mathematical expressions on CPUs and GPUs. Latest Version: 0.6.0rc3 Theano is a Python library that allows you to define, optimize, and efficiently evaluate mathematical expressions involving multi-dimensional arrays. It is built on top of NumPy . Theano features: tight integration with NumPy: a similar interface to NumPy's. numpy.ndarrays are also used internally in Theano-compiled functions. transparent use of a GPU: perform data-intensive computations up to 140x faster than on a CPU (support for float32 only). efficient symbolic differentiation: Theano can compute derivatives for functions of one or many inputs. speed and stability optimizations: avoid nasty bugs when computing expressions such as log(1+ exp(x) ) for large values of x. dynamic C code generation: evaluate expressions faster. extensive unit-testing and self-verification: includes tools for detecting and diagnosing bugs and/or potential problems.
John Anderson ( sontek ) - Debugging Python with pdb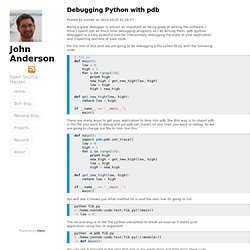 Being a great debugger is almost as important as being great at writing the software. I think I spend just as much time debugging programs as I do writing them. pdb (python debugger) is a very powerful tool for interactively debugging the state of your application and inspecting portions of your code. For the rest of this post we are going to be debugging a file called fib.py with the following code: # fib.py def main (): low = 0 high = 1 for i in range ( 10 ): print high new_high = get_new_high ( low , high ) low = high high = new_high def get_new_high ( low , high ): return low + high if __name__ == '__main__' : main ()
Features of the Standard Library