Web-semantique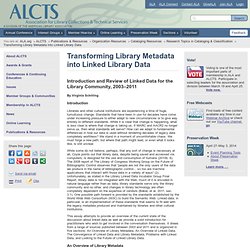 By Virginia Schilling Introduction Libraries and other cultural institutions are experiencing a time of huge, tumultuous change. Standards that have been in use for decades have come under increasing pressure to either adapt to new circumstances or to give way entirely to different standards. While it is clear that change is happening, what is less clear is where that change is taking us.
Transforming Library Metadata into Linked Library Data | Association for Library Collections & Technical Services (ALCTS)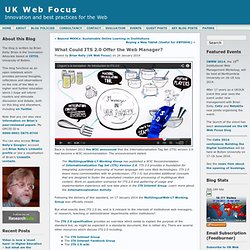 Back in October 2013 the W3C announced that the Internationalization Tag Set (ITS) version 2.0 had become a W3C recommendation. The announcement stated: The MultilingualWeb-LT Working Group has published a W3C Recommendation of Internationalization Tag Set (ITS) Version 2.0.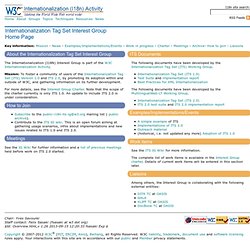 About the Internationalization Tag Set Interest Group The Internationalization (I18N) Interest Group is part of the W3C Internationalization Activity. Mission: To foster a community of users of the Internationalization Tag Set (ITS) Version 1.0 and ITS 2.0, by promoting its adoption within and outside of W3C, and gathering information on its further development. For more details, see the Interest Group Charter.
Internationalization Tag Set Interest Group
W3C Working Group Note 01 August 2013 This version: http://www.w3.org/TR/2013/NOTE-vocab-adms-20130801/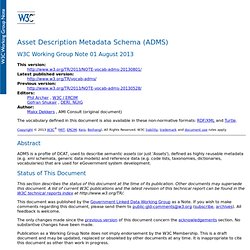 Asset Description Metadata Schema (ADMS)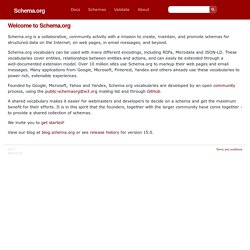 This site provides a collection of schemas, i.e., html tags, that webmasters can use to markup their pages in ways recognized by major search providers. Search engines including Bing, Google, Yahoo! and Yandex rely on this markup to improve the display of search results, making it easier for people to find the right web pages. Many sites are generated from structured data, which is often stored in databases.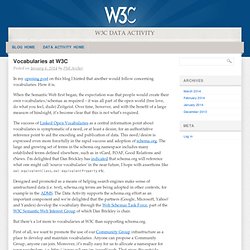 In my opening post on this blog I hinted that another would follow concerning vocabularies. Here it is. When the Semantic Web first began, the expectation was that people would create their own vocabularies/schemas as required – it was all part of the open world (free love, do what you feel, dude) Zeitgeist. Over time, however, and with the benefit of a large measure of hindsight, it's become clear that this is not what's required.
Vocabularies at W3C | W3C Data Activity
Optimizing YouTube Metadata: Titles, Descriptions & Tags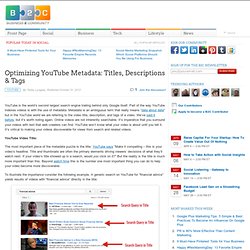 YouTube is the world's second largest search engine trailing behind only Google itself. Part of the way YouTube indexes videos is with the use of metadata. Metadata is an ambiguous term that really means "data about data" but in the YouTube world we are referring to the video title, description, and tags of a video. We've said it before, but it's worth noting again. Online videos are not inherently searchable. It's imperative that you surround your videos with text that web crawlers can find.
D-Lib Magazine November/December 2013 Volume 19, Number 11/12Table of Contents Growing Institutional Support for Data Citation Results of a Partnership Between Griffith University and the Australian National Data Service Natasha Simons Griffith University, Brisbane, Australia n.simons@griffith.edu.au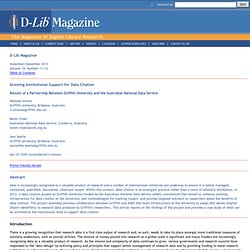 Growing Institutional Support for Data Citation: Results of a Partnership Between Griffith University and the Australian National Data Service
finglive
Par Sarah Labelle et Claire Gallon Aujourd'hui, collectivités, entreprises, associations et individus peuvent disposer à moindre coût d'outils d'aide à la décision et de fouille de données pour optimiser leur gestion, campagne de communication, évaluation de performance… Un panel de différents outils décisionnels contribue à changer les pratiques, les métiers et à créer de nouvelles tensions. L'objectif de l'atelier Infolab du 27 juin lors de l'Open Data Week Marseille, était de se pencher sur le rôle que les données peuvent jouer dans le domaine décisionnel et les approches décisionnelles. Les interventions de collectivités: Thomas Eisinger (Région Provence-Alpes-Côte d'Azur) et d'associations : Hervé Paris (AlterCarto) ont permis de réaliser un état des lieux et une remise en perspective des outils decisionnels et de leur évolution du fait de l'émergence des données.
Le Web Sémantique s'est enrichi en 2003 de deux "Recommandations" du W3C, concernant les spécifications Resource Description Framework (RDF) et Web Ontology Language (OWL). L'occasion d'aborder ce vaste sujet d'une manière plus pratique. Avant de les appliquer dans un cadre sémantique, il nous faut d'abord apprendre à connaître ces deux spécifications. RDF Resource Description Framework (RDF) est au centre de la plupart des travaux du Web Sémantique, et pour cause : il s'agit de la "glue" permettant de relier les ressources (pages, images…) entre elles - c'est un vocabulaire XML pour décrire des ressources, ou des relations entres ressources, en leur affectant des méta-données. Les machines peuvent dès lors classer ces ressources et modéliser les liens entre elles (s'ils existent). RDF permet ainsi de définir les règles qui relient les informations entre elles.
RDF et OWL pour donner du sens au Web - JDNet Développeurs