Beauty
Makes 100 applications 2 tbls. olive oil 1/2 tsp. honey 3/4 tsp. beeswax — grated 1/2 tsp. pure cocoa butter Flavored oil of your choice (like peppermint or vanilla) 1 vitamin E capsule > In a small saucepan, heat oil, honey, wax and butter over a low heat until just melted. > Remove from heat and allow to cool for 2-3 minutes. > Stir in flavoring and contents of vitamin E capsule. > Pour into containers of your choice.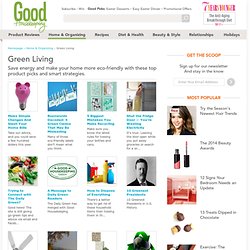 There's something strangely satisfying about pulling a pore strip off your face and examining the results. In fact, that feeling can become a little addictive. While there is no shame in it, satisfying the addition easily turns into a costly endeavor.
Home Made Pore strips - without gelatin or eggs | LUUUX - StumbleUpon
1. Old Buttons Repurpose spare buttons by using them to keep pairs of earrings together: Most buttons have at least two holes in them, so simply place an earring in each opening to neatly store when not wearing.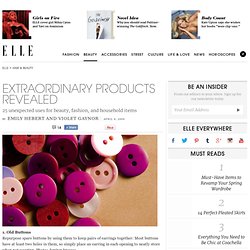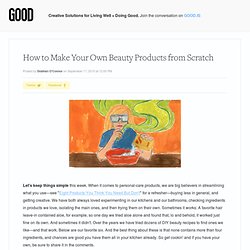 Let's keep things simple this week. When it comes to personal-care products, we are big believers in streamlining what you use—see " Eight Products You Think You Need But Don't " for a refresher—buying less in general, and getting creative. We have both always loved experimenting in our kitchens and our bathrooms, checking ingredients in products we love, isolating the main ones, and then trying them on their own.