The Fancy
Research into emerging player the Fancy vs. visual social network Pinterest
The Fancy Powers $10,000 Per Day In Sales. The Fancy Dives Into Mobile Commerce As It Nears 1 Million Users. The Fancy, a Pinterest-like startup that wants you to shop what you save, updated its apps for iPhone and iPad devices Wednesday.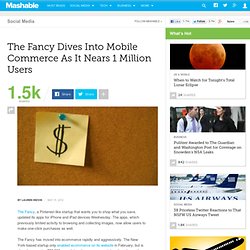 The apps, which previously limited activity to browsing and collecting images, now allow users to make one-click purchases as well. The Fancy has moved into ecommerce rapidly and aggressively. The New York-based startup only enabled ecommerce on its website in February, but is already averaging $50,000 a week in sales among a registered userbase of nearly 1 million. The Fancy Harnesses Social Commerce - Fashion Columns | California Apparel News. Designers' Surprising Online Experiments. Thomas Concordia/Getty Images HOME RUN: Oscar de la Renta's silk sweater, an impressive seller.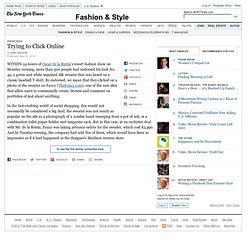 In the fast-evolving world of social shopping, this would not necessarily be considered a big deal; the sweater was not nearly as popular on the site as a photograph of a zombie hand emerging from a pot of soil, or a combination toilet-paper holder and magazine rack. Interview: Tyler Florence - The Official Fancy Blog. The Fancy: Pint Rest for men.
Pinterest is the new kid in town.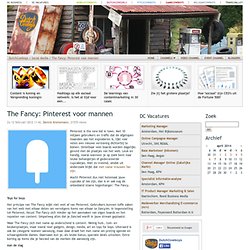 Met 10 miljoen gebruikers en traffic dat de afgelopen maanden aan het exploderen is, lijkt voor velen een nieuwe verslaving dichterbij te komen. Ontelbaar veel boards worden dagelijks gevuld met de plaatjes van het web. Leuk en handig, vooral wanneer je op zoek bent naar leuke behangetjes of gedecoreerde cupcakejes. The Fancy Takes On Pinterest. Pinterest Rival Fancy Gets Fancier With "Match By Color" Visual Search. High-end design, fashion and travel-focused Pinterest rival The Fancy is rolling out several new features today, including a new slideshow option, the addition of four more languages, and a new visual search engine that allows users to search for items with similar colors.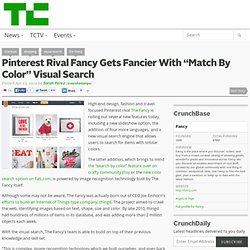 The latter addition, which brings to mind the "search by color" feature over on crafty community Etsy or the new color search option on Fab.com, is powered by image recognition technology built by The Fancy itself. Although some may not be aware, The Fancy was actually born out of CEO Joe Einhorn's efforts to build an Internet of Things-type company, thingd. The project aimed to crawl the web, identifying images based on text, shape, size and color. Pinvolve Converts Facebook Pages Into Pinterest Pinboards, Increases Repins By 150%+ The folks behind a forthcoming fashion catalog for the iPad, Bazaart, have launched an interesting side project in their downtime (what's that?)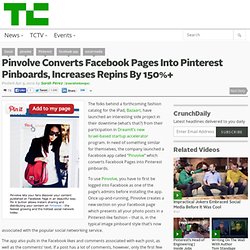 From their participation in DreamIt's new Israel-based startup accelerator program. In need of something similar for themselves, the company launched a Facebook app called "Pinvolve" which converts Facebook Pages into Pinterest pinboards. To use Pinvolve, you have to first be logged into Facebook as one of the page's admins before installing the app. 7 Pinterest Clones: Can You Tell the Difference?
"It's like Pinterest, but...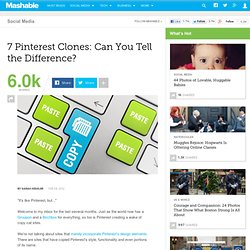 " Welcome to my inbox for the last several months. Just as the world now has a Groupon and a Birchbox for everything, so too is Pinterest creating a wake of copy-cat sites. We're not talking about sites that merely incorporate Pinterest's design elements. There are sites that have copied Pinterest's style, functionality and even portions of its name.
Trade: Joseph Einhorn Founder of TheFancy.com. These days there seems to be no shortage in social networking websites which have drastically altered the way we socialize, discuss topics and share content.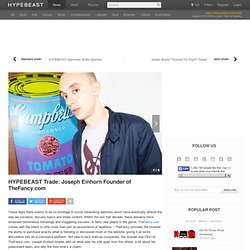 Within the last half decade, these domains have amassed tremendous followings and staggering success. A fairly new player in the game, TheFancy.com comes with the intent to offer more than just an exuberance of repetition – TheFancy provides the browser the ability to purchase exactly what is trending or discussed most on the website, giving it an extra articulation into an e-commerce platform. The Fancy vs. Pinterest « Dana Córdova /Blog.
User Curator Site The Fancy Beats Pinterest to Monetization. While user-curator site Pinterest seems to be sweeping the social media world, it's not entirely clear the site will be able to make money.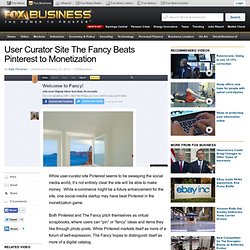 While e-commerce might be a future enhancement for the site, one social-media startup may have beat Pinterest in the monetization game. Both Pinterest and The Fancy pitch themselves as virtual scrapbooks, where users can "pin" or "fancy" ideas and items they like through photo posts. While Pinterest markets itself as more of a forum of self-expression, The Fancy hopes to distinguish itself as more of a digital catalog. On Thursday, The Fancy unveiled a unique approach to monetizing this digital catalog platform.
The social media site announced it will now enable retailers to claim items that users have "fancy'd" as theirs and sell them directly through The Fancy. High-End Pinterest Competitor Fancy Launches Commerce Platform With Help From Jack Dorsey. With just 250,000 users, high-end Pinterest competitor Fancy may not seem like much competition at all to Pinterest, which boasts more than 10 million users.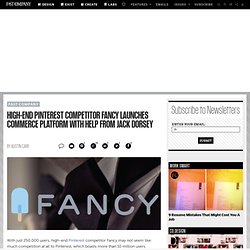 But the New York-based startup, which features gorgeous products and allows users to "Fancy" them, has a few serious competitive advantages: The backing of PPR, the French conglomerate that owns fashion brands such as Gucci and Bottega Veneta, which led a recent $10 investment round at a $100 million valuation; a board that includes Jack Dorsey of Twitter and Square and original Facebooker Chris Hughes; endorsements from celebrities like Kanye West; a tight-knit community of curators churning out top-notch content and charting the taste graph; and as of today, a social commerce platform that allows brands and merchants to sell products directly from Fancy.
---