Home Media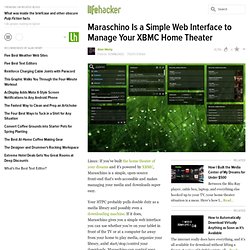 SExpand Linux: If you've built the home theater of your dreams and it's powered by XBMC, Maraschino is a simple, open-source front-end that's web-accessible and makes managing your media and downloads super easy. Your HTPC probably pulls double duty as a media library and possibly even a downloading machine.
Maraschino Is a Simple Web Interface to Manage Your XBMC Home Theater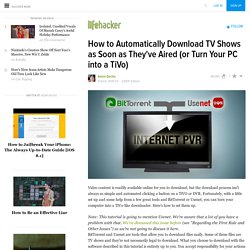 Video content is readily available online for you to download, but the download process isn't always as simple and automated clicking a button on a TiVO or DVR. Fortunately, with a little set up and some help from a few great tools and BitTorrent or Usenet, you can turn your computer into a TiVo-like downloader. Here's how to set them up. Note: This tutorial is going to mention Usenet.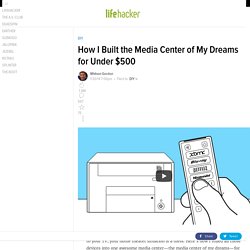 No TV tuner card...? I realize that it adds expense, but it seems worth it considering that a lot of cable companies charge you monthly to rent their box. With my current company, I could go from $15/month for an HD box, to $2/month for a CableCARD - the $13/month I save means that this thing will eventually pay for itself, or at least for some of the premium streaming subscriptions I buy for it. Plus, I can use my 360's Media Center Extender features to use it to watch digital channels and recorded TV downstairs, without having to pay for a second cable box - saving me another $15 every month. On top of all that, I can get a better overall product - if I splurge for a high-end card I can watch or record up to 4 shows at once, which my current company doesn't offer. I know a lot of people build these specifically so that they can cancel their cable subscription, but if you plan on keeping it, you can get WAY more functionality out of this box with such a simple upgrade.
How to Turn Your Android into a Killer Portable Media and Gaming Center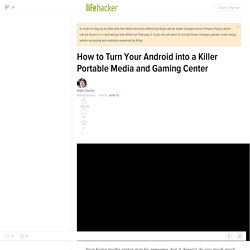 Your home media center may be awesome, but it doesn't do you much good when you're at a friend's place and desperate to watch the Game of Thrones finale, get in a few laps on Mario Kart, or listen to a great new band you discovered. Here's how you can turn your Android device into a badass portable media center with a few apps and one magic adapter. In this post we're going to take your Android device and turn it into a portable media center that can do all the cool things in the video above. We're going to put together a system that can play and stream your music and videos, function as a retro arcade, and take input from a game controller.
Is There Anything Awesome I Can Do with All These Unused Ports on My TV?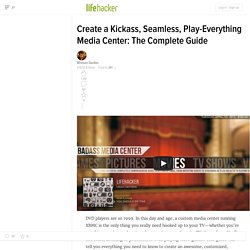 I really want to love XBMC, and maybe you guys can help me out. Here is my situation: -I rip all my DVDs & Blu Rays to my Media Center. -My wife and daughter watch a ton of shows on Netflix.
Is there a way of installing FreeNAS without a cdrom? I have got usb sticks handy that I could use maybe use unetbootin? Unetbootin has FreeNAS in it, but I got nothing but trouble from that version. You can try, but I don't know if it'll work.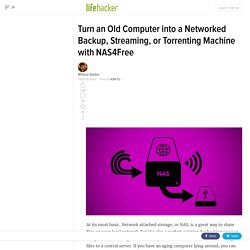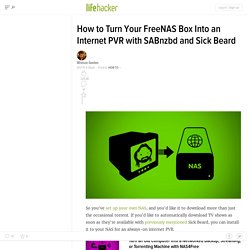 How to Turn Your FreeNAS Box Into an Internet PVR with SABnzbd and Sick Beard
So you've set up your own NAS, and you'd like it to download more than just the occasional torrent. If you'd like to automatically download TV shows as soon as they're available with previously mentioned Sick Beard, you can install it to your NAS for an always-on internet PVR. If you'd rather not keep your main machine on all day waiting for new TV shows to download, installing Sick Beard on a NAS is a fantastic way to automatically download your favorite TV shows, whether your other computers are already on or not. However, installing SABnzbd and Sick Beard to a NAS takes a bit more work than installing it to a normal computer.