Olympics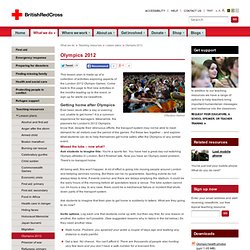 ©Reuters/ Alertnet This lesson plan is made up of a collection of activities exploring aspects of the London 2012 Olympic Games. Come back to this page to find new activities in the months leading up to the event, or sign up for alerts via newsthink . Getting home after Olympics Ever been stuck after a day or evening out, unable to get home?
Olympics 2012: lesson plan and teaching activities for schools
Olympic Scheme | j2network
Going for Gold or Quest for the Cup – classroom activities across the curriculum inspired by the Olympics, Paralympics, Commonwealth Games or major international sporting events
Opening ceremony | London 2012 - Get Set
Olympic Challenge 2012
The Ancient Greek Olympics - Ancient Greece for Kids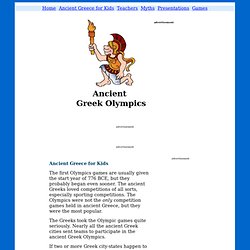 You are a Corinthian! As a coastal city-state, you have a glorious history as a cultural and trade center. Although your schools are not as fine, perhaps, as those of Athens, you have been educated in the arts and the sciences. As a child, you were taught at home by your mother, or by a male slave.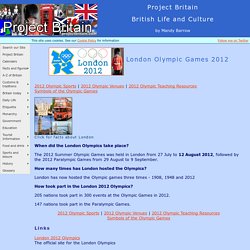 2012 Olympic Sports | 2012 Olympic Venues | 2012 Olympic Teaching Resources Symbols of the Olympic Games The build up to the 2012 London Olympics provides an excellent hook to engage students all round the world in learning about Britain. I have already written many pages on Britain and will be adding more and linking the resources to the Olympic theme. The 2012 Summer Olympic Games will be held in London from 27 July to , followed by the 2012 Paralympic Games from 29 August to 9 September. London hosted the Olympic games in 1908 and 1948.
Olympic Games for Kids | Crafts | Preschool Lesson Plan Activities
Ages 2.5 to 6 This is an opportunity for young children to get acquainted with the Olympic Games, but most importantly the central message during the activities is one of friendship and peace. People playing and working together in peace and friendship makes for a better and beautiful world.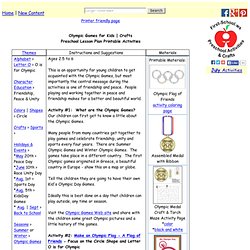 The Olympic Games 2012 London
The early Olympic Games were celebrated as a religious festival from 776 B.C. until 393 A.D., when the games were banned for being a pagan festival (the Olympics celebrated the Greek god Zeus). In 1894, a French educator Baron Pierre de Coubertin, proposed a revival of the ancient tradition, and thus the modern-day Olympic Summer Games were born. Host Greece won the most medals (47) at the first Olympic Summer Games in 1896 .