T-Shirts
T-shirt Re-Style. Beach cover up. I saw this awesome DIY from HERE I thought this would make a great beach cover up and I just had to make one.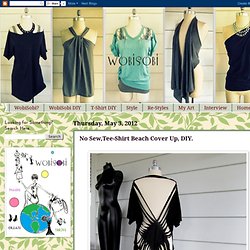 Mine is just a little different but I love how sexy it turned out. Aquí: heres how: DIY braided back shirt. DIY Band Boys Tee. Super fans and groupies around the world have always shown their love for the boys in the band with signs, tattoos, and tees.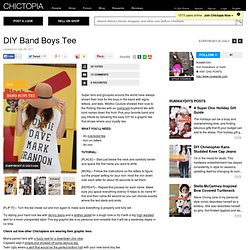 Wildfox Couture showed their love to the Rolling Stones with an oversized boyfriend tee with bold names down the front. Pick your favorite band and pay tribute by following this easy DIY for a graphic tee that shows where your loyalty lies. DIY Distressed Balmain T-Shirt. The $1,625 distressed t-shirt from Balmain is exactly the sort of thing that would inspire my dad to say "why would I pay MORE for something that has HOLES in it?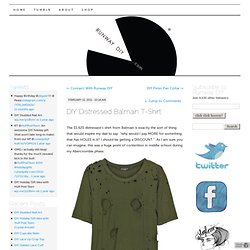 I should be getting a DISCOUNT." As I am sure you can imagine, this was a huge point of contention in middle school during my Abercrombie phase. If you don't have $1,625 to shell out on a tee there is an easy way to re-create this distressed look on any tee you already have. Aquí: rag to fab: crop top. Crop Top DIY. Hi guys!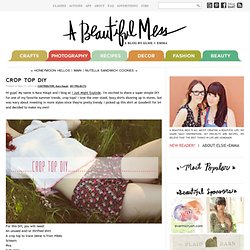 My name is Kara Haupt and I blog at I Just Might Explode. I'm excited to share a super simple DIY for one of my favorite summer trends, crop tops! I love the over-sized, boxy shirts showing up in stores, but was wary about investing in more styles since they're pretty trendy. I picked up this shirt at Goodwill for $4 and decided to make my own! For this DIY, you will need:An unused and/or thrifted shirtA crop top to trace (Mine is from H&M)ScissorsPinsCute trimFunky thread (I used some metallic thread I picked up a thriftstore!)
---