Dresses
How to Turn a T-Shirt Into a Dress. This T-shirt dress was inspired by all those lovely jersey knit, color-blocked dresses from the '60s, primarily designed by Rudi Gernreich and Mary Quant.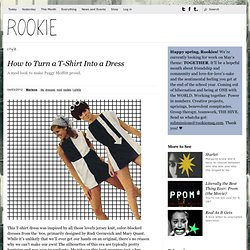 While it's unlikely that we'll ever get our hands on an original, there's no reason why we can't make our own! The silhouettes of this era are typically pretty forgiving and way easy to replicate. My take on this look requires just a few T-shirts and a couple of straight seams—no fancy sewing or garment-fitting skills required! If you can sew a straight line, then you can definitely make this dress. DIY Men's Shirt Into A Cut-Out Dress. Do you gravitate towards amazing men's drerss shirts when you thrift?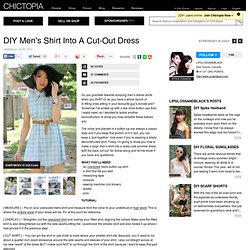 Or do you have a whole bunch of ill-fitting ones sitting in your favourite guy's donate pile? Somehow I've ended up with a few more button-ups than I really need, so I decided to tackle another reconstruction to show you how versatile these babies are! The collar and placket of a button-up are always a classic style and if you keep that portion of it in tact, you can keep a "put-together" look even if you're wearing a totally deconstructed shirt. Today I'm going to show you how to make a large men's shirt into a really cute summer dress with the back cut-out. So follow along and let me know if you have any questions! LBD #1: DIY Cut Out Back Minidress. DIY Fashion: The flapper dress DIY. Christmas is approcching and we're putting together our party outfit.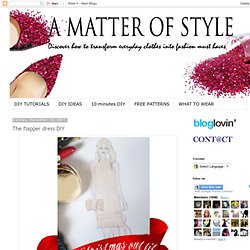 Last week we diy-ed a our glitter shoes and now it's time to diy our party dress. The dress I made it's a flapper dress in a blush pink color and I used a sheer crepe georgette fabric. If you saw the latest runways you maybe know that the flapper dress will be really trendy next spring, so we're making a dress we can wear a lot next season. See the step by step tutorial after the jump. DIY Pollow case night dress. Stalno gledam one projekte sa jastučnicama, i stalno sam govorila da ću (jednog dana kada naučim šiti) i sama napraviti nešto slično.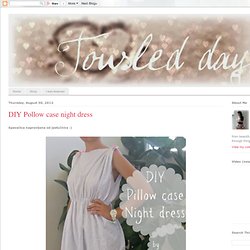 Pa izgleda da sam toliko napredovala na mašini da sam uspjela! Kada sam pronašla ovu ogromnu jastučnicu, odmah sam je ukrala (mama se nije baš previše ljutila). I naravno, kao i gotovo svi moji projekti, tjednima me je čekala uredno složena. Neki dan sam je i iskoristila. Nisam ništa porubljivala (iako sam možda trebala), zato je ovo bio jako brz projekt. Hand Stamped D.I.Y. Pony Print Dress. Hi there!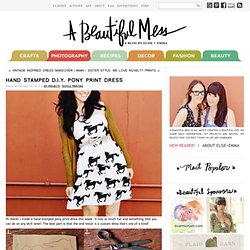 I made a hand stamped pony print dress this week. It was so much fun and something that you can do on any skill level! How to Turn a T-Shirt Into a Dress.
---