Our Environment l
Charting a Course: Sustainable Water Use by Canada's Natural Resource Sectors | National Round Table – Table ronde nationale
Water has both environmental and economic value. It is essential to sustaining ecosystems and growing our economy. Ensuring our natural resources sectors – the biggest water users in Canada – both have enough water to grow, and use that water more efficiently and sustainably, is what the NRT's new water report is all about. Read the Executive Summary The natural resource sectors use and consume more water than any other sectors in the nation, accounting for approximately 86% of Canada's water use in 2005. According to economic forecasts, the sectors are expected to experience significant growth, ranging from 23% to 58%, by 2030.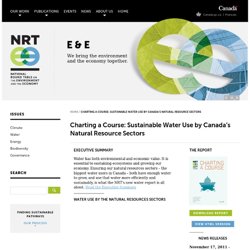 Aymara women cross a bridge of rocks on the shores of Lake Titicaca. The lake's water is increasingly contaminated by rivers that pass through the industrial city of El Alto. Photograph: Noah Friedman-Rudovsky South America's most famous lake is being polluted by increasing levels of waste from fast-growing cities, according to locals, environmentalists and politicians.
Urban population boom threatens Lake Titicaca | Environment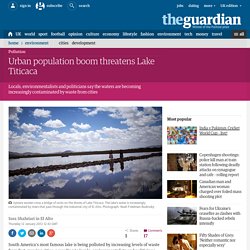 i have a documentary called Global Warming or Global Governence- its the non-Al Gore side of the environment. The other point of veiw. by notyetsonic Feb 23
it is when you cut the last tree and catch the last fish, that you will realize you cant eat money by notyetsonic Feb 22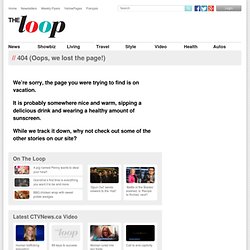 Instructions: 1.
Rare earth metals abundant in deep-sea mud | Sympatico.ca Finance
Satellite images of the Athabasca oil sands in Alberta, Canada, show the expansion between 1984 (left) and 2011. Environmentalists criticise the destruction of forests and pollution of air and water, while Nasa scientist James Hansen says if the oil sands were exploited as projected, the carbon emissions produced would mean it was "game over for the climate". Photograph: Landsat/NASA The UK government has been accused of being "extraordinarily naive" over tar sands information given to it by Canadian diplomats as part of a lobbying campaign, but which has since been contradicted. Chris Davies, the MEP who is the Liberal Democrat environment spokesman in the European parliament, told me: "It is extraordinarily naive for ministers and officials to take the special pleading by Canada as though it were gospel truth, rather than what it is - an attempt to protect narrow financial interests."
UK 'extraordinarily naive' over Canada's tar sands lobbying | Damian Carrington | Environment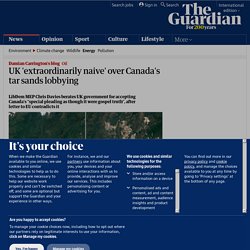 Pollution and Waste - Pollution and Waste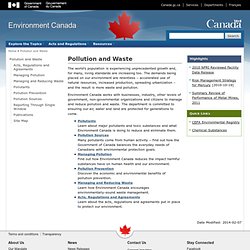 The world's population is experiencing unprecedented growth and, for many, living standards are increasing too. The demands being placed on our environment are relentless – accelerated use of natural resources, increased production, spreading urbanization – and the result is more waste and pollution. Environment Canada works with businesses, industry, other levels of government, non-governmental organizations and citizens to manage and reduce pollution and waste. The department is committed to ensuring our air, water and land are protected for generations to come.
Canada flushes some 200 billion liters of raw sewage directly into natural waterways every year, from the St. Lawrence River to the Strait of Juan de Fuca and the Pacific Ocean. That's only a fraction of the three trillion liters of sewage Canadians produce annually—about 6 percent, in fact—but it's still enough to fill more than 40,000 Olympic-sized swimming pools.
Water Pollution - Canada Takes Crap for Flushing Raw Sewage into the Ocean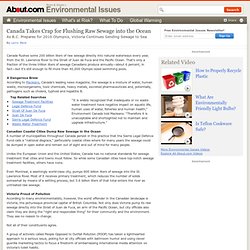 PollutionWatch homepage
Toxic tailings ponds, such as this one at Syncrude's Mildred Lake mine site, are an environmental challenge left behind after extraction of bitumen from the oilsands.
Durban COP17: Connie Hedegaard puts pressure on China, US and India | Environment
European Union climate commissioner Connie Hedegaard speaking at the Durban conference. Photograph: Rogan Ward/Reuters With only a few hours of negotiations left at the marathon United Nations climate change talks in Durban, the European Union's climate chief made an impassioned call to the remaining large economies holding out on a deal to join its plan.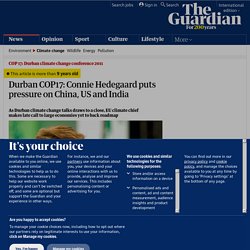 Canadian Oil Sands — National Geographic Magazine
One day in 1963, when Jim Boucher was seven, he was out working the trap­line with his grandfather a few miles south of the Fort McKay First Nation reserve on the Athabasca River in northern Alberta. The country there is wet, rolling fen, dotted with lakes, dissected by streams, and draped in a cover of skinny, stunted trees—it's part of the boreal forest that sweeps right across Canada, covering more than a third of the country. In 1963 that forest was still mostly untouched. The government had not yet built a gravel road into Fort McKay; you got there by boat or in the winter by dogsled. The Chipewyan and Cree Indians there—Boucher is a Chipewyan—were largely cut off from the outside world.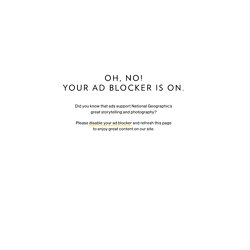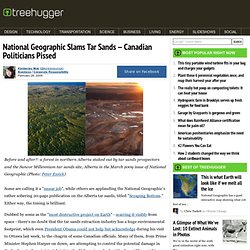 Before and after?: a forest in northern Alberta staked out by tar sands prospectors and the Suncor Millennium tar sands site, Alberta in the March 2009 issue of National Geographic (Photo: Peter Essick ) Some are calling it a " smear job ", while others are applauding the National Geographic's rather sobering 20-page publication on the Alberta tar sands, titled " Scraping Bottom ." Either way, the timing is brilliant. Dubbed by some as the " most destructive project on Earth " - scarring it visibly from space - there's no doubt that the tar sands extraction industry has a huge environmental footprint, which even President Obama could not help but acknowledge during his visit to Ottawa last week, to the chagrin of some Canadian officials.
National Geographic Slams Tar Sands – Canadian Politicians Pissed
Shell: Clean-up goes on for Niger Delta – and oil company's reputation | Business
Ogoni leader Ken Saro-Wiwa was hanged by the Nigerian military regime after organising opposition to Shell's activities in the Delta. Photograph: Greenpeace/AFP Despite today's soaring profit figures, Shell remains a company under siege for its lucrative activities in Africa . At a parliamentary hearing in the Netherlands last week, Amnesty International, Friends of the Earth, Nigerian and British activists, Dutch MPs and others accused the company of breaches of safety, human rights abuses, destroying lives and the environment, hiding information, gas flaring and blaming locals for oil pollution in Nigeria . Shell Holland's president, Peter de Wit, denied all the charges and insisted that the company applied "global standards" to its operations around the world.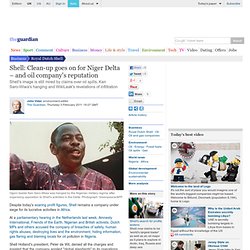 Citizens Against CO2 Sequestration
Tar Sands Oil Extraction - The Dirty Truth
What does Canada's withdrawal from Kyoto protocol mean? | Adam Vaughan | Environment
Canada's environment minister, Peter Kent, announces that Canada will withdraw from the Kyoto accord, outside the House of Commons on Parliament Hill in Ottawa, Ontario. Photograph: Fred Chartrand/AP It's been four years in the offing, but Canada on Monday finally and formally withdrew from the world's only existing legal treaty to cut greenhouse gas emissions, the Kyoto protocol .
Environmental groups accused Anglo-Dutch oil giant Shell on Wednesday of destroying lives and the environment in the Niger Delta, and urged Dutch MPs to intervene as the company defended its record. "When will you stop treating people in Nigeria differently than you treat people in the Netherlands? When will you stop applying double standards?" Geert Ritsema of the NGO Milieudefensie asked Shell at a parliamentary committee hearing in The Hague into oil spills in Nigeria.
NGOs, Shell lock horns over Nigerian oil spills
'Chevron [should] cease its lies and pay,' said Humberto Piaguaje, an Ecuadorian tribal leader attending the AGM. Photograph: Ho/Reuters Chevron bosses are facing shareholders for the first time since the company was fined a total of $18bn (£11.1bn) by a court in Ecuador over contamination from oil extraction in the Amazon. California's largest oil company is coming under increasing pressure from institutional investors and long-term shareholders who are gathering at the annual general meeting at Chevron's HQ in San Ramon, near San Francisco . A judge ruled in February this year that the company was liable to pay $8.6bn in damages, mostly to decontaminate polluted soil. The judge also awarded $860,000 to plaintiffs and a further $8.6bn in punitive damages.
Chevron chiefs face shareholders after huge $18bn Ecuador fine | Environment
MYOO | The community that believes in the power of stories and adventure to drive social and environmental change.
Adventure Ecology
Kermode Bear - Photo Gallery
Obama To Expand Drilling Off Alaska, In Gulf
WASHINGTON -- The Obama administration on Tuesday announced its five-year offshore drilling plan , which includes an emphasis on drilling in the Gulf of Mexico and Alaska, continuing the administration's policy of expanding domestic production of energy. Less than two years after the BP oil disaster, the Proposed Outer Continental Shelf Oil and Gas Leasing Program will make more than 75 percent of oil and gas resources that are undiscovered and technically recoverable now available for exploration and development. Department of the Interior Secretary Ken Salazar praised the program as an important step toward economic recovery. "Expanding safe and responsible oil and gas production from the program is a key component of our comprehensive energy strategy to grow America's energy economy, and will help us continue to reduce our dependence on foreign oil and create jobs here at home," he said in a statement.
Nuclear Industry Cover Up of Massive Radiation from Fukushima
Japanese Government Insiders Reveal Fukushima Secrets
Japan Contamination Maps: Radiation is Spreading....
China crisis over Yangtze river drought forces drastic dam measures | Environment
The dried up Yangtze river in southwest China's Chongqing municipality. The severe drought has forced a massive release of water from China's Three Gorges reservoir for irrigation and drinking water. Photograph: STR/AFP/Getty
10 Koch plants that put the most Americans at risk
European Union: European Ambitions Hit a Wall of Carbon - Global Climate Change Lobby
The Mountain Institute | we're pro mountains
China's love affair with the car shuns green vehicles | Environment
WikiLeaks reveals China's failure to measure dangerous pollution | Environment
Firing laser beams into the sky could make it rain, say scientists | Science
Popularity threatens to turn a once romantic destination into a sewer | Environment | Guardian Weekly
Underground river 'Rio Hamza' discovered 4km beneath the Amazon | Environment
ouch! there are some good articles in it, you cant deny that by notyetsonic Feb 2
They Know But Won't Admit: How Oil and Gas Companies are Adapting to Climate Change - Environment
Humanity's energy dilemma in three easy charts
Carbon President: Why does Obama keep OK'ing big fossil-fuel projects?
Sara Wheeler: Why is Russia's Arctic closed to visitors? Who is hiding what? - Commentators, Opinion
Future of flight: Fuel for thought - Science, News
Earth First! Worldwide
Your cable box uses more power than your refrigerator
Environmental Defence
Tunnel Vision
Return of the Rainbow Warrior | Environment | The Observer
Usage per person statistics - countries compared - Nation Master
Living Planet Report
CPAWS Southern Alberta : Crown of the Continent Campaign
Global Warming Forecasts | Climate Change Projections | Global Warming Predictions
Shell oil spills in the Niger delta - in pictures | Environment
Cars produced in the world - Worldometers
Ecuador: Four months to save one of the world's last great wildernesses | Environment | The Observer
Yasuni Rainforest Campaign - Leading Scientists Letter
Kyoto Protocol & Canada
Amend
Inside the Bottle: Homepage | Inside the Bottle
The CEO Water Mandate.pdf (application/pdf Object)
Watered Down: Overcoming Federal Inaction on the Impact of Oil Sands Development to Water Resources | Water Matters
Dirty Oil Sands | A Threat to the New Energy Economy
EPA Raises "Major Red Flag" for $7 Billion Tar Sands Pipeline
US Landowners Fighting Back Against Pipeline That Would Run From Alberta to the Gulf Coast | Environment
Rhino poaching crisis in South Africa as 200 killed in six months | Environment
Biofuels land grab in Kenya's Tana Delta fuels talk of war | Environment | The Observer
TransCanada Pipeline Spills 21,000 Gallons of Oil in North Dakota
Yellowstone river suffers oil spill | Environment
Pacific marine life invades Atlantic across newly ice-free Northwest Passage
Earth's Endangered Creatures - Worldwide Endangered Species List - Animals
Climate Data Online | Canada's National Climate Archive
Canada tries to hide Alberta tar sands carbon emissions | Suzanne Goldenberg | Environment
A steward for our oceans | Jason Hall-Spencer | Comment is free
Experts puzzled by big decline in honeybees over winter | Environment
Protect Our Pacific Coast from Oil Spills — Dogwood Initiative
Fukushima report shows nuclear power can never be safe and cheap | Damian Carrington | Environment
The timebomb of ageing US nuclear reactors revealed | Damian Carrington | Environment
City of Nanaimo Habitat Atlas - Home - Welcome
British Columbia Environmental Network — Issues/Campaigns
British Columbia Environmental Network — The Common Sense Canadian
Nanoose Bay Forest, a CDFmm ecosystem, is going to be logged
British Columbia Environmental Network — Pipeline/Tarsands
All Hotspots | Watershed Sentinel Hotspots
State of the Ocean.org
gabriolafreecycle : Gabriola Island Freecycle
Canada | Greenpeace Canada
If It Was In My Home
DeepSeaDesperation.pdf (application/pdf Object)
Alphabet Soup- A Look at Pollution in the Ocean #1
Lost Sea Cargo: Beach Bounty or Junk?
The Most Terrifying Video You'll Ever See
Directory of Sustainable and Organic Food, Organic Gardening, Organic Farming, Sustainable Agriculture, Urban Agriculture, Organic Jobs, Volunteering, Organizations, Events and Conferences in Canada and beyond