Governments/ Institutions/ Corporations
Government Motors' Volt: The Ugly Math of Low Sales, High Costs
Government Motors' Volt: The Ugly Math of Low Sales, High Costs September 10th, 2012 Via: Reuters: General Motors Co sold a record number of Chevrolet Volt sedans in August — but that probably isn't a good thing for the automaker's bottom line. Nearly two years after the introduction of the path-breaking plug-in hybrid, GM is still losing as much as $49,000 on each Volt it builds, according to estimates provided to Reuters by industry analysts and manufacturing experts.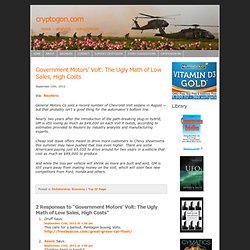 Right To Know Blog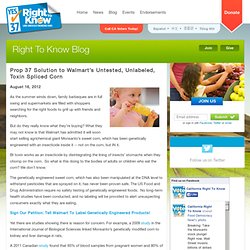 August 16, 2012 As the summer winds down, family barbeques are in full swing and supermarkets are filled with shoppers searching for the right foods to grill up with friends and neighbors. But do they really know what they're buying? What they may not know is that Walmart has admitted it will soon start selling agrichemical giant Monsanto's sweet corn, which has been genetically engineered with an insecticide inside it -- not on the corn, but IN it.
» National Weather Service Follows DHS In Huge Ammo Purchase Alex Jones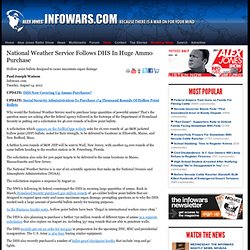 Hollow point bullets designed to cause maximum organ damage Paul Joseph Watson Infowars.com Tuesday, August 14, 2012 UPDATE: DHS Now Covering Up Ammo Purchases? UPDATE: Social Security Administration To Purchase 174 Thousand Rounds Of Hollow Point Bullets Why would the National Weather Service need to purchase large quantities of powerful ammo? That's the question many are asking after the federal agency followed in the footsteps of the Department of Homeland Security in putting out a solicitation for 46,000 rounds of hollow point bullets.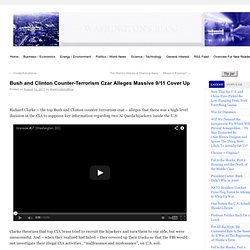 Bush and Clinton Counter-Terrorism Czar Alleges Massive 9/11 Cover Up
Richard Clarke – the top Bush and Clinton counter-terrorism czar – alleges that there was a high-level decision in the CIA to suppress key information regarding two Al Qaeda hijackers inside the U.S: Clarke theorizes that top CIA brass tried to recruit the hijackers and turn them to our side, but were unsuccessful. And – when they realized had failed – they covered up their tracks so that the FBI would not investigate their illegal CIA activities , "malfeasance and misfeasance", on U.S. soil. It's not just Clarke.
Audit the Fed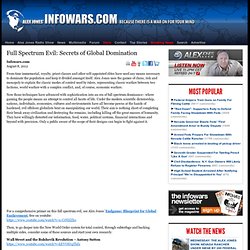 Infowars.com August 8, 2012 From time immemorial, royalty, priest classes and other self-appointed elites have used any means necessary to dominate the population and keep it divided amongst itself. Alex Jones uses the games of chess, risk and monopoly to explain the classic modes of control used by rulers, representing classic warfare between two factions, world warfare with a complex conflict, and, of course, economic warfare. Now those techniques have advanced with sophistication into an era of full spectrum dominance– where gaming the people means an attempt to control all facets of life.
» Full Spectrum Evil: Secrets of Global Domination Alex Jones
» Obama fights ban on indefinite detention of Americans Alex Jones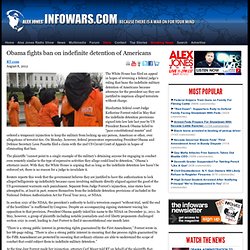 RT.com August 8, 2012 The White House has filed an appeal in hopes of reversing a federal judge's ruling that bans the indefinite military detention of Americans because attorneys for the president say they are justified to imprison alleged terrorists without charge. Manhattan federal court Judge Katherine Forrest ruled in May that the indefinite detention provisions signed into law late last year by US President Barack Obama failed to "pass constitutional muster" and ordered a temporary injunction to keep the military from locking up any person, American or other, over allegations of terrorist ties. On Monday, however, federal prosecutors representing President Obama and Defense Secretary Leon Panetta filed a claim with the 2nd US Circuit Court of Appeals in hopes of eliminating that ban.
Ethan A. HuffNatural News July 17, 2012 (NaturalNews) Many Americans right now are reeling in disgust over the Supreme Court's recent decision to uphold the constitutionality of the Affordable Care Act. But according to a recent report by My Way News, the Internal Revenue Service (IRS), which will allegedly be tasked with enforcing the new health insurance mandate in the form of a "tax" for non-compliance, does not actually have the authority or legal standing to collect penalties from individuals who choose to "opt-out" of the mandate. As many NaturalNews readers already know, most Americans will be required under the Affordable Care Act to purchase health insurance, as well as show proof, beginning in 2014, that they purchased health insurance in accordance with the mandate.
» IRS has no legal basis to collect Affordable Care Act tax – It's all an act! Alex Jones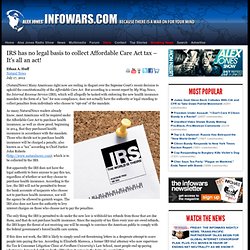 Red Level Alert: America Under Siege - The Roundup Begins!!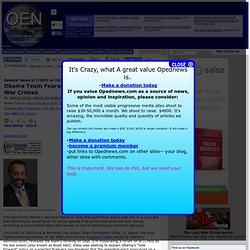 Obama Team Feared Coup If He Prosecuted War Crimes
Christopher Edley, Jr. by University of California President-Elect Obama's advisers feared in 2008 that authorities would oust him in a coup and that Republicans would block his policy agenda if he prosecuted Bush-era war crimes, according to a law school dean who served as one of Obama's top transition advisers. University of California at Berkeley Law School Dean Christopher Edley, Jr., above, the sixth highest-ranking member of the 2008 post-election transition team preparing Obama's administration, revealed the team's thinking on Sept. 2 in moderating a forum on 9/11 held by his law school (also known as Boalt Hall). Edley was seeking to explain Obama's "look forward" policy on suspected Bush-era law-breaking that the president-elect announced on a TV talk show in January 2009.
Minnesota Town Bans Signs in Yards Unless They're Pro-War « Set You Free News
Infowars.com July 22, 2012 The Council on Foreign Relations says you shouldn't worry about the United Nations Small Arms Trade Treaty (ATT), which is currently being hammered out at the United Nations in New York. Opposition to the treaty and defense of the Second Amendment "are not only inflammatory, they are completely unfounded," the premier globalist organization asserts.
» CFR: Don't Worry About Hillary's Small Arms Treaty Alex Jones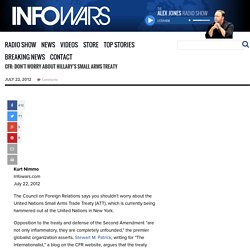 Black operations are almost never officially acknowledged, remaining the highest of secrets long after their completion. "Plausible deniability" and the compartmentalization of various duties are integral to this process. Plausible deniability is the process by which a country, agency, or individual maintains the ability to deny involvement in an operation. For instance, if there is no record that you received a memo, you could read the memo but still profess ignorance. Compartmentalization of our government agencies allows secret project groups to set up exclusive lines of communication.
Black Ops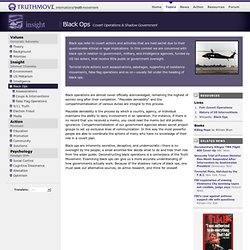 In America, the ideals of free speech and freedom of the press are drilled into our heads from an early age. We are conditioned to believe that we have the most free and open society in the world. Our media is supposed to be the most diverse and open in the world, representing the open debate of "Democracy."
Media
U.S. Military Wanted to Provoke War With Cuba
In the early 1960s, America's top military leaders reportedly drafted plans to kill innocent people and commit acts of terrorism in U.S. cities to create public support for a war against Cuba. Code named Operation Northwoods, the plans reportedly included the possible assassination of Cuban émigrés, sinking boats of Cuban refugees on the high seas, hijacking planes, blowing up a U.S. ship, and even orchestrating violent terrorism in U.S. cities. The plans were developed as ways to trick the American public and the international community into supporting a war to oust Cuba's then new leader, communist Fidel Castro. America's top military brass even contemplated causing U.S. military casualties, writing: "We could blow up a U.S. ship in Guantanamo Bay and blame Cuba," and, "casualty lists in U.S. newspapers would cause a helpful wave of national indignation."
Associated Press= AUSTIN, Texas (AP) — A lawsuit in which Texas accused Johnson & Johnson of plundering the state Medicaid program by overstating the safety of an expensive anti-psychotic drug and improperly influencing officials and doctors to push the medication has been settled for $158 million, a subsidiary of the health care giant and state officials announced Thursday. Texas had been seeking up to $1 billion from the drug maker. Janssen Pharmaceuticals Inc., one of the J&J subsidiaries that had been sued, said in a statement it will pay $158 million in full resolution of all claims in Texas. The settlement represents a resolution to claims brought by Texas for alleged Medicaid overpayment during the years 1994-2008, the company said.
Johnson & Johnson settles Texas lawsuit for $158M | World news
» These 6 Corporations Control 90% Of The Media In America Alex Jones
Hidden Agenda Behind Rise Of "Domestic Terrorist Label" Flashback: "Obama Lone Wolf Will Be Sovereign" Reid Calls Bundy Supporters Domestic Terrorists Homeland Security Says Your Children Are Terrorists Smart Guns Endanger Children
» NYT Admits Every Major News Organization Allows News To Be Censored By Government Officials Alex Jones
Interlocking Directorates
The New Totalitarianism: How American Corporations Have Made America Like the Soviet Union | Visions
» Is Batman massacre staged terror? Alex Jones
» Watch out, Africa, Melinda is coming! Alex Jones
Top Clinton Official: Only A Terror Attack Can Save Obama
Massive U.S. Embassy In Iraq Will Expand Further As Soldiers Leave
DataMapper
Leaked Pacific trade pact exempts foreign firms from U.S. law?
CLOSE YOUR FACEBOOK ACCOUNT
» Obama Allies Want New Tax To Pay For Cost Of Protecting Afghan Opium Fields, Bribing Taliban Alex Jones
» Bilderberg 2011: Full Official Attendee List Alex Jones
New law gives US companies a break on pensions | World news
Here's How Governments Legally Steal Babies | Planet Infowars
Defense Secretary Panetta tells Senator Sessions that military gets its authority from UN or NATO.
» The Nanny State is HERE! Alex Jones
Pentagon launches foreign news websites
Halliburton charged with selling nuclear technology to Iran
US Troops in Iraq talk about Halliburton & KBR
» Military & Police Call in About Gun Confiscation Orders Alex Jones
» Any military action against Iran will have negative consequences for entire world Alex Jones
» CFR Proposes Using Army To Enforce Domestic Law Alex Jones
THE SHOCKING TRUTH OF THE PENDING EU COLLAPSE!
NSA refuses to disclose its links with Google
The War at Home - U.S. Military Civil Disturbance Planning
1992 dunlap.pdf (application/pdf Object)
» Busted: Biotech Leader 'Syngenta' Charged Over Covering Up Animal Deaths from GM Corn Alex Jones
» Trans Pacific Partnership: Corporate Escape From Accountability Alex Jones
» Mexico and Canada Invited to Join the Secret TPP Negotiations Alex Jones
Eli Pariser: Beware online "filter bubbles"
Google's Privacy Policy Changes
Central bank rule coming to an end in the United States and Europe. But not without a fight. | PRESS Core – Evidentiary News, World News, Special Reports, Technology, Health, Videos, Polls, Free energy, Cures, War Crimes, Crime Against Humanity, Corruptio
Montana wins states' backing over Citizens United fight | Law
Audit of TARP Faults U.S. Over Executive Pay
The Corporation
A Clandestine War: CIA vs. US Army
The Assets of The World
Army-Terrorism-Manual.pdf (application/pdf Object)
Office of International Treasury Control
Defeating the Greatest Cover-up of All Time: Financial Tyranny
New American legal action could result in abolition of Washington DC private corporation, US Federal Reserve Board, US Internal Revenue Service, US Department of Homeland Security and US Patriot Act 2001. Attempt to assassinate White Hat Neil Keenan with
The Real Reason Behind The 911 Terror Is Control Over Global Collateral Accounts
Collateral Accounts 1 of 5
Unwanted Publicity Intelligence - Unwanted Publicity Intelligence Blogs
U.S. Justice Department Wants To Criminalize Uploading You Tube Videos
The Fascinating History of How Corporations Became "People" -- Thanks to Corrupt Courts Working for the 1% | Economy
Socialist Project | The Bullet
POLICE STATE USA: Obama Signs Extension of Patriot Act Spy Powers
The Federal Reserve Plans to Identify "Key Bloggers", Monitor Conversations about The Fed on Facebook, Twitter, Forums & Blogs
Banks Put Americans on the Hook for Trillions
International Atomic Energy Agency (IAEA): Why Water Matters
Carnegie Endowment for International Peace
The 5 Most Toxic Energy Companies and How They Control Our Politics | Environment
Corporations Are Patenting Human Genes and Tissues -- Here's Why That's Terrifying | Personal Health
Has Obama Just Kicked Off Another Oil War -- This Time in Africa? | Environment
Center for Strategic and International Studies
Not To Be Shown on CNN, CBS, ABC, NBC or FOX - NATO's Crimes in Libya
How private firms have cashed in on the climate of fear since 9/11 | World news
» Senate Bill S510 Makes it illegal to Grow, Share, Trade or Sell Homegrown Food Alex Jones
connectingdots1's Channel
connectingdots1's Channel
connectingdots1's Channel
‪Gerald Celente - USA today - 'It's Fascism plain & simple' (NWO ECONOMICS series)‬‏
NAUresistance.org:
Death and Taxes & Taxes
ECHELON
Private Military Corporations
Updated Enbridge Profile.pdf (application/pdf Object)
Officials: Blackwater Participated in CIA 'Snatch and Grab' Operations
Italian Judge Convicts 23 CIA Officers for Kidnapping
World Debt Clocks
Census Bureau Home Page
Wolfowitz Doctrine
The Paul Wolfowitz Doctrine
Answering the "Wolfowitz (Bush) Doctrine" on American Empire
Wolfowitz92memo
Council on Foreign Relations