Occupy LSX
OccupyLSX (@OccupyLSX) sur Twitter
Occupy the London Stock Exchange
Occupy LSX | Facebook photo's
Occupy London protest: on the steps of St Paul's cathedral - video | UK news
Occupy London follows occupation movements from across the world Police ask Julian Assange 'to remove mask' he was wearing Protesters had wanted to 'take' Paternoster Square - but it has been closed Tents now being put up in the Square Mile Protests contained within City area and currently not spreading Two arrests made for 'assaults on police officers' By Lee Moran UPDATED: 18:04 GMT, 15 October 2011
Global protests: Occupy the London Stock Exchange takes over the City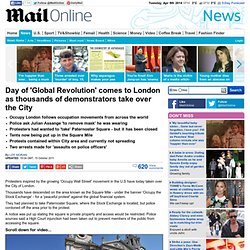 Occupy LSX
Occupy Assange: Corrupt banks, corrupt money
OccupyLSX Julian Assange pays homage to Anonymous
Blog: Assange Hassled For Wearing Guy Fawkes Mask
London Rage: Video of police arresting students as thousands march
Occupy London Stock Exchange (OLSX)
98 FTSE companies use tax havens
Molly Shapes History - #OccupyLSX on Vimeo
Emily James - @emily_james
more prayer under different dome #occupylsx
Occupy London: eviction notices attached to tents outside St Paul's | UK news
An eviction notice hangs on a tent outside St Paul's Cathedral. Photograph: Dan Kitwood/Getty Images The City of London Corporation has attached eviction notices to tents outside St Paul's Cathedral, telling activists to move them from the public highways by 6pm on Thursday or face legal action.
Channel 4: Talks between the City of London Corporation and the demonstrators outside St Pauls Cathedral have broken down. .
While the shape and timing of any withdrawal still needs to be ironed out in a meeting with the cathedral this week, there was "widespread consensus" on the move, a source within the site in the City of London said.
Protesters call end to occupation of St Paul's - Home News - UK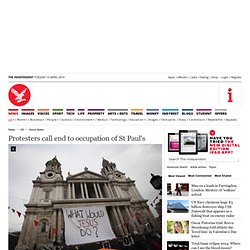 @OccupyLSXEnvtGp A environmental working group set up within the Occupy London movement
Liberation of Canary Wharf (1 of 2) RELOADED love police