Occucopter = play drones
Welcome to The 'Drone Age'
@occucopter
@TheOccucopter
Step 1. Design & build a fleet of OccuCopters Step 2. ????
OccuCopter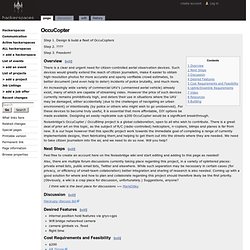 OCCUPYWALLSTREET: 'The Control Tower' #occuc
OCCUPYWALLSTREET: The #coparazzi is taking 2
Please note that by playing this clip YouTube and Google will put a cookie on your computer. There might not be guns in the skies above the United States just yet, but recent media and policy reports suggest we are about to witness an explosion in domestic law enforcement use of drones to surveil the US population. An ACLU report released last week highlights some of the major policy questions that need to be addressed before police drones invade our airspace.
Drones for all! Or maybe just police?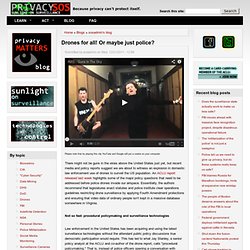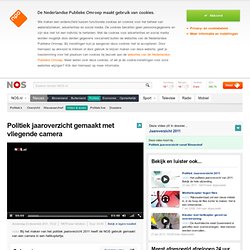 De Publieke Omroep is wettelijk verplicht toestemming te vragen voor het gebruik van cookies. Als je deze eenmalig accepteert, dan zijn alle websites van de Publieke Omroep te bezoeken. Wij maken gebruik van functionele cookies en cookies voor het beheer van webstatistieken, advertenties en social media.
NOS: Politiek jaaroverzicht gemaakt met vliegende camera
Livestreaming Journalists Want to Occupy the Skies With Cheap Drones | Threat Level
It may not sound like much: A video blogger bought a toy helicopter. But the blogger is 25-year-old Tim Pool — an internationally known journalist who attracts tens of thousands of viewers to his live-stream broadcasts from Occupy Wall Street protests in New York, DC, LA and other cities. (His feeds and archival footage are also aired on mainstream networks such as NBC.)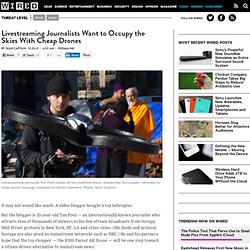 WATCH!!!!! 1/2 drone launched by protesters at Warsaw, Poland
Who's Drone? Our Drone!!! Protesters at Warsaw, Poland Launch UAV-CAM 2/2
'Dronestagram' filters satellite photos of US drone strikes for your social feeds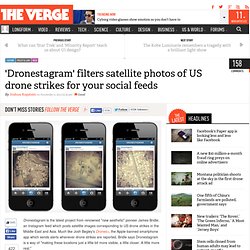 Dronestagram is the latest project from renowned "new aesthetic" pioneer James Bridle, an Instagram feed which posts satellite images corresponding to US drone strikes in the Middle-East and Asia. Much like Josh Begley's Drones+ , the Apple-banned smartphone app which sends alerts whenever drone strikes are reported, Bridle says Dronestagram is a way of "making these locations just a little bit more visible, a little closer. A little more real."
intellihub.com December 13, 2012 Earlier this year an Iphone app that was intended to map all of the drone strikes carried out by the US government was banned by Apple and now the creator of the app is using Twitter as a means to get the word out. twitter.com/dronestream is now Tweeting every drone Strike by the US Since 2002. The description on the page says: "Every reported US drone strike, from 2002-2012.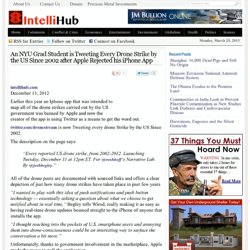 An NYU Grad Student is Tweeting every Drone Strike by the US Since 2002 after Apple Rejected his iPhone App :
Josh Begley (joshbegley) sur Twitter
@dronestream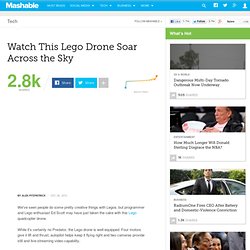 We've seen people do some pretty creative things with Legos, but programmer and Lego enthusiast Ed Scott may have just taken the cake with this Lego quadcopter drone. While it's certainly no Predator, the Lego drone is well-equipped: Four motors give it lift and thrust, autopilot helps keep it flying right and two cameras provide still and live-streaming video capability. It would be perfect for spying on roommates or coworkers — if it weren't bright yellow and red, at least. Scott programmed the drone's software, but he credits his kids with doing most of the Lego work.
Watch This LEGO Drone Soar Across the Sky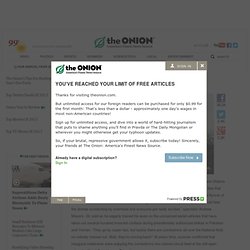 WASHINGTON—Taking the oath of office for his second term today, President Barack Obama joined thousands of supporters in the nation's capital for traditional inauguration festivities that included a prayer invocation, a parade along Pennsylvania Avenue, and a ceremonial flyover of three combat drones. "When Obama was being sworn in on the Capitol steps, we could hear the drones screeching by overhead and everyone got really excited," spectator Andrew Meyers, 34, said as he eagerly trained his eyes on the unmanned aerial vehicles that have taken out several hundred innocent civilians during presidentially authorized strikes in Pakistan and Yemen. "They go by super fast, but luckily there are Jumbotrons all over the National Mall, so nobody missed out. Wait, they're coming back!" At press time, sources confirmed that inaugural celebrants were enjoying the Jumbotron's live closed-circuit feed of the still-open prison facility at Guantánamo Bay.
Inauguration Festivities With Ceremonial Drone Flyover
Screen shot from preview of Nova's "Rise of the Drones" The widely-acclaimed PBS program, NOVA, premiered a documentary on unmanned aerial vehicles or drones. The documentary, "Rise of the Drones," was produced to explore how the technology is revolutionizing warfare and creating the next generation of cutting-edge surveillance.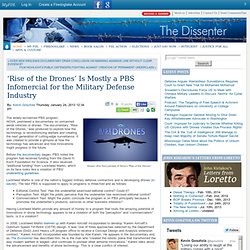 'Rise of the Drones' Is Mostly a PBS Infomercial for the Military Defense Industry
British troops in Afghanistan are flying a drone that's shrunk down to its essentials: a micro-machine that spies, built for a solitary user. This is the Black Hornet. Its Norwegian manufacturer, Prox Dynamics , bills it as the world's smallest military-grade spy drone, with a weight of 16 grams and a length of 4 inches. Propelled by two helicopter blades, the Black Hornet carries little more than a steerable camera that records still and video imagery. (That is: It's unarmed.) Now British soldiers have brought it to Afghanistan, as it fits in the palms of their hands.
Palm-Sized Nano 'Copter Is The Afghanistan War's Latest Spy Drone | Danger Room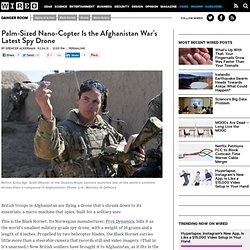 Should an armed drone be dispatched to kill Christopher Dorner? | Glenn Greenwald | Comment is free
Christopher Jordan Dorner has declared 'war' against former LAPD colleagues and their families in a manifesto posted online. Photograph: Reuters (updated below)
CNN: Should We Use Drones in America?
You could, of course, sit there, slack-jawed, thinking about how mindlessly repetitive American foreign and military policy is these days. Or you could wield all sorts of fancy analytic words to explain it. Or you could just settle for a few simple, all-American ones. Like dumb. Stupid.
Dumb and dumber: A secret CIA drone base - Opinion
Naomi Wolf: why I think there is something very wrong
An Air Force simulation says researchers are at work on killer robots so tiny that a group of them could blend into a cityscape. Science writer John Horgan's feature on the many ways drones will be used in coming years is interesting throughout, and terrifying in the passage where he describes an effort to build micro-drones that are, as the U.S. Air Force describes them, "Unobtrusive, pervasive, and lethal." Air Force officials declined a request to observe flight tests at a "micro-aviary" they've built, he reported, but they did let him see a video dramatization "starring micro-UAVs that resemble winged, multi-legged bugs. The drones swarm through alleys, crawl across windowsills, and perch on power lines. One of them sneaks up on a scowling man holding a gun and shoots him in the head."
Like a Swarm of Lethal Bugs: The Most Terrifying Drone Video Yet - Conor Friedersdorf
Drone 'Nightmare Scenario' Now Has A Name: ARGUS
The PBS series NOVA , " Rise of the Drones ," recently aired a segment detailing the capabilities of a powerful aerial surveillance system known as ARGUS-IS, which is basically a super-high, 1.8 gigapixel resolution camera that can be mounted on a drone. As demonstrated in this clip , the system is capable of high-resolution monitoring and recording of an entire city. (The clip was written about in DefenseTech and in Slate .) In the clip, the developer explains how the technology (which he also refers to with the apt name "Wide Area Persistent Stare") is "equivalent to having up to a hundred Predators look at an area the size of a medium-sized city at once." ARGUS produces a high-resolution video image that covers 15 square miles. It's all streamed to the ground and stored, and operators can zoom in upon any small area and watch the footage of that spot.
Video: Throwing and catching an inverted pendulum – with quadrocopters | Robohub
Two of the most challenging problems tackled with quadrocopters so far are balancing an inverted pendulum and juggling balls . My colleagues at ETH Zurich's Flying Machine Arena have now combined the two. As part of his Master thesis Dario Brescianini , student at ETH Zurich's Institute for Dynamic Systems and Control , has developed algorithms that allow quadrocopters to juggle an inverted pendulum.
Quadrocopter Pole Acrobatics
Journalism Schools Try Out Drones—And Test Legal Boundaries
seagulls on Vimeo
Shad Olson Reports: The Great Drone Debate.mpg
Brace Yourselves, Drone Journalism Is Coming | The SA Incubator
Fake Signs On Bay Area Highways Say Drones Looking For Speeders
Social network diagram of Slovenian government members 1991-2013 by loyalty
DOJ argues in drone strike citizens can't enforce their constitutional rights in court
Judge 'Troubled' by DOJ Position in Drone Strike Case
Exclusive: Leaked Pakistani report confirms high civilian death toll in CIA drone strikes
Leaked report shows high civilian death toll from CIA drone strikes
Drone gaat burgers realtime corrigeren
Drone gaat burgers realtime corrigeren
Under the Shadow of the Drone
australia: drone shadows, diagrams and political systems [art censorship by government]