NCH
NCH New College of the Humanities .org WTF!!!
New College (NewCollegeH) sur Twitter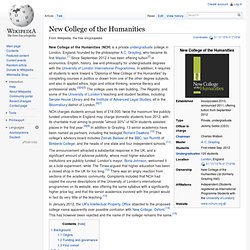 New College of the Humanities
New College of the Humanities ( NCH ) is a private undergraduate college in London, England, founded by the philosopher A.C. Grayling , who became its first Master . [ 1 ] Since September 2012 it has been offering tuition [ 2 ] in economics, English, history, law and philosophy for undergraduate degrees with the University of London International Programmes . In addition, it requires all students to work toward a "Diploma of New College of the Humanities" by completing courses in politics or drawn from one of the other degree subjects, and also in applied ethics, logic and critical thinking, science literacy and professional skills. [ 3 ] [ 4 ] [ 5 ] The college uses its own building, The Registry , and some of the University of London's teaching and student facilities, including Senate House Library and the Institute of Advanced Legal Studies , all in the Bloomsbury district of London. [ 6 ] [ 7 ]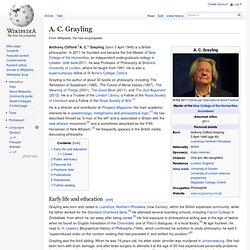 A. C. Grayling
Anthony Clifford Grayling (born 3 April 1949) is an English philosopher. In 2011 he founded and became the first Master of New College of the Humanities , an independent undergraduate college in London. Until June 2011, he was Professor of Philosophy at Birkbeck, University of London , where he taught from 1991.
WebCHeck - Select and Access Company Information
A private company limited by shares , usually called a private limited company (Ltd.) (though this can theoretically also refer to a private company limited by guarantee ), is a type of company incorporated under the laws of England and Wales , Scotland , that of certain Commonwealth countries and the Republic of Ireland . It has shareholders with limited liability and its shares may not be offered to the general public, unlike those of a public limited company (plc).
Private company limited by shares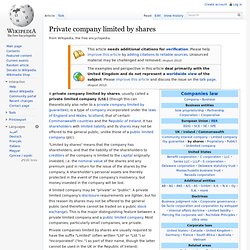 New College on Vimeo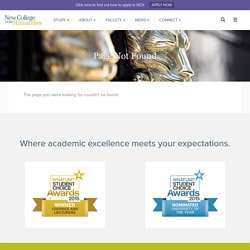 The professoriate | New College of the Humanities
If you access or use this web site, you are agreeing to the terms of this Privacy Policy. If you do not agree, you must not access or use the site. We may change this Privacy Policy at our sole discretion from time to time. We will notify such changes on this web site.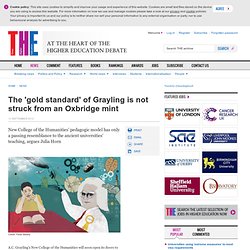 The 'gold standard' of Grayling is not struck from an Oxbridge mint
New College of the Humanities' pedagogic model has only a passing resemblance to the ancient universities' teaching, argues Julia Horn A.C. Grayling's New College of the Humanities will soon open its doors to its first cohort of students. In advance publicity, students have been promised "one-to-one tutorials each week", in a move that the media have quickly relabelled "Oxbridge-style tutorials".
BBC: British academics launch private university in London
5 June 2011 Last updated at 12:28 ET The 14 professors behind the project include evolutionary biologist Richard Dawkins A private college in England aiming to rival Oxford and Cambridge is being launched by leading academics.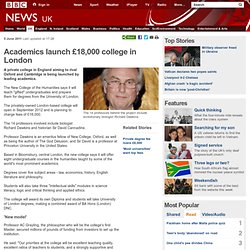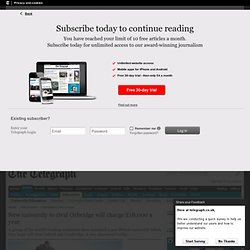 New university to rival Oxbridge will charge 18,000 a year
''Our priorities at the College will be excellent teaching quality, excellent ratios of teachers to students, and a strongly supportive and responsive learning environment. ''Our students will be challenged to develop as skilled, informed and reflective thinkers, and will receive an education to match that aspiration.'' The college claims to offer a ''new model of higher education for the humanities in the UK'' and will prepare undergraduates for degrees in Law, Economics and humanities subjects including History, Philosophy and English literature. Students will also take three ''intellectual skills'' modules in science literacy, logic and critical thinking and applied ethics. Practical professional skills to prepare them for the world of work including financial literacy, teamwork, presentation and strategy will also be taught.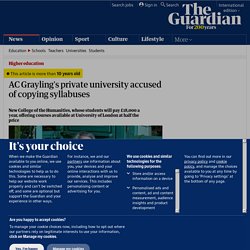 AC Grayling hit back at critics of his plan, saying: 'My whole record, everything I have written, is turned on its head. Now I am a bastard capitalist. It is really upsetting.' Photograph: Christian Sinibaldi for the Guardian A new private university college founded by the philosopher AC Grayling and staffed by celebrity professors will teach exactly the same syllabuses as the University of London , which charges half the price, it has emerged. Students of the New College of the Humanities will pay £18,000 a year to take courses in history, English literature and philosophy that are already on offer at Birkbeck, Goldsmiths and Royal Holloway for £9,000 or less.
AC Grayling's private university accused of copying syllabuses | Education
Guardian: Universities are not there to spoon-feed | AC Grayling | Comment is free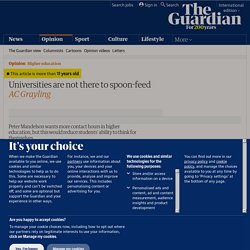 Both the National Union of Students and Lord Mandelson, whose ministerial brief includes higher education , are making an issue of the number of "contact hours" between faculty and students, especially in the arts and humanities. It appears that Lord Mandelson wishes universities to market themselves along the lines of commercial organisations, now that students have to pay more out of their own pockets for their education. Accordingly, he wishes universities to compete with each other, among other things, over the amount of time they offer students. The assumption that lies behind the contact hours issue is a deeply mistaken one. It is that universities are a simple extension of school, and that as at school, students should be given as much attention as possible.
NCH « Critical Education
amcgettigan : @GuyAitchison did you see my
Something bugs me about Anthony Grayling and the way he presents New College of the Humanities. Nothing is ever quite as it seems. When the original company, Grayling Hall, was founded as a company limited by share back in July 2010 (note the date, before the Browne review was published) Grayling was one of two shareholders: the other was Peter Hall a strong opponent of public services who had previously sponsored David Willetts when he was in opposition. Grayling Hall changed its name to New College of the Humanities Limited before the college was launched last summer. By far the largest shareholders, over 30 per cent of the company, are the Swiss family Ebstein who run the venture capital firm Meru AG based in Lucerne . They go unmentioned on the NCH website .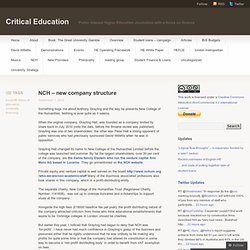 NCH – new company structure « Critical Education
Inequality, power and privilege in the struggle for the humanities
Much ink has already been spilled to condemn and defend the establishment of the New College of the Humanities (NCH), announced earlier this month by its founder A.C. Grayling. On the whole, position-taking has formed along predictable fault lines between the aptly-named 'idiocies' of state bureaucracy and the inequities of private 'freedom', the virtues and evils of public and private universities, and the politics of elite and mass education. Beyond this, debate seems to be focusing on exposing the gory details of how NCH would actually work – its physical home and use of existing public resources, its for-profit or charitable status, its fiscal links with conservative interests, how often famous academics are likely to be teaching, whether £18,000 accurately reflects the cost of educating a person, whether individualised tuition is really synonymous with intellectual rigour, and so on. No doubt these debates will continue.
First accounts for New College of the Humanities | Critical Education andrew mcgettigan
New College of the Humanities limited and its for-profit owner, Tertiary Education Services limited, have just published their first sets of annual accounts. Perhaps unsurprisingly, these are abbreviated: each set comprises only a balance sheet for 30 November 2012 and a very short set of accompanying notes. The information available is therefore much less than with an established university or company where the shares are publicly traded. What can be gleaned is that the parent, Tertiary Education Services, has run a deficit of £4.3million – turnover and expenditure are not disclosed – since its launch. It is supported by share issues that had raised £7.35million in investment by last November. Its latest reported capital structure (August 2013) shows that 146 500 shares have been distributed, each with a nominal value of £1.