Integrity
HBO-raad
Home
Wetenschappelijke integriteit
concrete Overtredingen wetenschappelijke integriteit
I just came across this rather chilling interview Ed Yong did with scientific investigator Uri Simonsohn back in July. Simonsohn has bee looking for evidence of fraud in social science research--and finding a really disturbing amount of it. "I don't know how systemic the crime is."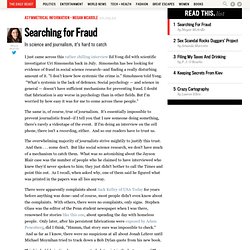 Searching for Fraud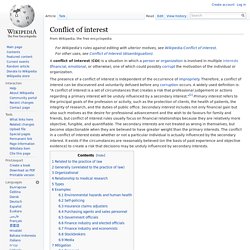 A conflict of interest ( COI ) occurs when an individual or organization is involved in multiple interests, one of which could possibly corrupt the motivation for an act in another. The presence of a conflict of interest is independent from the execution of impropriety. Therefore, a conflict of interest can be discovered and voluntarily defused before any corruption occurs. A widely used definition is: "A conflict of interest is a set of circumstances that creates a risk that professional judgment or actions regarding a primary interest will be unduly influenced by a secondary interest." [ 1 ] Primary interest refers to the principal goals of the profession or activity, such as the protection of clients, the health of patients, the integrity of research, and the duties of public office.
TU Delta: Dossier belangen- verstrengeling
groot onderzoek naar toezichthouders
2 november 2011 - Volgens een enquête van de Jonge Akademie en het Rathenau Instituut staan jonge onderzoekers positief jegens valorisatie. Maar dit roept direct nieuwe en oude vragen op. Hoe past valorisatie in het onderzoeksysteem? En wat is het eigenlijk?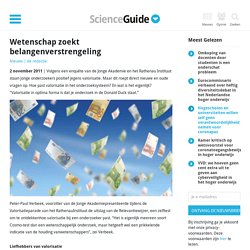 Wetenschap zoekt belangenverstrengeling
U.S. Tightens Rules on Financial Conflicts of Interest in Science - Government
By Paul Basken The Obama administration announced on Tuesday the final form of new rules governing financial conflicts of interest in federally sponsored medical research, saying it hoped to boost public confidence after years of scandals tied to corporate influence. The rule changes, the first in 16 years, bring new standards for universities to evaluate financial ties between their researchers and companies, for the researchers to disclose them, and for the public and government agencies to understand them. "It's time for the rules governing those relationships to be modernized," Francis S.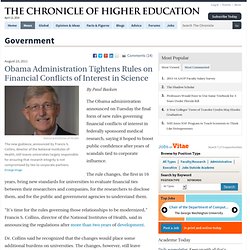 UT Magazine: Sept2012 ethische commisie UT sinds mrt2012
Research Ethics Boards As For- Profit Enterprises?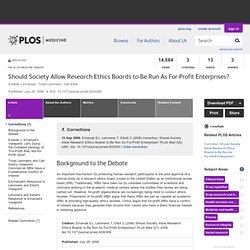 An important mechanism for protecting human research participants is the prior approval of a clinical study by a research ethics board, known in the United States as an institutional review board (IRB). Traditionally, IRBs have been run by volunteer committees of scientists and clinicians working in the academic medical centers where the studies they review are being carried out. However, for-profit organizations are increasingly being hired to conduct ethics reviews. Proponents of for-profit IRBs argue that these IRBs are just as capable as academic IRBs at providing high-quality ethics reviews.
Peter Nijkamp - Karima Kourtit
LOWI Landelijk Orgaan Integriteit
Wetenschap. Een kwestie van vertrouwen? Spui25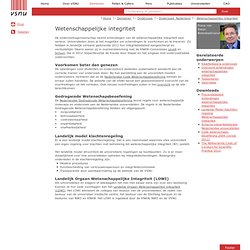 De onderzoeksgemeenschap neemt schendingen van de wetenschappelijke integriteit zeer serieus. Universiteiten doen al het mogelijke om schendingen te voorkomen en te traceren. Zij hebben in landelijk verband gedurende 2012 hun integriteitsbeleid aangescherpt en verduidelijkt.
Wetenschappelijke_integriteit | VSNU
WRR ~ Wetenschappelijke Raad Regeringsbeleid
CBS - monitor topsectoren
AWT: Adviesraad voor het Wetenschaps- en Technologiebeleid
ECOOM: Home
ERC - European Research Counsil
Home | ORI - The Office of Research Integrity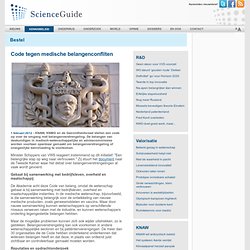 1 februari 2012 - KNAW, KNMG en de Gezondheidsraad stellen een code op over de omgang met belangenverstrengeling. De belangen van deskundigen in medisch-wetenschappelijke en adviescommissies worden voortaan openbaar gemaakt om belangenverstrengeling of oneigenlijke beïnvloeding te voorkomen. Minister Schippers van VWS reageert instemmend op dit initiatief: "Een belangrijke stap op weg naar vertrouwen." Zij stuurt het document naar de Tweede Kamer waar het debat over belangenverstrengelingen al vaak wordt gevoerd.
Code tegen medische belangenconfliten
The Quality Assurance Agency for Higher Education (QAA)
timeshighered : QAA will be bailed out by the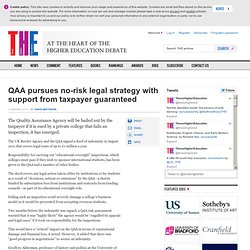 The Quality Assurance Agency will be bailed out by the taxpayer if it is sued by a private college that fails an inspection, it has emerged. The UK Border Agency and the QAA signed a deed of indemnity in August 2011 that covers legal costs of up to £1 million a year. Responsibility for carrying out "educational oversight" inspections, which colleges must pass if they wish to sponsor international students, has been given to the QAA and a number of other bodies.
QAA pursues no-risk legal strategy with support from taxpayer guaranteed
2013-Universities and colleges to comply with research integrity concordat
04 January 2013 HEFCE has launched a consultation that proposes to require each university and college to comply with a set of principles on research integrity if they are to remain eligible for funding to carry out research. The principles are set out in the Research Integrity Concordat, published in July 2012 by Universities UK. The concordat sets out five commitments that researchers, managers and funders of research can make to assure Government, and the wider public, that all research conducted by UK higher education institutions meets the highest standards of rigour and integrity. Existing signatories include the UK higher education funding bodies, the Wellcome Trust and Research Councils UK. We welcome responses to this consultation from anyone with an interest in research integrity.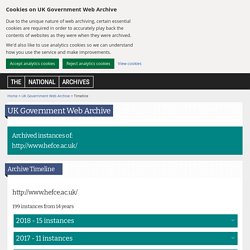 Home : REF 2014
AMSTERDAM - Premier Mark Rutte moet krachtig stelling nemen tegen het ondermijnen van onafhankelijke instituten als de Raad van State, het Centraal Planbureau of de Rekenkamer. Foto: ANP Bekijk video Volgens D66-leider Alexander Pechtold maken het kabinet en de Tweede Kamer zich steeds meer schuldig aan het politiek maken van dergelijke instituten. Dat zegt hij in een interview met NU.nl. "Het is een trend", stelt de D66-voorman.
Pechtold ergert zich aan politisering instituten | nu.nl/politiek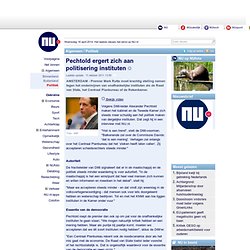 Waarom cookies? Cookies zorgen er bijvoorbeeld voor dat je ingelogd kan blijven op een website of dat bijvoorbeeld je locatie- en taalinstellingen worden onthouden. Daarnaast houden ze bij het online winkelen je digitale winkelwagentje bij. Ook kunnen websitehouders dankzij cookies zien hoe vaak hun sites - en welke pagina's - door bezoekers worden bekeken. Sommige cookies maken het mogelijk om je surfgedrag te volgen. Zo kunnen sites en adverteerders mogelijk iets zeggen over je voorkeuren, waardoor ze relevantere advertenties kunnen laten zien.
Kabinet Accepteert Instituten Steeds Minder
UPDATE: NY Times replies to this post
New York Times partners with Shell Oil to peddle elite access « Climate Progress
Emails expose BP's attempts to control research into impact of Gulf oil spill | Environment
A clean-up operation on Queen Bess Island, June 2010. BP pledged a $500m fund for independent research into the consequences of the Gulf of Mexico oil disaster. Photograph: Gerald Herbert/AP BP officials tried to take control of a $500m fund pledged by the oil company for independent research into the consequences of the Gulf of Mexico oil disaster , it has emerged.
BP internal meeting notes | Environment
By Tyler Durden of ZeroHedge.com Bank of America just can't catch a break. First it gets caught in a trap of a "non-settlement" settlement which will only expose it to billions more in legal fees and other reserve fund increases, and now this. From the WSJ : " New York state Attorney General Eric Schneiderman has issued subpoenas seeking new depositions from the Charlotte, N.C., bank's chief executive and other current and former executives, according to people familiar with the situation . The subpoenas are a sign that Mr. Schneiderman, who became New York's top law-enforcement official this year, doesn't intend to drop the civil-fraud investigation of Bank of America begun more than a year ago under predecessor Andrew Cuomo."
Bank of america wikileaks 2011 - BP tried to Buy Scientists for Favorable Research after Oil Spill
Leaked: 30,000 BP oil spill memos, emails and transcripts
In the middle of last year, Greenpeace submitted a string of Freedom of Information requests to US government agencies in relation to last year's disastrous BP oil spill in the Gulf of Mexico. As a result the environmental group have obtained some 30,000 memos, emails and transcripts which document the worst oil spill in American history. Taking cues from WikiLeaks, Greenpeace has begun to leak its considerable cache online for all to see . Here's what we pulled out of the document dump: In one internal email, BP environmental expert Russell Putt asks his colleagues if the company can take control of the $500m research fund set up to investigate the impacts of the spill: " Can we 'direct' GRI [Gulf of Mexico Research Initiative] funding to a specific study (as we now see the Governor's offices trying to do)?
DailyKos: "Reformy" groups don't like people questioning their "research" or "plans"
Cerf's Up: How Privatization Will Wipe Out Public Education in New Jersey (Part 1)
Chris Cerf: New Jersey Department of Education
The Public Private Strategy Group :: Education
The Broad Foundation
Saudi Universities Offer Cash in Exchange for Academic Prestige
Tom Luna's education reform plan was a long time in the making | Dan Popkey's reporting and columns
Dan Popkey (DanPopkey) sur Twitter
IDS_Politics (IDS_Politics) sur Twitter
Dan Popkey's reporting and columns
Tom Luna
State Department of Education - Students Come First
Luna's "Students Come First" Tour - KTRV Fox 12
Bill Hansen
Dutko World Wide
Scantron
Madison Education Group, LLC -
'Geen stages met familierelaties'
Studenten maken The Daily Dutch in Vancouver
A leak in paradise
Grown in Detroit
If You're so Smart, Why Aren't You rich? door Chris Lorenz (Boek) - ISBN 9789085066705
OPC4 Universiteitsbibliotheek Radboud Universiteit Nijmegen - results/titledata
Italian academia is a family business, statistical analysis reveals
Argumentenfabriek: Informatiekaart Vertrouwen in Wetenschap
(pdf)AWT vertrouwen in de wetenschap
FD: Schellekens: de naweeën vd affaire Stapel
2000 Panel Finds Scores of Suspect Papers in German Fraud Probe
Scientific fraud and the power structure of science, by Brian Martin
Science: Addressing Scientific Fraud
"The Dutch universities involved in this case intend to thoroughly investigate everything that Stapel published in his career. Their goal is to clean up the entire scientific record. This intent contrasts with Harvard University's response to the fraudulent work published by one of its faculty, Mark Hauser. In that case, Harvard limited its investigation to specifically challenged papers and has kept its findings confidential. For the sake of science, when fraud is uncovered, the field needs to know exactly which studies are based on falsified data." by notpicnic Jan 25
Misconduct in science: An array of errors
Global Trend - More Science, More Fraud
Stappen tegen wetenschapsfraude
'We staren ons blind op impactscores'
Vier acties tegen wetenschapsfraude
Dossiers
Kenniscentrum Leefomgeving - Governance - Corruptie - Onderzoeksteam Corruptie
Nederland kwetsbaarder voor corruptie – Transparency International Nederland
THE: Leader: Box ticked, but job not yet done
DUB: Docent leert je frauderen | Column
Stop universitaire cadeautjes
VOX: RU gaat onderzoeker (nog) eerlijker maken
W24: corruptie in NL
UCU-studenten zakken na ontdekking fraude | Nieuws
Tentamenfraude bij Bedrijfseconomie
Accountancystudent moet Avans verlaten
Punt Avans
Utrechtse onderzoekers trekken artikel terug
Hacker vervalst peer review
scienceguide vertrek Sijbolt Noorda VSNU Paraplu noch vergiet
Sijbolt Noordij vertrekt bij EYE voorzitter Raad van Toezicht EYE | EYE, het nieuwe filmmuseum
Elsevier: Faking peer reviews