HTML5
HTML5 Watch
webOS skill level : Beginner Technologies covered : HTML5, SQL, Javascript Prerequisite knowledge : Intermediate-level HTML, CSS, and Javascript With the release of Chapter 1 of Palm webOS by O'Reilly, Palm has confirmed that local storage will indeed be handled by HTML5's new local storage functionality. If you haven't been able to find any tutorials on HTML5's storage capability, you're not alone. After looking around, we realized that the HTML5 spec is still at such an early revision that there are few resources out there that describe how it should be used. But with a little digging, we found this excellent little HTML5 database application over at webkit.org . We eagerly grabbed the source code, deconstructed it, and we're proud to bring you the first webOS / HTML5 database storage tutorial !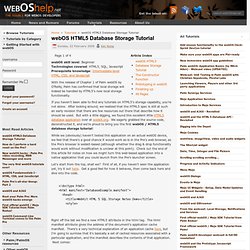 webOS HTML5 Database Storage Tutorial
HTML 5 SQL Storage Notes Demo
# CSS inline-block - Recommendation Method of displaying an element as a block while flowing it with text. Only supported in IE6 and IE7 on elements with a display of "inline" by default. Alternative properties are available to provide complete cross-browser support. No known issues
When can I use...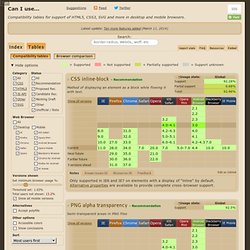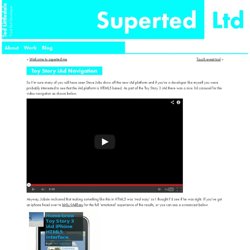 So I'm sure many of you will have seen Steve Jobs show off the new iAd platform and if you're a developer like myself you were probably interested to see that the iAd platform is HTML5 based. As part of the Toy Story 3 iAd there was a nice 3d carousel for the video navigation as shown below. Anyway, Jobsie reckoned that making something like this in HTML5 was 'real easy' so I thought I'd see if he was right. If you've got an iphone head over to bit.ly/iAdEasy for the full 'emotional' experience of the results, or you can see a screencast below. I used pictures of my brother's dog, Chopper, instead of pixar characters as his images aren't copywrited and he doesn't have lawyers! So was it real easy?
Just another WordPress weblog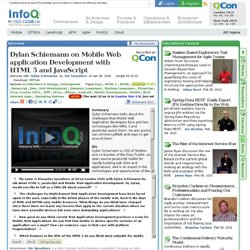 Dylan Schiemann on Mobile Web application Development with HTML 5 and JavaScript
That's a big question - maybe we'll split it up. The first thing I would recommend is you need to decide if this is an application that can build on the web or not. You may still want to deploy it as application in stores for distribution, but is it something that's inherently a web application or is it like a 3D game?
The HTML5 specification has added quite a few interesting and useful tags for structuring your markup. For a majority of everyday uses, these tags will replace many of our typical div entries from our code. So let's dig in. Defining Structure A section is a thematic grouping of content, typically preceded by header, possibly with a footer after. section s can be nested inside of each other, if needed, and can hold any amount of typical markup. The header of a section , typically a headline or grouping of headlines, but may also contain supplemental information about the section.
Structural Tags in HTML5 - Ordered List
Virtual Panel: Evolution of JavaScript Frameworks for HTML 5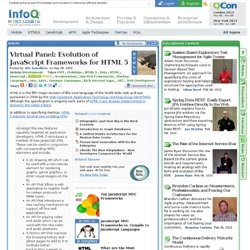 Posted by Dio Synodinos on May 08, 2009 Sections Development Topics
The server encountered an internal error or misconfiguration and was unable to complete your request. Please contact the server administrator, webmaster@htmling.bolandisi.com and inform them of the time the error occurred, and anything you might have done that may have caused the error. More information about this error may be available in the server error log. Additionally, a 500 Internal Server Error error was encountered while trying to use an ErrorDocument to handle the request.
HTML4和HTMl5的区别,HTML5增加的内容-HTML5教程
http://www.kesiev.com/akihabara/demo/game-solitude.html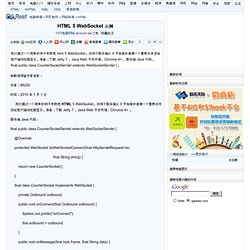 HTML 5 WebSocket 示例 - qqread.com
转载请保留作者信息: 作者:88250 时间:2010 年 1 月 1 日 我们通过一个简单的例子来熟悉 HTML 5 WebSocket。该例子服务端从 0 开始每秒递增一个整数并发送给客户端浏览器显示。
【天极网开发频道 评论】 在新的时代里,相信网页技术会伴随HTML 5的来临进入大洗牌的局面,HTML 5旨在解决Web中的交互,媒体,本地操作等问题,一些浏览器已经尝试支持HTML 5的一些功能,而开发者们有望最终从那些Web插件中得到解脱。 不过,需要指出的是,尽管一些重量级Web技术厂家,象Apple,Google,Mozilla基金会,Vimeo,YouTube已经开始支持这个新标准。但W3C表示,HTML 5前面的路还很长,它的一些细则目前还存在争议,主流的Web在转至HTML 5之前还要经过很长的时间。而开发者们也不得不面临两难的境地,就是如何使用现在的技术设计出富Web应用,同时又为今后的HTML 5做好准备。 富Web的现代HTML 富Web应用和HTML之间并不般配,Web之父TimBerners-Lee这样看待HTML,它是一种用来创建平台独立的超文本文档的标记语言,随着XHTML的诞生,W3C也将网页视为文档。
新技术新疑问 HTML 5将给开发者带来什么?_天极网