General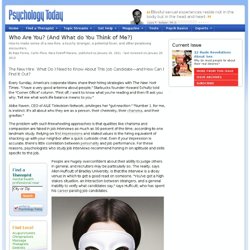 The New Hire: What Do I Need to Know About This Job Candidate—and How Can I Find It Out? Every Sunday, America's corporate titans share their hiring strategies with . "I have a very good antenna about people," Starbucks founder Howard Schultz told the "Corner Office" column. "First off, I want to know what you're reading and then I'll ask you why.
The First Impression
Ever wondered if someone you're attracted to likes you or not, whether someone is your friend or foe, or whether your employees respect you? There's an easy way to find out... try to make them laugh . If the laughter comes easy, the answer is likely yes.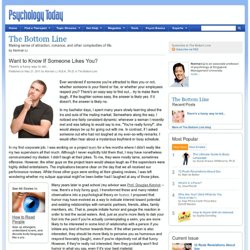 BBC Science | Human Body & Mind | What is Psychology?
Psychology: the science of the mindHow do psychologists study the mind?Human behaviour: the raw data of psychologyPsychology and other disciplinesBranches of psychology Psychology: the science of the mind Psychology is the science of the mind.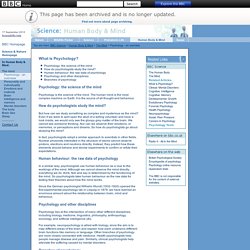 Information on personality disorders is found below. If you are looking for further information or if you believe you have a disorder, ask your local physician to recommend a professional therapist in your area. Click here to take the personality disorder test.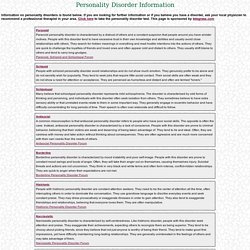 Human Intelligence: Robert J. Sternberg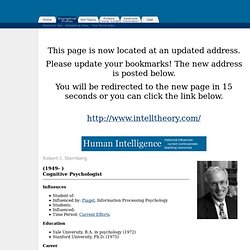 This page is now located at an updated address. Please update your bookmarks! The new address is posted below. You will be redirected to the new page in 15 seconds or you can click the link below. http://www.intelltheory.com/
Definition: When we are making a decision about an issue, we often like to believe that we carefully balance the existing evidence and formulate an opinion that is balanced, logical, and impartial. The reality is that we often fall victim to a problem known as the confirmation bias. This involves only paying attention to information that supports our current point of view, or even interpreting information in such as way that it upholds our existing beliefs. In other words, we look for evidence that supports our opinions and ignore information that conflicts with what we already believe to be true. Learn more about about how this works in this overview of the confirmation bias. Image: Piotr Bizior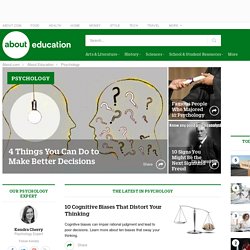 A very warm welcome to the All About Psychology website. My name is David Webb and I've had a passionate interest in studying and teaching this fascinating topic for over 20 years. This website was launched in March 2008 and is designed to help anybody looking for detailed information and resources.