Notfrombolton
Peter Kay
I am a social geek with two small ginger boys :)
New Media Business Models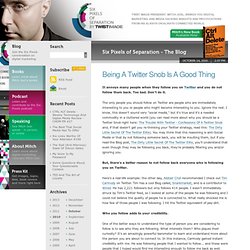 It annoys many people when they follow you on Twitter and you do not follow them back. Too bad. Don't do it. The only people you should follow on Twitter are people who are immediately interesting to you or people who might become interesting to you. Ignore the rest.
Being A Twitter Snob Is A Good Thing
Need a Reservation? That Could Depend On How Big You Are on Twitter (Really) - Advertising Age - DigitalNext
Dropbox has just been upgraded to version 1.0, so we thought we'd take a look at some great ways to use it that might not have occurred to you. A free Dropbox account allows users to store up to 2GB worth of files and access them from any other Linux, Mac or Windows machine running the Dropbox application. Or, those files can be accessed from any browser. In fact, the new 1.0 version of Dropbox is so tremendously useful, I decided to invest the $9.99 per month to increase its capacity to 50GB. Dropbox can perform some slick tricks. Here are my five favorite examples: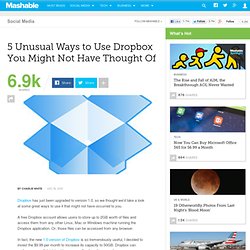 5 Unusual Ways to Use Dropbox You Might Not Have Thought Of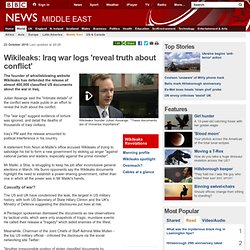 Wikileaks: Iraq war logs 'reveal truth about conflict'
23 October 2010Last updated at 20:28 Wikileaks founder Julian Assange: "These documents are of immense importance" The founder of whistleblowing website Wikileaks has defended the release of almost 400,000 classified US documents about the war in Iraq. Julian Assange said the "intimate details" of the conflict were made public in an effort to reveal the truth about the conflict. The "war logs" suggest evidence of torture was ignored, and detail the deaths of thousands of Iraqi civilians.
Bath Ales : Brewer of award-winning real ales : Friendly pubs in the Bath and Bristol area
Bath Ales | An ROI of social media in business case study
ROI Bath Ales | Two SM monitoring reports
Digg
Not From Bolton
100 Ways You Should Be Using Facebook in Your Classroom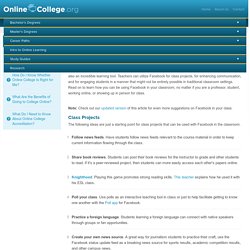 Facebook isn't just a great way for you to find old friends or learn about what's happening this weekend, it is also an incredible learning tool. Teachers can utilize Facebook for class projects, for enhancing communication, and for engaging students in a manner that might not be entirely possible in traditional classroom settings. Read on to learn how you can be using Facebook in your classroom, no matter if you are a professor, student, working online, or showing up in person for class. Note: Check out our updated version of this article for even more suggestions on Facebook in your class. Class Projects
The BrandBuilder Blog
Testimonial Tuesday
Like Minds