Digital Distribution
SongCast - Music Distribution. Sentric Music - helps unsigned bands collect PRS publishing roya. Publishing contract is on next section.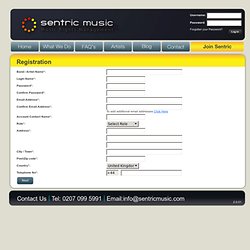 AGREEMENT BETWEEN USER AND Sentric Music The Sentric Music Web Site is comprised of various Web pages operated by Sentric Music. The Sentric Music Web Site is offered to you conditioned on your acceptance without modification of the terms, conditions, and notices contained herein. Your use of the Sentric Music Web Site constitutes your agreement to all such terms, conditions, and notices. Digital music distribution powered by FUGA. Dig dis! - digital music distribution news. Republic Digital Distribution: Digital Music Distribution.
Digital music distribution, online record company - mp3mixtape.c. The License Agreement we offer is worldwide.
You always retain ownership of your masters. We pay a royalty of 75%, based on the net amount that we receive in connection with your music. Untitled. This deal is perfect for singer songwriters with original material and a little bit of computer savvy who want to market their MP3 to the world today!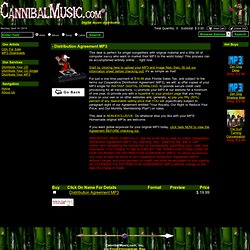 This process can be accomplished entirely online ... right now. Start by clicking here to upload your MP3 and image files; then, fill out our information sheet before checking out! It's as simple as that! CDBaby : Discover Music. ReverbNation. Music Promotion | Music Distribution | Indie Music | DittoMusic. Uploading Your Music to iTunes with Ditto Music: Walkthrough + Competition! | The Musician's Guide. Last month I wrote a blog post called Which Music Distribution Service Rocks the Most, in which I reviewed my new favourite music distributor: Ditto Music.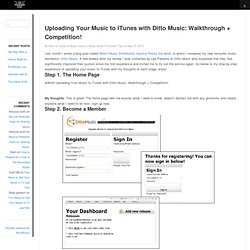 A few weeks after my review I was contacted by Lee Parsons at Ditto Music who explained that they had significantly improved their system since my first experience and invited me to try out the service again. So below is my step-by-step experience of uploading your music to iTunes with my thoughts at each stage, enjoy! Home | Orchard. Catapult Digital Distribution. Ioda: independent online distribution alliance. Digital Music Distribution. Musicadium - Digital Music Distribution. Sell Your Music, Merch and Tickets Everywhere Online - Direct to. This article was originally posted on Creative Deconstruction.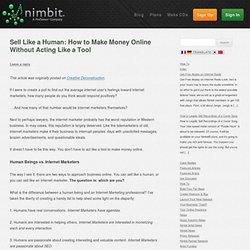 If I were to create a poll to find out the average internet user's feelings toward internet marketers, how many people do you think would respond positively? … And how many of that number would be internet marketers themselves? Tunecore: Digital Music Distribution. Free Digital Music Distribution for iTunes, Spotify, Amazon, eMu. .:: iMusicianDigital ::.. - in Indie we trust - digital music di. TheBizmo. Zimbalam - Index.