Sewing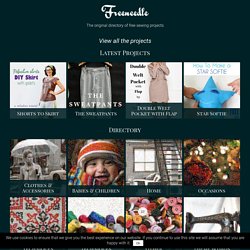 Directory of Free Sewing Patterns, Tutorials and Projects
17 Free DIY Dress Form Projects Save money and make the perfect body form for your next sewing project! There's no doubt that a dress form is a useful piece of equipment for dress makers. Indeed, for some sewing projects a dress form or mannequin is an absolute must. However dressmaker's dummies are not cheap - and making your own could be a great way to not only save money but also create your own uniquely shaped mannequin.
Sewing Machines, Dress Forms. Sales of Bernina, Brother, Janome and Husqvarna Viking
habithat Sewing Patterns
Sewing Patterns by Jalie - Jalie Sewing Patterns
Fresh Look at an Old Favorite: Dinette, from Highlands Ranch, Colorado, made this #114 Chinese Jacket from assorted cottons. She lined the jacket with the same green cotton that she used for the armbands, and applied the decorative facings to the inside instead of the outside, for a different look that accentuates the beautiful fabric. Because she is tall, she also lengthened the jacket and the sleeves, and slightly altered the underarm curve for her comfort. Click the image to see an enlargement.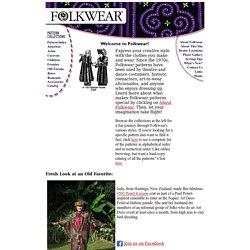 Folkwear Sewing Patterns ethnic clothing, period costumes, historic clothing patterns, art to wear fashion
Fashion, Sewing Patterns, Inspiration, Community, and Learning | BurdaStyle.com
Sewing tutorials
In May 2011 I wrote a message in the sidebar that I wished there was more time in a day as I had not enough time to regularly update this site. Since then I have hardly added to the list of tutorials and as time goes by, more links will become obsolete and more and more tutorials will be written that I have not seen or not the time to post here. There is so much info on the internet now. Since starting this blog a few years ago it has become much easier as well to collect your own favorite links with Pinterest.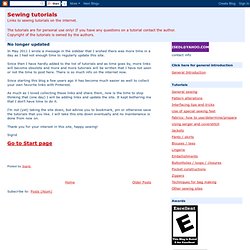 Lily Abello's Sewing Resource Guide
Lily Abello's Sewing Resource Guide
Sewing - Sewing Patterns & Sewing Machines. Butterick & Kwik Sew Patterns. Sewing Machine Reviews & Pattern Reviews. Sewing Classes at PatternReview.com
Login Create an Account Insider Membership Threads - for people who love to sew Get Threads magazine! Give a Gift Trim a Neckline Like Yves Saint Laurent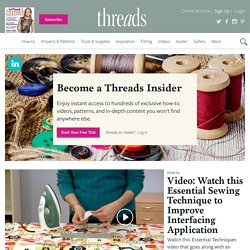 Threads - For People Who Love to Sew
Sewing Clothes - Fitting Help & How-to Articles
Home | Your Wardrobe Unlock'd
Sew News | Sew News
Free Sewing Patterns, Sewing How to, Learn to Sew, Tips
SewCity.com Free sewing patterns, how to sew, new sewing quilting techniques, sewing machines and sergers