Goldman Sachs
Lloyd Blankfein
Lloyd Craig Blankfein (born September 20, 1954) [ 1 ] is an American business executive. He is the CEO and Chairman of Goldman Sachs . He has been in this position since the May 31, 2006 nomination of former CEO Henry Paulson as United States Secretary of the Treasury under President George W. Bush . [ edit ] Life and career Blankfein was born in the Bronx borough of New York City , to a Jewish family, [ 2 ] and reared in the Linden Houses, a New York City Housing Authority project in the East New York section of Brooklyn . [ 3 ] His father was a clerk with the U.S.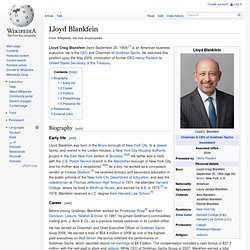 WASHINGTON — While Goldman Sachs' lawyers negotiated with the Securities and Exchange Commission over potentially explosive civil fraud charges, Goldman's chief executive visited the White House at least four times. White House logs show that Chief Executive Lloyd Blankfein traveled to Washington for at least two events with President Barack Obama, whose 2008 presidential campaign received $994,795 in donations from Goldman's employees and their relatives. He also met twice with Obama's top economic adviser, Larry Summers. No evidence has surfaced to suggest that Blankfein or any other Goldman executive raised the SEC case with the president or his aides. SEC Chairwoman Mary Schapiro said in a statement Wednesday that the SEC doesn't coordinate enforcement actions with the White House or other political bodies. Meanwhile, however, Goldman is retaining former Obama White House counsel Gregory Craig as a member of its legal team.
Goldman's White House connections raise eyebrows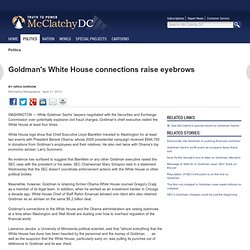 Hillary Rodham Clinton
Hillary Diane Rodham Clinton ( pron.: / ˈ h ɪ l ər i d aɪ ˈ æ n ˈ r ɒ d əm ˈ k l ɪ n t ən / ; born October 26, 1947) is an American politician who was the 67th United States Secretary of State from 2009 to 2013, serving under President Barack Obama . She was previously a United States Senator for New York from 2001 to 2009. As the wife of President Bill Clinton , she was also the First Lady of the United States from 1993 to 2001. In the 2008 election , Clinton was a leading candidate for the Democratic presidential nomination . A native of Illinois , Hillary Rodham first attracted national attention in 1969 for her remarks as the first student commencement speaker at Wellesley College . She embarked on a career in law after receiving her J.D. from Yale Law School in 1973.