Goldman Sachs
Lloyd Blankfein. Lloyd Craig Blankfein (born September 20, 1954)[1] is an American business executive.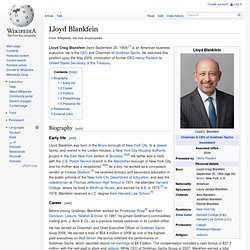 He is the CEO and Chairman of Goldman Sachs. He assumed this position upon the May 2006, nomination of former CEO Henry Paulson to United States Secretary of the Treasury. Biography[edit] Early life[edit] Career[edit] Goldman's White House connections raise eyebrows. WASHINGTON — While Goldman Sachs' lawyers negotiated with the Securities and Exchange Commission over potentially explosive civil fraud charges, Goldman's chief executive visited the White House at least four times.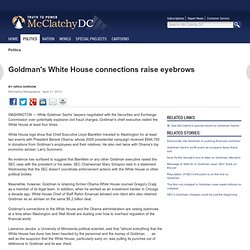 White House logs show that Chief Executive Lloyd Blankfein traveled to Washington for at least two events with President Barack Obama, whose 2008 presidential campaign received $994,795 in donations from Goldman's employees and their relatives. He also met twice with Obama's top economic adviser, Larry Summers. No evidence has surfaced to suggest that Blankfein or any other Goldman executive raised the SEC case with the president or his aides.
SEC Chairwoman Mary Schapiro said in a statement Wednesday that the SEC doesn't coordinate enforcement actions with the White House or other political bodies. Meanwhile, however, Goldman is retaining former Obama White House counsel Gregory Craig as a member of its legal team. Hillary Rodham Clinton. A native of Illinois, Hillary Rodham was the first student commencement speaker at Wellesley College in 1969 and earned a J.D. from Yale Law School in 1973.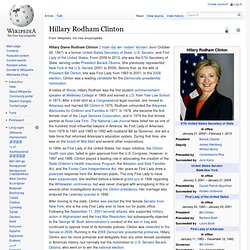 After a brief stint as a Congressional legal counsel, she moved to Arkansas and married Bill Clinton in 1975. Rodham cofounded the Arkansas Advocates for Children and Families in 1977. In 1978, she became the first female chair of the Legal Services Corporation, and in 1979 the first female partner at Rose Law Firm. The National Law Journal twice listed her as one of the hundred most influential lawyers in America. As First Lady of Arkansas from 1979 to 1981 and 1983 to 1992 with husband Bill as Governor, she led a task force that reformed Arkansas's education system.
---