Quicken
Microsoft Network Monitor 3.4. Tool to allow capturing and protocol analysis of network traffic.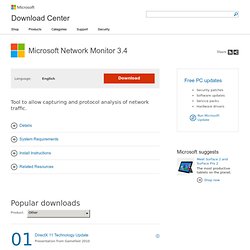 Note: There are multiple files available for this download. Once you click on the "Download" button, you will be prompted to select the files you need. Network Monitor 3.4 is a protocol analyzer. Research TCP Analyzer. Microsoft Research TCP Analyzer This tool analyzes network traces of Transmission Control Protocol (TCP) connections.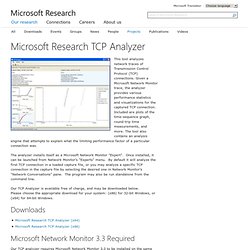 Given a Microsoft Network Monitor trace, the analyzer provides various performance statistics and visualizations for the captured TCP connection. PingPlotter. Current news, releases and more. v2 - Your Tweaking Home. DSL - DSLreports.com - the place for BROADBAND. InsureMarket. Banking Center. Quicken Financial Network. DI-604. VWR. Global ISP for Travellers. Bandwidth Place - your internet services marketplace. SpeedGuide.net Broadband Cable DSL VoIP Security Network Tools.
NetworkingFiles.com - Enterprise and Home Networking Downloads. Domain Tools Whois Lookup and Domain Suggestions. NETworth.
---