Quicken
Overview Network Monitor 3.4 is a protocol analyzer. It allows you to capture network traffic and view and analyze it. Microsoft is working on its successor, Microsoft Message Analyzer, and is making beta copies of that available from our Connect site .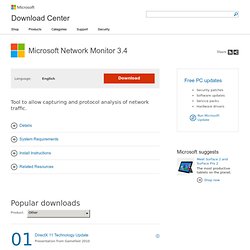 Microsoft Network Monitor 3.4 - Microsoft Download Center - Download Details
Microsoft Research TCP Analyzer This tool analyzes network traces of Transmission Control Protocol (TCP) connections. Given a Microsoft Network Monitor trace, the analyzer provides various performance statistics and visualizations for the captured TCP connection.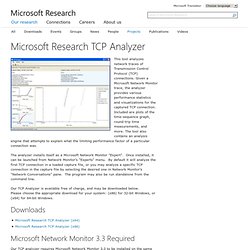 Research TCP Analyzer
PingPlotter
Current news, releases and more
v2 - Your Tweaking Home
InsureMarket
Banking Center
Quicken Financial Network
VWR
Global ISP for Travellers
Bandwidth Place - your internet services marketplace
NetworkingFiles.com - Enterprise and Home Networking Downloads
NETworth