Energy
EnergyBoom | the energy that powers change. Financing. RE Atlas | maps.nrel.gov. The RE Atlas application is an interactive map tool that allows the user to browse research data concerning renewable energy resources.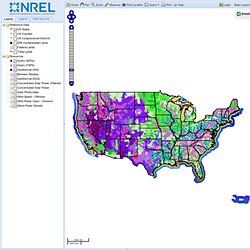 RE Atlas is dynamically generated. If you are using a specialized screen reader and having difficulty understanding the page content, please contact the technical response team at 800-254-6735 who can assist you with a verbal or written description. Controlling Layers. Alternative Energy Stocks & Green Investing News and Strategies. UPWIND SOLUTIONS | WIND TURBINE MAINTENANCE | WIND TURBINE OPTIMIZATION | WIND ENERGY. Alternative Energy (dot) Com, Green Jobs, News, Products, Education for Green and Renewable Energy.
Renewable Energy World - Renewable Energy News, Jobs, Events, Companies, and more. American Wind Energy Association.
---