Usefull
27 Ways To Make Money Now! 25 (more) clever ideas to make life easier. .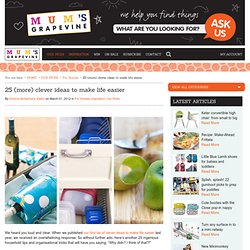 We heard you loud and clear. When we published our first list of clever ideas to make life easier last year, we received an overwhelming response. How To Mix Chalkboard Paint in Any Color. We love using chalkboards as backdrops for displays and parties (like this one here!).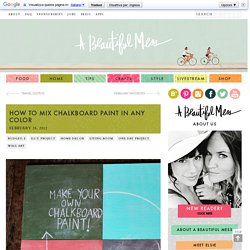 So we were super excited to learn that you can create your own custom colors-and it's really easy! We first learned how from Martha Stewart whose tutorial you can read here. She recommends that you use latex paint, but we tried it out with acrylic paints with much success. Here's how you too can create your own chalkboard paint... Supplies: 1/2 cup acrylic paint (choose any color you like, or mix colors together to make the perfect shade!) Hanging Jewelry Holder – Space Saver. I have mentioned before that the reason we moved to Colorado 2 months ago, was for my husband to complete several clinical rotations (for PA school) before graduating next spring.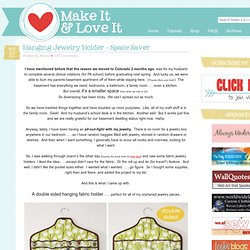 And lucky us, we were able to bum my parents basement apartment off of them while staying here. (Thanks Mom and Dad!) The basement has everything we need; bedrooms, a bathroom, a family room……even a kitchen. But overall, it's a smaller space than what we had in GA. Holder for Charging Cell Phone (made from lotion bottle) My husband and I both have cell phones.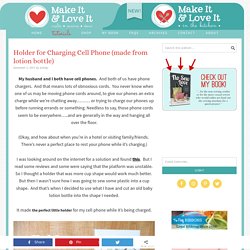 And both of us have phone chargers. And that means lots of obnoxious cords. You never know when one of us may be moving phone cords around, to give our phones an extra charge while we're chatting away……… or trying to charge our phones up before running errands or something. Stuffed animal. Título:libros.
Synonyms. Tutorial: Homemade Sidewalk Chalk. By Michelle Vackar, Modern Handmade Child One of our favorite outside activities at our home is drawing with chalk on the driveway.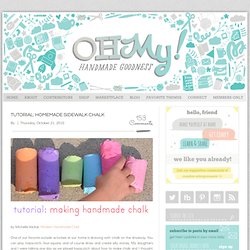 You can play hopscotch, four-square, and of course draw and create silly stories. My daughters and I were talking one day as we played hopscotch about how to make chalk and I thought to myself, let's try it! It ended up being quite a lot of fun. 30 Things to Stop Doing to Yourself. Post written by: Marc Chernoff Email When you stop chasing the wrong things you give the right things a chance to catch you.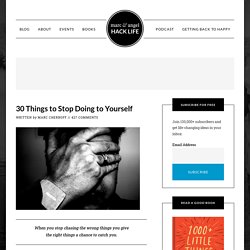 As Maria Robinson once said, "Nobody can go back and start a new beginning, but anyone can start today and make a new ending." Nothing could be closer to the truth. #3038363. SOPA Emergency IP list: So if these ass-fucks in DC decide to ruin the internet, here's how to access your favorite sites in the event of a DNS takedown tumblr.com 174.121.194.34 wikipedia.org 208.80.152.201 # News bbc.co.uk 212.58.241.131 aljazeera.com 198.78.201.252 # Social media reddit.com 72.247.244.88 imgur.com 173.231.140.219 google.com 74.125.157.99 youtube.com 74.125.65.91 yahoo.com 98.137.149.56 hotmail.com 65.55.72.135 bing.com 65.55.175.254 digg.com 64.191.203.30 theonion.com 97.107.137.164 hush.com 65.39.178.43 gamespot.com 216.239.113.172 ign.com 69.10.25.46 cracked.com 98.124.248.77 sidereel.com 144.198.29.112 github.com 207.97.227.239.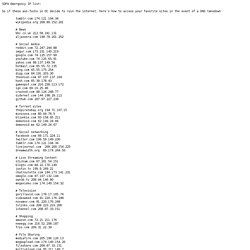 How to make a glow lantern. Websites for Educators. This collection of links, chosen and maintained by Gutman Library Research Services staff, provides links to freely available sites of interest to educators.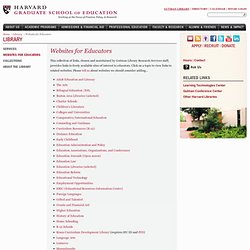 Click on a topic to view links to related websites. Please tell us about websites we should consider adding... ColorTheory_Screen_White.jpg (JPEG Imagen, 1224x792 píxeles) Lackadaisy Expressions. Boy, I didn't know what I was getting myself into when I started this.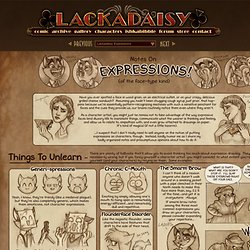 I've had requests for some sort of expressions tutorial dating back a while now, so I figured, "Sure! I can explain expression drawing...and it'll be way better than all those tutorials out there that are nothing but charts of generic expressions. Must-See Illustration Tutorials from DeviantART. Random Tutorial Generator. » How to Make a Fabric Bow | Tutorial » Whipperberry. Simple Ideas That Are Borderline Genius (35 Pics) YouTube to mp3 Converter.
25 clever ideas to make life easier. Via: amy-newnostalgia.blogspot.com Why didn't I think of that?!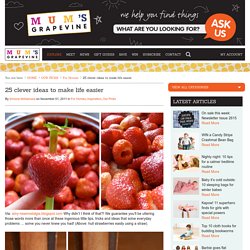 We guarantee you'll be uttering those words more than once at these ingenious little tips, tricks and ideas that solve everyday problems … some you never knew you had! (Above: hull strawberries easily using a straw). Via: apartmenttherapy.com Rubbing a walnut over scratches in your furniture will disguise dings and scrapes.
---